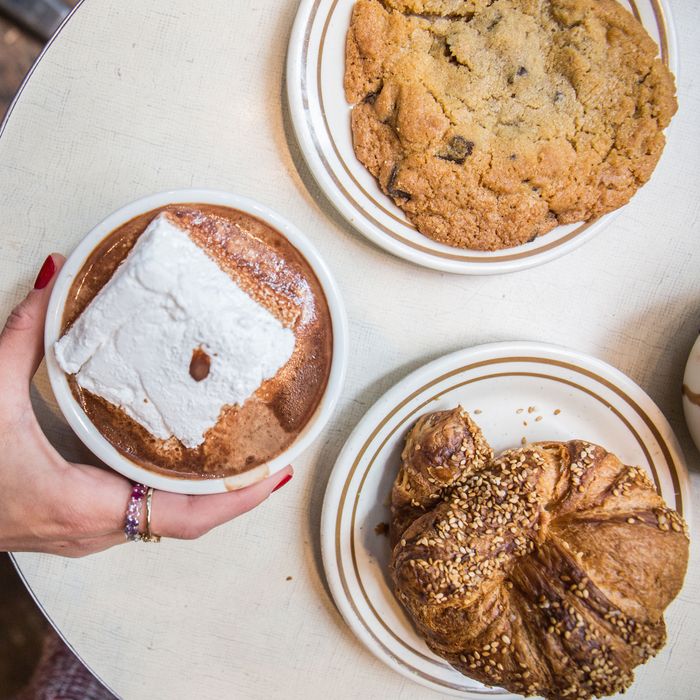 The City Bakery's famous hot chocolate, pretzel croissant, and cookie.
Photo: Lily Wokin
The City Bakery ran on charm. People will tell you otherwise, that it was a certain baked good that made the place what it was, but it was propelled by the fact that it was a nice spot to go, a nice spot to just be.
Located just above Union Square, the shop's atmosphere was dreamy before dreamy became a #vibe. It could also feel expensive — especially to tourists that maybe wandered in there — but even if the accusations were sometimes true, City Bakery made it feel petty to hold that against it. Like its renowned hot chocolate, City Bakery gave you this feeling that you could put your faith in it being there for you. In fact, Maury Rubin's creation had somehow been open since 1990 — which is like three lifetimes in Manhattan-business years — and there was an implicit promise that it would always be there for you. Now, of course, it's gone.
On a personal level, though I doubt I'm alone, the City Bakery played some part in my own idealized version of New York City. We all have one, especially those of us that move here in our 20s with very little life experience but plenty of hours spent watching television and reading books. I remember a neighbor once talking about visiting the City Bakery on a trip to New York City in the early '90s and trying a tart that cost "four dollars," as she put it, and then a few months later picking up some magazine seeing a mention of that same place again. I was maybe 11 or 12, and the name — "the City Bakery" — stuck.
My idealized dream of New York was basically a Nora Ephron film. Maybe not "falling in love with Tom Hanks over AOL Instant Messenger" Nora Ephron, but definitely the food part of it, and hopefully the witty, well-dressed friends part, too. City Bakery conjured up a similar feel, that late '80s, early '90s yuppie aura that feels both quaint and familiar.
The City Bakery just sounded like the sort of place I needed to see for myself. Was it official? Was it really the City Bakery? I envisioned some stream of New Yorker types — MTV VJs like Matt Pinfield and Bill Bellamy standing next to John Starks who was standing next to Carolyn Bessette-Kennedy, and a couple of SNL people who would go on to star in bad movies — waiting in line for a morning coffee in this place with an official-sounding name that, I figured, was in the heart of the city.
Finally, when I was 24, a year after moving here, I walked past the bakery and it clicked: I knew that name. It felt like some kind of fate, and I figured, Well, I've got ten bucks in my pocket. I can get a coffee and maybe a snack.
So I did. I got a coffee, and I sat there and just took in the energy of the gigantic room. I didn't have a book with me, and this was before iPhones, so nothing was demanding my attention. I could absorb the people moving around me, the smells, and the conversations I heard fluttering about. I remember sitting there thinking, There really is something Ephronian about this place, and about the characters I saw, the mix of people, young and old, some talking, others just sitting and reading copies of the Daily News. It all felt very comfortable, and comfort is hard to find in New York.
I went to City Bakery a lot after that. I'd stop in for a coffee whenever I was nearby or tell friends to meet me there, because even if it was far away from our neighborhoods, it was still easy enough to get to. I stopped there after I made the lunchtime trip from my office in the Puck Building to my then-girlfriend's office near the Flatiron Building, so I could ask her to marry me. (After she said yes, I figured I had earned a snack.)
People would tell you to get the pretzel croissants, but I was partial to the macaroons. Besides, the real appeal was its luxurious coziness — and you can't buy that. I could imagine Meg Ryan and Carrie Fisher's characters from When Harry Met Sally splitting a croissant and kibitzing. There was the huge stack of beautiful blue coffee cups, and all the baked goods, just waiting for you. The actual space was also so large that if you even entertained the thought it might close, your best guess was that it might become a home-goods store, or, obviously, another bank. But that always felt so hard to fathom. I really thought this place could get by on decent coffee, great macaroons, and gallons of charm.