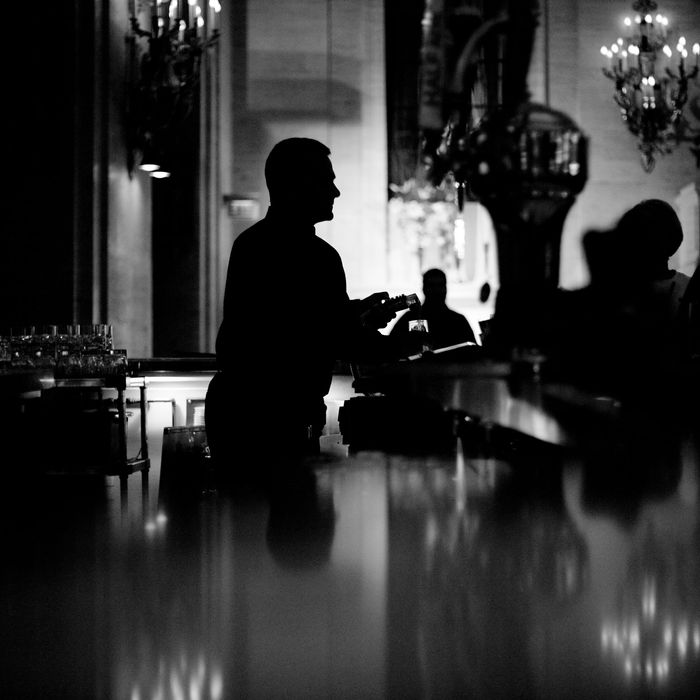 Photo: Suntrap/Getty Images
In the summer of 2018, everything came together for Don Lee: The bartender, who had already been labeled a "legend" in the industry, opened his own bar, Existing Conditions. In August, he got married, and his bar — which he opened with partners Dave Arnold and Greg Boehm — was receiving serious critical acclaim. Then, in November, Lee went to the hospital. He suspected he had bronchitis and wanted to get antibiotics. In the following days, he was diagnosed with thymoma, a rare form of cancer that affects a few hundred people per year.
He began chemotherapy at Sloan Kettering and went from working 18 hours each day to eight. "I'd try not to shake people's hands, wash my hands a lot, avoid sick people," Lee says. In April, he underwent a 12-hour surgery, the first of two, to remove the tumor. "I was not really functional to any real degree until a month after the surgery," he says.
Six weeks after the surgery, he began the first of 27 rounds of radiation, five days a week. At the time, he could only manage to be up for about four hours a day. He increased his painkillers as he became more active. He began physical therapy. "Even now," he says, "I can't predict what I'm able to do tomorrow, next week, a month later."
The total cost of Lee's treatment is still being tallied, but one bill alone amounted to $350,000. In some ways, he says he was lucky. "I had the luxury of everyone I was working with letting me take the time to get better, you know, and accommodating this," he says. He also explains that he receives health care from his wife's benefits.
Yet Lee's diagnosis and treatment bring into sharp focus the precariousness of the bar industry's labor force. One in six Americans carry medical debt, and health care is the number-one cause of personal bankruptcy in this country: According to a 2014 study, 43 million Americans have unpaid medical debt, and a 2019 study suggests it's only gotten worse. Earlier this month, the Census Bureau reported that the uninsured rate rose for the first time since Obamacare went into effect, and the Trump administration has worked to undermine the legislation.
"The entire situation in this country is crazy," Lee says. "The fact that everyone has to get health care from their work — why is that a work thing as opposed to just, everyone needs health care? Because it's true: Everyone needs health care." It's true that everyone needs health care, but not all bartenders get it — and they could really use it.
Mental-health issues are rampant in the restaurant and nightlife industry. Bartending is a particularly taxing job. The Department of Labor has called it one of the most stressful professions in the country. It's physically demanding work, requiring long hours (as many as 12) on your feet, crouching and hustling, late into the night. All chased with a shot of financial instability. Drug and alcohol abuse are prevalent; employees are constantly coming into contact with other people's germs. Sexual harassment and assault remain underreported problems. Yet the people who work in this world often do so without any kind of safety net.
"When I was younger, I didn't go to the doctor ever," says Ivy Mix, the co-owner of Leyenda in Brooklyn. "If you're a bartender, you probably really need health insurance. Even if you're a healthy bartender, but you probably need to go to the chiropractor, you're probably getting sick more than the average person because you're surrounded by people five days a week."
Mix stayed on her parents' insurance until she was 25, and was off it for a total of two to three years. During her uninsured years, Mix got into a bike accident in Brooklyn, within sight of Woodhull Hospital, and had to fork over ambulance fees out of pocket. The total cost of that accident, she says, was around $13,000. Once she got insurance, she found out she had been living with an undiagnosed case of celiac disease.
"I had been sick for years," she says. "I didn't know what was wrong and I went to the doctor and I was like, 'Test me for everything — I haven't been to a doctor for like four years.'" Mix got back on insurance via Obamacare, but it's not an ideal situation. "I have health insurance and I'll be okay, but I have a massive deductible that's like $6,000."
As Mix points out, lack of insurance is particularly fraught for women in the industry because of reproductive health and annual OB-GYN visits, greater susceptibility to STDs, and starting families.
Natasha David, who has spent her career at some of New York's buzziest bars, including Death & Co. and her own spot, Nitecap, says she didn't get proper health insurance until she and her husband decided to have their first kid. Even then, she considered her options. "I have German citizenship and I was considering moving to Germany to have my child," she admits. "I gave myself two weeks paid time off, which is so ridiculous, right? I just gave birth, it's crazy. But that's all I could afford as a little bar."
David says that, before, she had gotten catastrophic insurance — after breaking her foot, paying for an E.R. visit out-of-pocket, and losing shifts when she couldn't stand on her foot. The catastrophic option — low-cost insurance that only kicks in after some sort of extreme (and expensive) calamity — is something other bartenders point to as their one insurance option.
Orlando Franklin McCray, who now works at Daymoves/Nightmoves, says, "It was like calamity insurance or whatever — I would have to pay over 10 grand for it to kick in." He says it's "kind of a joke."
This past May, he was walking up to his apartment after a shift when he slipped down the stairs and broke his femur into four parts. He had surgery and a titanium rod put into his right thigh, and says his bills accumulated to a little over $30,000. But because he was working less than 30 hours at two bars at the time, he didn't have insurance. He ultimately was able to reactivate insurance from a previous employer through COBRA, just in the nick of time, but he was still left with a deductible of around $7,000 and ended up starting a GoFundMe to help pay for what he owed — a depressingly common solution. "I'm not sure if I would be living here still if that hadn't worked out the way that it did," McCray says. "You still have to sustain yourself for three months, buy a bunch of shit that the hospital doesn't send you home with."
Bar Goto owner Kenta Goto started a GoFundMe for his employee Christopher Reed, who was diagnosed with the neurodegenerative disease ALS. So far, the funding campaign has raised $71,766, with donations still coming in, and industry friends — "amazing places, really awesome people" — raised more via auction. "I feel lucky," Reed says, communicating via a whiteboard. "I feel that my progression is slow. I was diagnosed in May 2018. I was supposed to be in a wheelchair this May." The funding campaign, along with his partner Jennifer Dillon's insurance, has helped them to adjust from no longer being a double-income home and be able to pay for things like a stomach-tube surgery that needed to be performed three times, coming to a total cost of $37,000. "Without it," he says, "I would be dead."
Dillon said of the fundraiser, "It has literally bought us time together."
For many people, an accident is what metabolizes a sudden interest in health care. When riding her bike home on June 30 after a shift at Nitehawk, Ashley Reilmann got hit by a vehicle and broke her pelvis in four places and fractured a vertebra. The ambulance alone, she says, cost just under $1,000. She had to go to her mom's in New Mexico to recover, wasn't able to walk for about six weeks, and wore a neck brace for almost ten weeks. Amor y Amargo owner Sother Teague says he saw a doctor for the first time in 20 years after his own bike accident: "I even joked to people when that happened. Like, 'Yeah, I went to the emergency room — first time I've been to the doctor in 20 years.' That's just crazy."
Teague broke his humerus bone in the accident and was unable to use his left arm, putting him out of work for six months. His medical expenses were covered by the driver's insurance, but not yet the lost work. "I've never gotten any remuneration from my lost wages," he says. "It's still in litigation — two and a half years later."
"Before the accident," Reilmann says, "outside of random sicknesses or infections or whatever, I haven't regularly seen a doctor since I was 18 or 19." She says she also knows plenty of people who work two or three jobs, making it harder to find insurance because businesses aren't required to provide benefits for part-time employees. "It's just such an underrepresented part of the economy, and denying people easy access to health care just seems so unfair and selfish."
For many people in the bar industry, the path to benefits starts by becoming a brand ambassador for a liquor company. "That's when you start to get health insurance," Natasha David says. "Because you're working with big companies like Pernod-Ricard."
For small-business owners, though, the reality of providing benefits is much more difficult. When Obamacare legislation passed in 2010, St. John Frizell was wide-eyed about what it meant for the industry, and for what he could offer his employees at the Red Hook bar Fort Defiance. "I'm not exaggerating to say that this was one of my proudest moments as a business owner," he says. In an email he wrote at the time to the Brooklyn Chamber of Commerce, he said, "The staff is really excited in a way I didn't think people could be about health insurance."
To make it work financially, Frizell offered to split the cost with his employees. "Who wouldn't want great health insurance for $150 a month? It was a no-brainer," he says. More than half the employees signed up. But that number dwindled as the costs rose. "The cost went up significantly from the moment we signed up. Every year, they send you a letter saying we've submitted our rate increases to the state and we're asking them to raise them this much. It was always 17 percent, 20 percent, or more," he explains. "By 2016, the cost had risen to $596 a month."
"The horrible realities of being a small-business owner is there is never extra money," David says. At Nitecap, which David owns with Death & Co.'s David Kaplan and Alex Day, she now pays her manager a stipend to help with the cost of health insurance.
At Existing Conditions, Lee offers health insurance to employees who work more than 30 hours a week (for which Lee says that he, as an owner, isn't eligible). Meanwhile, Death & Company has offered health insurance to full-time employees since January 2018. Ninety-six percent of eligible employees opt in. Banzarbar (and its sister restaurant Freemans) provides insurance through the NYC Hospitality Alliance's Healthcare Co-op.
And at Leyenda, Mix says she and her partners pay for their two managers' insurance and offer employees the chance to join the plan, but no one ever has. "They're like, 'If I get hurt I'll probably get hurt at work, and you guys got worker's comp and that's that,'" Mix explains. It's a line of reasoning she finds disconcerting. "It can be a very glamorous, cool lifestyle, but the reality is, if you get sick, it doesn't matter how glamorous or cool you are," she says. "If you don't have health insurance, you're fucked."