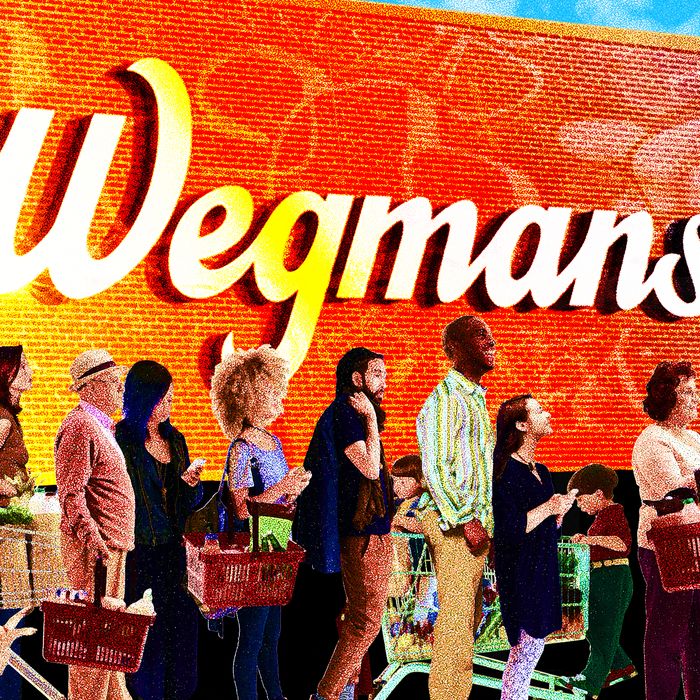 Photo-Illustration: by Stevie Remsberg; source images Getty
Attention, shoppers: The New York City grocery landscape is about to experience its biggest shake-up since Whole Foods arrived in 2004. In two short weeks, Wegmans, the Rochester-based grocery store your friends from upstate swear by will open its first New York City outpost. The chain has a truly massive following — 3,000 people lined up to be among the first shoppers at a new store in Raleigh, North Carolina — but we understand the uninitiated may have some questions. Grub Street has answers.
This is a new grocery store? What's the big deal?
In 1916, John Wegman founded Rochester Fruit & Vegetable Company. His brother, Walter, joined the operation a year later. In the century since, the chain has grown to 100 stores — the New York City branch will be the 101st — and the company is still family owned. (Walter's great-granddaughter Colleen is the current president and CEO.)
When does it open?
The first day of business will be October 27.
That's a Sunday, so it would be a good day to shop for the week, but also you may want to let the excitement die down if you don't want to brave the early crowds.
Where will it be?
In Brooklyn. Specifically, 21 Flushing Avenue in the Brooklyn Navy Yard.
How am I supposed to get to the Navy Yard?
It's true that the Navy Yard can feel somewhat remote. Here are your best bets on public transportation:
By Subway: Take the F train to York St., then walk 11 minutes; or take the A/C trains to High Street and walk 16 minutes.
By Bus: Take the B62 to Navy St./Sands St. and walk three minutes; take the B67 to Sands St./Navy St. and walk three minutes; or take the B57 and B69 to Flushing Ave./Portland Ave. and walk — you guessed it — three minutes
Or take the Astoria Ferry to the Brooklyn Navy Yard, then walk 10 minutes.
I really don't want to carry my groceries on a ferry. Can I drive?
Yes. This will be a suburban utopia in New York City, so there are 700 parking spaces, most of them in an underground garage. (You can also ride your bike, of course.)
Why would I do all of this instead of just going to the Gristedes on my block?
It promises to be massive. The store will be 74,000 square feet (which, as a point of reference, is more than twice as big as Grand Central Terminal's main concourse). Also, if you've ever talked to any of the store's superfans, they get really excited about it.
They do?
Yes. And they have a name: Wegmaniacs.
Are they hilarious?
Yes. For example, in 2012 and 2018, Algonquin Regional High School in Northborough, Massachusetts, staged a show dedicated to its own local Wegmans, featuring parodies of well-known songs like "Seasons of Love" from Rent ("525,600 items"), Eminem's "Lose Yourself" ("This shopportunity comes once in a lifetime"), and "Popular" from Wicked ("Healthier, you're gonna be healthier").
I'd watch that.
Here you go:
Any famous Wegmaniacs?
How about Alec Baldwin's mom?
Yeah, sure. Okay, why do these people all think Wegmans is so great?First, this isn't the kind of place where you walk up and down the aisles, awkwardly running into the same people over and over again. The layout is more akin to a "European market," which involves shuttling your cart from the bread section to the seafood section to the beer section to the flower shop.
The big draw for many loyalists is all of the prepared food: baked goods, especially, and — we've been told — sandwiches, specifically the subs to-go. (The "Danny's Favorite," a take on an Italian sub, is especially popular.)
They're also fanatical about the house brand. As one Wegmaniac recently told Grub Street, "Wegmans-brand products are very high quality and often much cheaper than name brand. Think canned and dry goods."
So it's cheaper than other stores?
Sort of. Team Wegmans wouldn't share its final Brooklyn prices with us yet, so we compared prices for generic items at the closest Wegmans — in Woodbridge, New Jersey — with prices at Whole Foods, Trader Joe's, Fairway, and Fresh Direct. A gallon of whole milk, for instance, costs $3.32 at Wegmans, compared with $4.09 at Whole Foods, $3.99 at Fairway, $4.29 at Fresh Direct, and $3.99 at Trader Joe's. A dozen eggs? $0.99 at Trader Joe's (honestly, how?!) and $1.49 at Wegmans with that same dozen topping out at $3.99 at Fresh Direct. Across the board, Wegmans was cheaper or at least competitive.
I heard it'll have restaurants.
Yes. At the Market Cafe, you can get pizza, burgers, sushi, soup, salads, coffee, and all manner of hot and cold prepared food.
Can I get drunk?
The Brooklyn store will be the first location with a bar, so probably yes, but remember: Wegmans is family-friendly. You may want to keep it together while you're here.
Does it have a loyalty program? I like a good rewards program.
This is a suburban utopia in the middle of the city. So you bet your ass it has a rewards program. It's called Shoppers Club and offers discounts based on what you buy the most, lets you create a digital shopping list with aisle information, and is free. Sign-up is already available for New Yorkers.
Can I get delivery?
Yes. You will be able to shop Wegmans via Instacart starting on October 30 with same-day delivery. But if you did that, you'd be missing out on the very friendly staff members.
They're friendly?
Very. Think Danny Meyer levels of hospitality. Doug Steiner, the founder of Steiner Studios in Brooklyn and the man who convinced the Wegmans to come here, gives this example from a few years ago: "I actually bought something for my kids, and it turned out I was charged wrong," he says. "I wrote a letter and got a handwritten two-page letter back from the manager apologizing — with a gift certificate."
Okay, I guess I am excited to check out Wegman's.
Wegmans.
That's what I said.
It's just "Wegmans." No apostrophe.
Good to know!