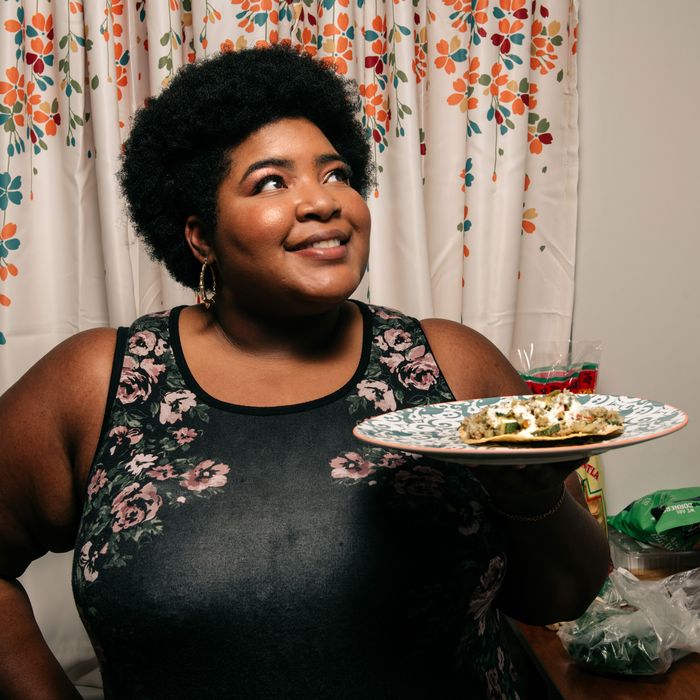 Dulcé Sloan in her kitchen.
Photo: Scott Heins
When Dulcé Sloan is home in New York, she likes to spend her nights cooking in her own kitchen. That's increasingly been less of a given over the past two years, as she's found herself frequently on the road as a rising star in the comedy world. She's been a correspondent on the Daily Show since 2017, and Variety and Rolling Stone have both named her a comedian to watch. And tonight, her first half-hour stand-up special will air on Comedy Central. (BET calls "it smooth, cohesive, and hilarious.") Sloan, meanwhile, spent her nights cooking chicken tostadas and kimchi fried rice, and once again heading out of town for some shows. Read all about it in this week's Grub Street Diet.
Monday, October 14
I went to work at the Daily Show, and recorded for this new show I'm on, The Great North, so I went to this place Juice Island nearby. I had a breakfast pressed juice: orange-carrot-apple-lemon-ginger. I love pressed juice, and also when you're traveling you're like, "Oh, I haven't had fruit in a couple days," or "Hey, I feel like I need nutrients."
Lunch was catered at work. Usually I'll have a salad with whatever grilled meats they have on hand. This time it was a grilled-salmon Caesar. There's always a salad bar and then prepared food after that.
Back home, I made chicken tostadas for dinner. Yeah, it's my favorite thing to make. 'Cause it's delicious!
I do, like, ground chicken. I don't really like the texture of chicken breast, so I either do it with chicken thighs or ground chicken. I use Mexican zucchini, tomatoes, onions, jalapeños, and cilantro. I put it on the tostada. I get the cotija cheese and the Salvadorean crema — the one with the grandma on it — and a tomatillo salsa.
If you go into my kitchen it's very interesting, there's a lot of tortilla chips, tostadas, and it's either Mexican and Latin American ingredients or Korean ingredients. Mexican food was a lot easier to acquire when I was in L.A., but, you know, now I'm in New York. I don't know where Mexican food is. I don't know.
Cooking is a way for me to reset myself after being on the road and eating a lot of restaurant or prepackaged stuff. You eat so much food that other people make, so much restaurant food. You're really at the mercy of whatever is at the restaurant or whatever is in the town. Especially when I was doing college shows, because it was a lot of small towns. So whenever I'd come home I made sure to cook because it was like, "I have to make sure I have a vegetable today," or "This is how I make sure something has seasoning on it." Because when you're in the middle of a lot of these nowhere places, they haven't learned about pepper or oregano unless it's Italian food.
But I grew up cooking. Cooking was a big part of my childhood. I learned how to because it was me, my mom, and my brother. I learned how to cook at the age of 6. By the time I was 10, my brother and I were making Thanksgiving and cooking dinner three times a week.
My mother used to make this dish called pelau, which she keeps telling me she can't remember how to make, and this is a big point of contention. It was one of my favorite dishes growing up, but it was pigeon peas, rice, sometimes with chicken, it's just one of those big one-pot dishes. There'd be carrots and onions and bay leaf, it's just this huge pot she would make and it was my favorite thing growing up. She's like, "I don't remember how to make it," and I'm like, "Yes you do, stop playing with me."
The other thing I loved, that I make for myself, is fried yucca. She'd always make that and at a lot of places I go to get it, it's not good because they don't boil it before they fry it. So fried, hard-ass yucca, and I'm like, Why do people keep trying to hurt me? I'm a good person!
Tuesday, October 15
Back at work. I had Honey Bunches of Oats with one percent milk. There are a million cereals at the job, and it is my favorite cereal. What I'll do is add a scoop of peanut butter just to get the protein in. That's breakfast.
Lunch was catered at work. I had my other salad of the week. It was with grilled chicken.
For dinner, I made homemade kimchi fried rice with leftover ground chicken. I had a Pinterest recipe. I had kimchi in my fridge. And I had some rice in my freezer from Chinese food I'd ordered. So I had the red pepper paste you use for the fried rice.
Korean food is one of my favorites. In my freezer I always have dumplings, Korean meat patties, rice cakes; my favorite snack is Korean rice snacks or spicy Chinese peanuts. I love the little black-bean banchan. I found that in a can so I have a few of those. I actually found stir-fried kimchi in a can, so I have to get some of that too. When you buy the banchan fresh, there's so much of it and I'm only one person, so being able to have that is really good.
I spend a lot of time in H Mart, much to the confusion of other H Mart shoppers. They're very confused when they see me and always very impressed when they look in the cart, which is a fun thing. Some people will go in and say, "Oh, this is a fun place," and I'm like, "No! I came in here to get my pickled radish. I came in here to get my kimchi." I get the bean sprouts, the black beans, if they have the peanuts. They've got my soy-fermented vegetables: chayote, jalapeño, onion. I'll get the banchan and then some of my favorite kinds of noodles.
And I have to get my Sikhye. I don't know if you've ever had it, but it's delicious. It is a rice punch, it is very good. You have to get the, I don't know, the kind I have is the good kind, 'cause I went into the H Mart and asked a lady that works there what the best Sikhye is, and she told me the one in the big bottles. I ask a lot of questions, too, 'cause I want to learn stuff.
Wednesday, October 16
Back at work, and had a table read for The Great North.
Breakfast was a Fage mango yogurt. I do like yogurt, but I can tell you these Greek yogurts, yo man, some of these yogurts are getting real thick, real hardy. And I'm just like, "Yo, what happened to Dannon, man? What happened to that sugary mess they used to give us as kids?"
Lunch was catered, but this time it was meatloaf, rice, and sautéed green beans. I love meatloaf. I am a meatloaf person. One of my friends won't eat it because it's literally a loaf of meat, but I just think of meatloaf as a kind of more flavorful hamburger, I guess? Meatloaf seems like, it's one of those things that is very American to me: Meatloaf. Mashed potatoes. Ground beef.
I was supposed to do at a show at the Lady Stardust, but ending up doing a couple at two other places, including the Stand. Both were in Manhattan and I didn't have time to go back to Astoria, so I had food delivered from Chef Pho & Peking Duck to the show and nibbled on everything. I got the triple green with garlic sauce and spicy crispy beef.
Thursday, October 17
Skipped breakfast because I got to work around 11 a.m. On Thursday they like to have a restaurant come and cater lunch. It was this Italian place. They got a rigatoni pasta, all these little sandwiches, but I really wasn't that hungry. They cut up those long subs into three-inch pieces, so I had rigatoni and a quarter of an Italian sandwich.
Had dinner at home before going out of town. I made zucchini noodles with chicken meatballs and pesto. You have to be real careful with zucchini noodles, because they can get real mushy real fast.
The chicken meatballs are prepackaged, so what I like to do is I put those in another pan because they have different heating instructions. I put them in a smaller saucepan with a little water to heat them up, 'cause they're frozen.
The zucchini noodles, I start everything with onion and garlic because I don't know how you cook anything without onion and garlic. I use a bigger, wider sauce pan so I can sauté them more than cook them down. Toss those, toss those, toss those. If you put the pesto in the pan with them it'll make them soggy. So after they've cooked down a little and are softened, I'll put the chicken meatballs in a bowl with the pasta and put the pesto on that way.
The meatballs are actually from Target. I had gone to a nutritionist and she put me on them, and zucchini noodles, so I was real suspicious. But I like the chicken meatballs, even though I'm not a huge chicken fan. I guess I don't like chicken in chicken state. I like chicken in other ways. I like chicken when it's presented to me as beef, apparently.
Friday, October 18
Travel Day. I had shows at Magooby Joke House in Maryland on Friday and Saturday.
Breakfast was oatmeal, fruit, and tea with lemon and honey at the Delta Sky Club. At LaGuardia, the SkyClub depends on which terminal you are flying out of. One has a real Sky Club and another one they just took some chairs out and are like, Here's some snacks. L.A. has a SkyClub and a Flagship Club and that has real, real food. They're like, Here's eggs Benedict and here is pomegranate lassi. I had that one time. They're doing a lot.
Before my show, I had dinner with the comedian Shalewa Sharpe. She was opening for me. We went to Baltimore Seafood. She'd never ate crab legs before which I thought was crazy because, a black person who hasn't had crab legs before? We love those things.
Seafood boils are so fun. It all comes in a big bag and you can get different flavors: Cajun or Old Bay. Hot Lemon Pepper is my favorite. They bring a big bucket to the table, so you can put the shells in, and they give you gloves and a bib to wear.
And then you order whatever sea animals you want to get. I get either the snow crab or the shrimp, head on or head off. I recommend head off unless you want to devein.
"Sea animals" was a weird way to say "seafood." I'm never going to say that again. I freaked myself out.