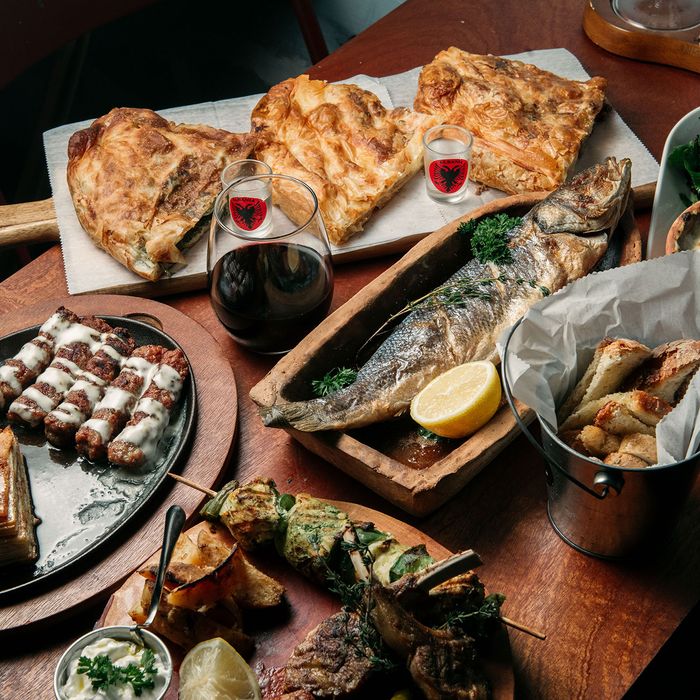 Albanian fare at Dua Kafe.
Photo: Scott Heins
I would love it if Action Bronson would come by to eat," says Bobian Demce, the owner of Dua Kafe, a tiny stronghold of Albanian food and culture on the southern fringes of Stuyvesant Town. "That would be perfect." Actually, what would be perfect would be if Bronson, a.k.a. Mr. Baklava, came by, tucked in, and then signed the photograph of himself that's hanging on the restaurant's wall of fame near Kosovar singer Tayna ("She was just here," says Demce, pointing to an empty table) and Ava Max ("She's like the Albanian-­American Lady Gaga"). Demce, you see, has spent the better part of the past year establishing his 22-seat café as a rare — if not the only — Manhattan destination for traditional Albanian cooking as well as a shrine to the country's rappers, actors, athletes, pop stars, models, and other assorted pop-culture celebrities whose studio shots line one wall. Signed pictures are proof that the star in question has dropped by, as is Dua's Instagram account, which alternates between the 21st-century culinary world's customary food porn and videos of famous compatriots signing autographs at the restaurant, where, at almost any hour, the TV is playing Albanian hip-hop videos. As the New York area's most famous Albanian rapper-gourmand, Bronson is Demce's white whale, but so far the man and his John Hancock have proved maddeningly elusive.
His loss. Even those customers who recognize only a few framed faces (Mother Teresa, the Belushi brothers, and Regis Philbin, in the sad case of the Underground Gourmet, who clearly needs to brush up on Albanian pop stars) will find other compelling reasons to visit Dua, which means "love" in Albanian. The kitchen is under the supervision of Demce's wife, Aida, a home cook who turns out the sort of traditional, rustic, stick-to-your-ribs fare that makes a satisfying introduction to the cuisine, especially as the temperature begins to drop and the hibernation impulse takes over.
Pilgrimages to the Albanian hubs of the outer boroughs have taught us that the Southern European country's cooking is big on meat and dairy, both of which are well represented on Dua's concise menu, sometimes in the same dish. The skinless beef sausages called qebapa, for instance, arrive plump, fairly juicy, and drizzled with cream on a sizzling platter. (You can also get them paired with fli, the layered-crêpe wedge that Dua's kitchen tops, unusually, with honey.) There are byreks, the phyllo pie of the Balkan peninsula, stuffed with meat, cheese, or spinach, the dough flaky if a bit chewy; plates of cured meats and cheeses foraged from a halal market in Brooklyn; and a couple of token salads — one of pickled vegetables, the other a Greek-ish tomato-cucumber-feta medley that would greatly benefit from better tomatoes (especially at the peak of the local season) or maybe from the restaurant's adopting the city's first BYOT (bring your own tomatoes) policy.
Dua's strength lies in its clay-pot casseroles. Fërgesë, which the U.G. has come to fondly think of as Bubbling Crock No. 1, is a tangy, creamy mixture of cottage cheese, tricolor peppers, and spices, and it eats not unlike an Albanian pimento-cheese dip. Bubbling Crock No. 2, the tavë kosi, is billed as "the national favorite of lamb baked with egg in yogurt" but is more like a soufflé-textured sauce, its surface oven-browned and its depths concealing two chunks of meat. Though served on a plate and not in a clay pot, the speca me maze belongs in spirit to the category; roasted red peppers are fanned out in a circle and blanketed with a cornmeal-based, polenta-like substance as rich and smoothly textured as buttercream frosting.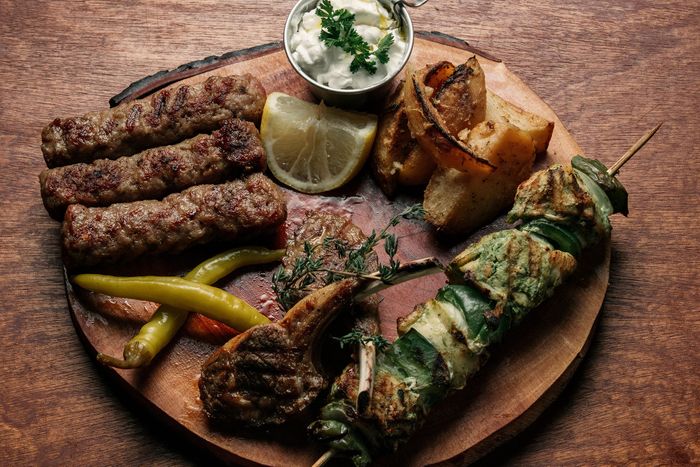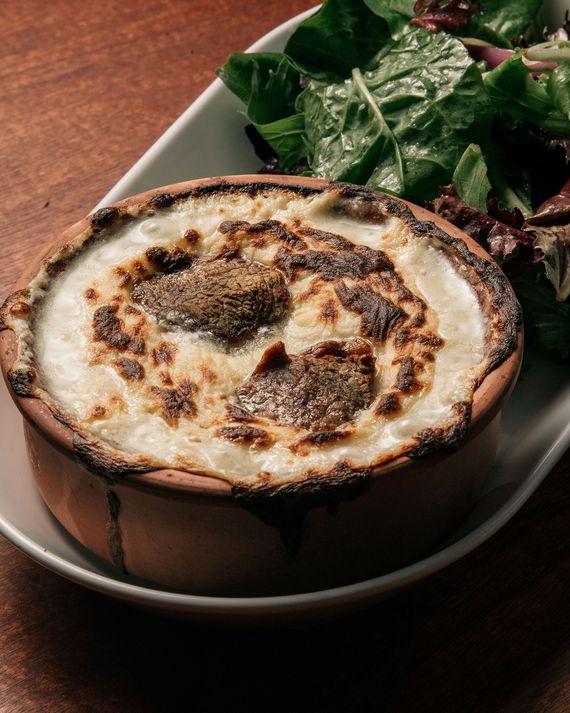 Perhaps even more than in these hard-to-find Albanian specialties, Dua's appeal lies in its mom-and-pop vibe and old-world charm, something of an anomaly on a stretch of 14th Street recently remade with luxury apartments and big-box retail like the corner Target. The slim space is furnished with a couple of antique musical instruments, a few pastoral paintings, and chairs and pews salvaged from a church in New Jersey. The entrance is draped with burgundy curtains that frame a view into the fluorescent glare of a parking garage across the street, and sirens frequently drown out the Albanian hip-hop. But you can still find a measure of peace over a cup of Albanian-style coffee made in a siphon pot and a plate of homemade hot "baklava Panda," which Aida embellishes with a pour of condensed milk — a tweak inspired by the memory of a particular Chinese brand that was widely available when Albania was under Communist rule. Consider it not nostalgia for the bad old days as much as a rendering of sweetness from scarcity.
"I always wanted to do my own food," says Demce, who immigrated to New York in 2001 and sold Life Alert pendants ("Help! I've fallen, and I can't get up!") to senior citizens by phone while working his way up in the restaurant industry from busboy to waiter to bartender. "I love what I am," he says. "I'm proud of my ethnicity." This, as any visitor to the restaurateur's home away from home can affirm, is putting it mildly.
*A version of this article appears in the October 14, 2019, issue of New York Magazine. Subscribe Now!