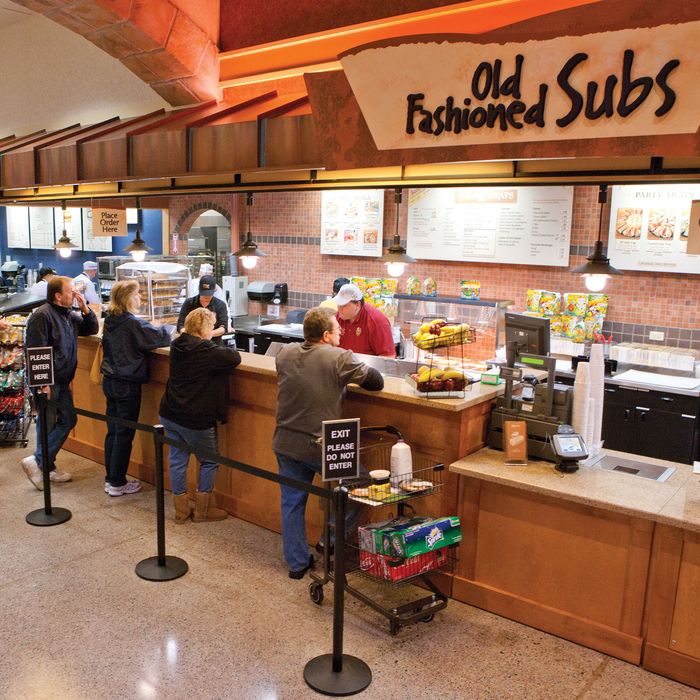 A sign you won't see in New York City's first Wegmans.
Photo: Wegmans
Like everyone else, I spent four agonizing years waiting for Wegmans to open in Brooklyn. I wondered what was taking so long while I dreamt of above-average house brands, lovingly prepared foods, and genuinely friendly staffers. When opening day arrived, I read everything I could about the new store, eager to make the long trek to Brooklyn to try it for myself … until I read this harrowing line in the New Yorker's day-one report: "The only time I saw any of the throngs of Wegmaniacs seem anything other than fully elated was when they realized that all the deli sandwiches are premade."
When I got to the store myself, the reality of the situation was as horrible as I'd feared: clamshells filled with sogging, uncustomizable sandwiches, hidden in the store's prepared-food section. I can't believe it, but it's true. This Wegmans does not have a Sub Shop and, as a result, it does not have a reason to exist.
If you think this sounds melodramatic, you have probably never had the pleasure of eating a Wegmans Assorted (turkey, roast beef, and ham) on everything-spiced bread with one hand during a five-hour driving trip. You have probably never burned the roof of your mouth on a Buffalo chicken-tender sub that manages to be somehow soft, crisp, and crunchy, all at once. And you have definitely never dropped a dense, hefty 14-inch sub on a table and reveled in the satisfying thud that it makes.
When I called customer service to ask about the Brooklyn store's missing Sub Shop, a sunny representative named Tina told me it's "coming soon," and that they've been "getting a lot of calls." But when I followed up with the company's public-relations team, they sounded less certain:
When we open a new store, we know we are not going to get it 100 percent right on day one. We've been listening to our Brooklyn customers and are actively looking into if it's possible to add a sub shop. More to come as we better understand what it will take to get the job done.
My advice to Wegmans is this: Rip out whatever part of the store you have to in order to make it happen. A Wegmans without a Sub Shop is simply an unfinished Wegmans and Brooklyn, at the very least, deserves the Full Wegmans Experience.
I know that subs — hoagies, heroes, whatever you want to call them — don't sound like anything special. People who grew up near Publix or Wawa will claim those stores make the country's best sandwiches. But the Wegmans subs deserve special notice, and here is why.
For starters, the bread is huge. 14 inches long and at least four inches tall. Slightly crusty on the outside, Downy soft inside. The white bread is Italian (sesame-seeded or not), they have whole wheat that doesn't taste the least bit healthy, and the everything-seeded bread borders on onion-roll territory. The rolls are often somehow still warm when you pick up your sandwich, even if you don't get it toasted. The thinly sliced deli meats are stacked with precision and purpose, ensuring every bite has an evenly distributed amount of meat, especially for the multi-meat combos: the Wegmans Assorted with roast beef, turkey, and ham; and Danny's Favorite, their take on the Italian combo. In addition to deli meats, there are also chicken tenders (plain or Buffalo, both always crisp, even when cold), lemon-garlic grilled chicken, meatballs, bacon, portobello-mushroom cutlets, chicken salad, and tuna salad. There are 12 condiments and sauces, ranging from basic mayonnaise to three kinds of mustard to hot-pepper spread, always canvassing both sides of bread from edge to edge.
There are six kinds of cheese, but the Sub Shop employees will (usually) let you swap in any other kind you bring from the deli, as long as you pay for it separately from your sandwich. They will finish it with lettuce and vegetables, plus salt, pepper, and a drizzle of Wegmans' signature Italian-seasoned oil, unless you plan to eat it the next day, in which case they will thoughtfully pack the oil separately to avoid unnecessary sogging.
It's the attention to detail that matters.
Even if a line wraps around the store, the Sub Shop workers will never make you feel rushed. Instead, they will let you take your time and they will make sure that your sandwich is covered with every ingredient, evenly and completely, then rolled tightly and cut into four manageable pieces (if you order the smaller seven-inch version, they'll cut it in half). These people are the country's true sandwich artists, and there is an evident degree of care that allows a Wegmans sandwich to be the best possible version of itself.
Unfortunately, at the Brooklyn Wegmans, the sandwich situation is the opposite. Shoved in a small corner, only four sandwiches are available. Each has a weird amount of spring mix on it and several sad slices of tomato. On the Danny's Favorite that I bought, all of the meat was pushed to the side, flopped over and sadly stacked. The lettuce was wilting and tomato juice soaked into the bread. The cheese had started to fall off. Seasoning oil was MIA so I had to use the included packet of Heinz mayonnaise, even though it was not Hellman's, and also mayo has no real place on an Italian sub. The bread's only texture was "soft."
This was not the sub I grew up loving. Each bite felt like a betrayal. Maybe one day, they will add a Sub Shop, but until then, the Brooklyn store is just another nice, moderately priced place to buy groceries. It is not a destination. I waited nearly half a decade for Wegmans to open in New York. Little did I know that, when the day finally arrived, it would cause me to deactivate my status as a Wegmaniac.