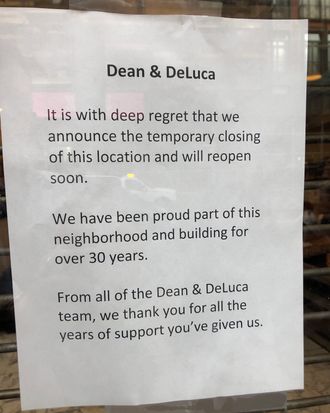 A sign taped to the door of Dean & DeLuca's flagship location.
Photo: Grub Street
The iconic New York gourmet store Dean & DeLuca has closed its flagship location in Soho, its last in the city. According to two pieces of printer paper taped to the front doors, it is a "temporary closing" and the store "will reopen," which may or may not be how this story really plays out. The store had been a shell of its former self, with barely stocked shelves, and there had been signs inside that indicated it was due to preparations for renovations. The sign on the door, however, makes no mention of renovations (the interior of the store also looks the same), and the company has been mired in financial uncertainty for many months.
Over the summer, it was reported that Dean & DeLuca owed vendors hundreds of thousands of dollars. In September, Dean & DeLuca suddenly closed its midtown location in the New York Times building. The grocer was bought by the Thai company Pace Development in 2014, and that company's chief executive Sorapoj Techakraisri told a Thai publication he plans to expand the chain in Asia.
Here is the full text of the sign taped to the door:
It is with deep regret that we announce the temporary closing of this location and will reopen soon. 




We have been proud part of this neighborhood and building for over 30 years.




From all of the Dean & DeLuca team, we thank you for all the years of support you've given us.
So, is this it? Grub Street reached out to Team Dean to see if they could offer more info — what kinds of renovations? what's the timeline? — but have not yet heard back. Even if the store returns, it's impossible to imagine it can capture any of its former glory, when Dean & DeLuca was, as former employee Patrick Kelly put it, staffed by "ordinary New Yorkers armed with extraordinary knowledge," who helped make it a place of "accessible indulgence."
For now, there is only one place where New Yorkers can relive the days when the name "Dean & DeLuca" still meant something. That place is, of course, reruns of Felicity.