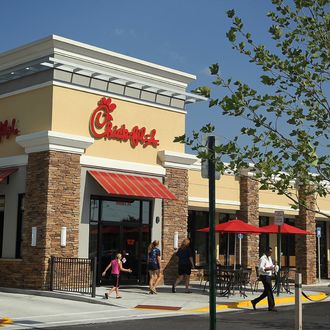 U.K. to Chick-fil-A: No thanks!
Photo: Alex Wong/Getty Images
This month, Georgia-born fast-food chain Chick-fil-A took a daring leap across the pond, opening its first location in Reading in the United Kingdom. The response? A resounding nope.
According to the Washington Post, the chicken-sandwich chain was immediately met with protests by LGBTQ advocates who don't care for the company's long-running support of anti-LGBTQ groups. (Earlier this year, it was revealed that the chain donated $1.8 million to such groups as recently as 2017.)
Now, representatives for Chick-fil-A say they will shutter the store by next spring and that it was always the plan to operate for just six months. Representatives for Oracle Mall, where the new restaurant is located, said this was all part of a "six-month pilot period" that will not be extended because it's the "right thing to do."
Reading Pride, the local group leading the protests against Chick-fil-A, issued a statement saying that "the chain's ethos and moral stance goes completely against our values," with one protester adding that Chick-fil-A won't be welcome anywhere in the U.K.