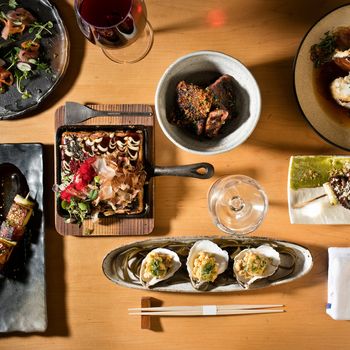 Some of the small (and larger) plates at Būmu.
Photo: Melissa Hom
Back in 2004, Joaquin Baca was David Chang's first hire at Momofuku Noodle Bar; five years and two restaurants later, he left the ramen-and-pork-bun fold to go solo in Brooklyn. And after a long run at Williamsburg's southern-comfort-inspired Brooklyn Star and a short one at Teo in Bushwick, Baca has returned to downtown Manhattan — this time, to that restless stretch of 8th Street between Fifth and Sixth Avenues that seems to have sprouted a new business every time you stroll down it. Where there used to be the well-regarded sushi spot Neta, there is now the Japanese-inspired izakaya Būmu, which opens next week with Baca as executive chef.
As he did at Teo, Baca will combine the Asian and American ingredients and techniques that have defined his career and nod to his Texas roots. Fans of such Teo signatures as cast-iron okonomiyaki with Benton's bacon and Duke's mayonnaise will be reunited with them here. And many of Teo's binchotan-grilled yakitori are making return appearances: the smoked beef tongue with cucumber and spicy mustard, the chicken skins (now garnished with buttermilk and sambal), the pork belly and pineapple, the rabbit tsukune with a quail-egg yolk.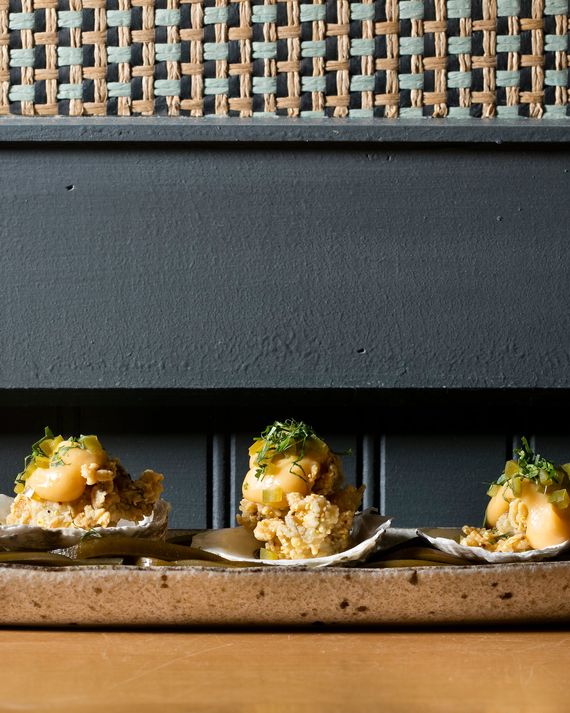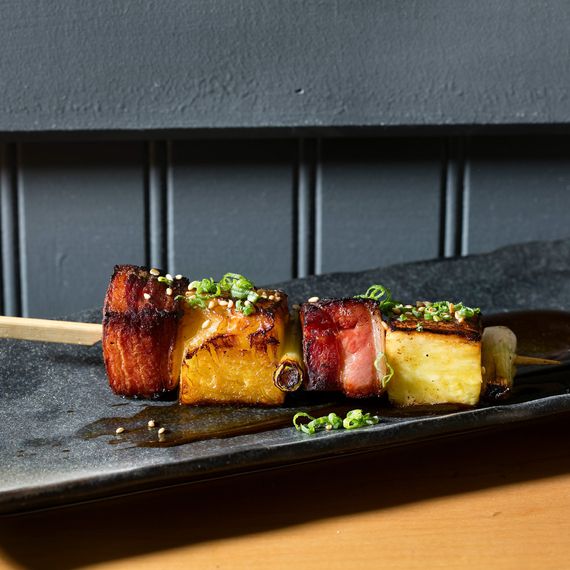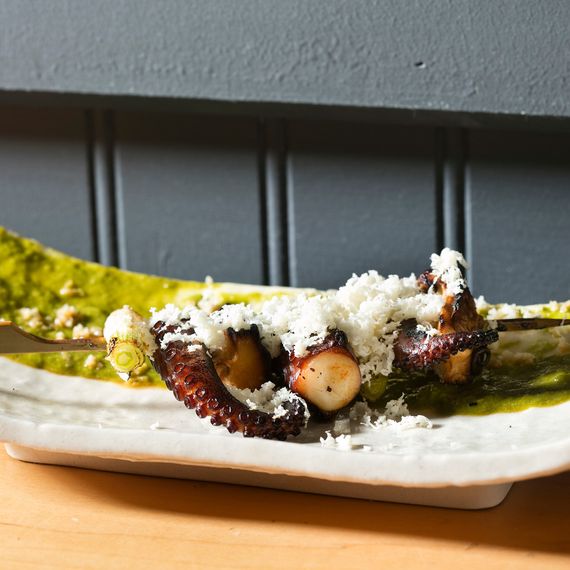 Southern American grace notes have long been a hallmark of Baca's food, and they turn up at Būmu, too, in the forms of red-eye gravy, braised collards, and crispy pig tails. As you'd expect from a Momofuku alum, there are noodles: spicy-shrimp-broth udon and hanger-steak tsukemen ramen. The link to Neta (other than the ownership) is a selection of raw fish, some in sushi form, and like Neta, Baca also plans to offer vegetable sushi.
The emphasis on small plates indicates a desire for Būmu to be a casual, user-friendly neighborhood hangout, designed to appeal to an after-work crowd, whether you clock out at five or, as many in the restaurant industry do, considerably later. Much of the seating is at a copper-topped bar, and Neta's stark setting has been warmed up with bright tile and wallpaper. Managing partner Chris Johnson has compiled a drink list that focuses on small producers from near and far, with sake, cocktails, local beer, and natural wine. Here's a look at some of the dishes you'll find on the menu when the restaurant opens next week.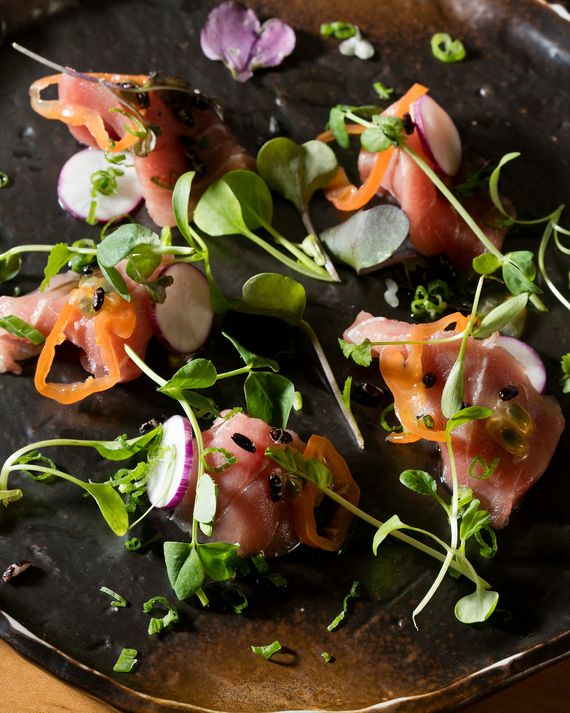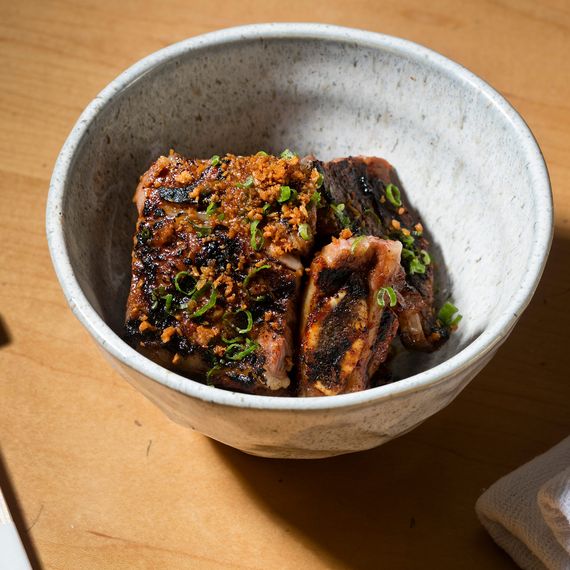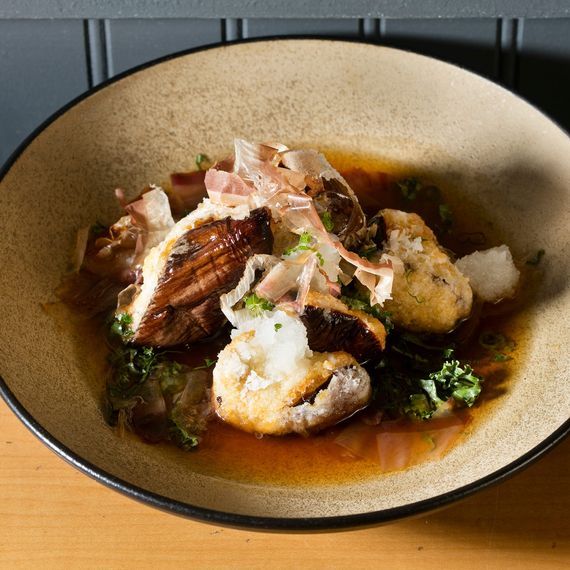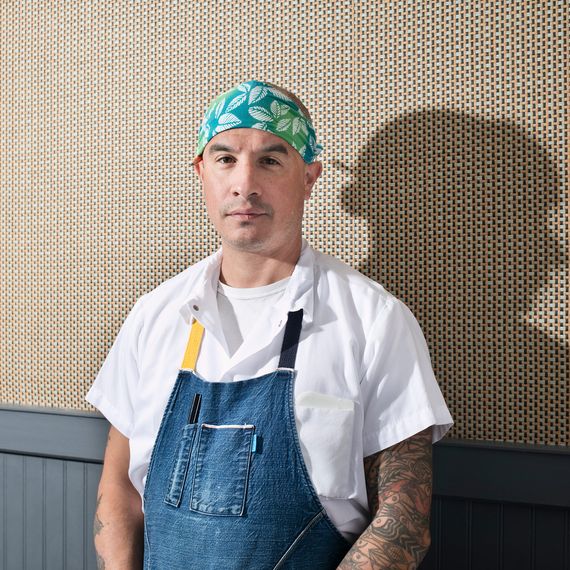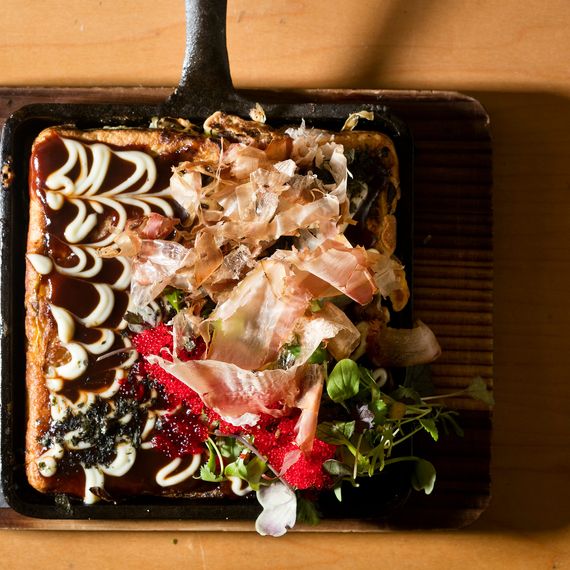 61 W. 8th St., nr. Sixth Ave.; 212-505-2610