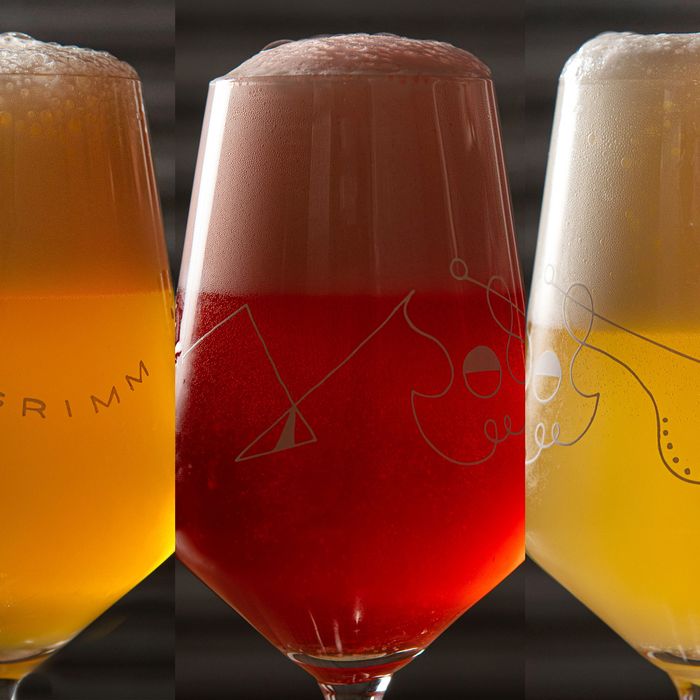 It's boom times for beer lovers here in New York City. There are dozens of hyperlocal spots to choose from, and they produce new, world-class beers on a near-weekly basis. In fact, the most difficult part is keeping up. To help, we've spotlighted our 11 favorite beers on tap right now at the city's most enjoyable breweries. Drink up!
Gathering Red Currants & Peaches
Style: Fruited sour
Where: Grimm Artisanal Ales
It may be fall, but the best of summer fruit is sitting in a kind of sudsy stasis at this East Williamsburg brewery, where brewer Joe Grimm has been working on a series dubbed Gathering. It involves fermenting fruit at its peak ripeness and then mixing the resulting juice with barrel-aged sours. The final products are funky, sweet, and a touch acidic.
Sweet Potato Farmhouse Ale
Style: Saison
Where: Big aLICe Brewing
Tired: pumpkin beers. Wired: sweet-potato ales from this Queens-born brewery (with another location in Industry City) created by adding actual sweet potatoes during the mashing process. The flavor profile is more peppery and warmly spiced, and less overly sweet candied yams.
It's So Quiet and Peaceful Walking Across the Brooklyn Bridge
Style: Pale ale
Where: Evil Twin Brewing NYC
If his beer names are any indication, Jeppe Jarnit-Bjergsø wants to become the Oscar Wilde of beer-making. At his brand-new brewery in Ridgewood, Queens, imbibers will find 20 similarly silly brews to try. But we say start with this low-key double dry-hopped pale ale with piney undertones and a creamy texture.
Safe Flight
Style: IPA
Where: KCBC
It's not often that you can drink for a good cause, but Bushwick's KCBC has the perfect excuse to do just that: Drop by the brewery now and give their Safe Flight beer a try. It's an on-trend hazy IPA that's hopped three times during the brewing process and features acidic pineapple to pleasantly bitter effect. A portion of all sales goes to save the birds.
Fire Season Smoked Rye Ale
Style: Brown Ale
Where: Strong Rope Brewery
When life, or an upstate supplier, gives you a free bag of rye smoked over maplewood, you make a smoked-rye ale with it. Or at least, that's what the folks at Strong Rope in Gowanus did, adding some chocolate rye and Crystal 80 malt in for good measure, and a subtle caramel flavor. It's like drinking a not-so-heavy stout that just spent a few hours by a campfire.
Paradigmatic Flexibility
Style: Brettanomyces-fermented pale ale
Where: Threes Brewing
Like their buddies over at Grimm, the Threes Brewing gang is also playing around with fresh fruit from upstate. This particular brew uses tart Montmorency cherries, which were previously used in a batch of the bar's Divine Symmetry beer. They're added to a year-old, barrel-aged pale ale with lime and lemon zest. The result is an eminently drinkable beer that's less Sour Patch Kids, more summertime cherry pie.
Cucumber Lime Glow Up
Style: Berliner Weisse
Where: Folksbier Brauerei
This Berliner Weisse tastes like Cel-Ray in beer form. Cucumber in a beer is an idea that could go terribly wrong (like fragrant soap dumped into a lager); but here the fresh juice makes it easy drinking and, like Cel-Ray, surprisingly refreshing. Part of the brewery's Glow Up line of sour bears, it's also made with lime juice and zest, so it tastes tart and juicy like, say, Dogfish Head's SeaQuench or Westbrook's Gose — just with the citrus reeled in by a stronger hit of the cucumber's savoriness. Chug, don't sip. — Chris Crowley
Speculative Fiction
Style: IPA
Where: Rockaway Brewing Co.
Despite the name, there's nothing truly mysterious about this bright, juicy beer. Its mellow flavor comes from the use of Gewürztraminer white-wine grapes during the brewing process, which play incredibly well with the beer's tart Amarillo hops. Hot tip: Grab a growler to go and discreetly enjoy your beer on the LIC waterfront.
Utica Greens
Style: Imperial IPA
Where: Other Half Brewing
Earlier this year, Other Half extended its reach upstate to Rochester. Since then, Other Half Jr. has been shipping down a food series inspired by the rich flavors and strangely named dishes of upstate New York, including garbage plates, chicken riggies, wangies, and now, Utica greens. The hop-forward beer does not include hot peppers, Pecorino, or sautéed greens, but it does feature newfangled Cryo Hops, which, through the miracle of modern science, are somehow twice as hoppy as their traditional counterparts. Drop by and taste the science.
Face Block
Style: Barley wine
Where: Fifth Hammer Brewing
Despite the name, barley wine contains no actual grapes, but it's comparable in color, and strength — 12 percent alcohol by volume — to a big California red. So when you ask the bartender to pour you a glass, be sure to sip it slowly and savor the rich, dark sherrylike taste.
Covered in Cats
Style: Double IPA
Where: Finback Brewery
If you're the type that loves a big, juicy IPA so opaque you can't even see the other side of the glass, this hop bomb will be just your speed. The addition of El Dorado hops gives this heady beer the tropical pineapple notes you've come to expect from the style, but it's also surprisingly bitter.