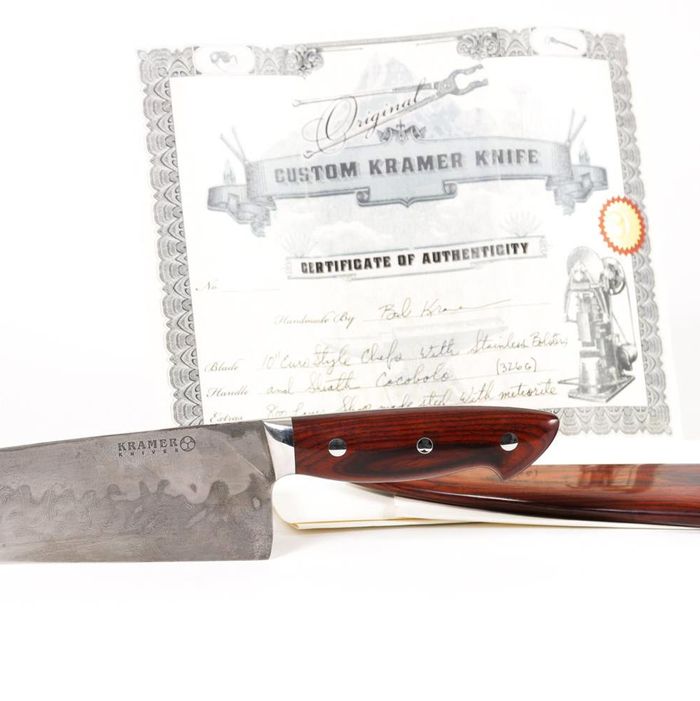 This custom Bob Kramer knife is expected to go for six figures.
Photo: iGavel Auctions
Last month, the New York Times reported that Anthony Bourdain's family would be auctioning off the majority of the late TV presenter and author's possessions online, with 60 percent of the proceeds going to support his estranged wife and young daughter, and the remainder benefitting a scholarship created in his name at the Culinary Institute of America.
The auction, organized by frequent Antiques Roadshow guest Lark Mason, is now live and will run through October 30. There are 202 items available, including books, records, sculptures, furniture, watches, sunglasses, jackets, suits, and a Bob Kramer chef's knife that'll set most people back on rent for about two to three years. Below, we've highlighted ten of the most interesting and storied lots for sale.
Chrome Duck Press from the Paris Episode of The Layover
Current bid: $7,750
After No Reservations, but before Parts Unknown, Bourdain starred in this show, on which he ate and drank as much as he could during a 24- to 48-hour "layover" in different cities. While in Paris, he grabbed this duck press, which is, in fact, used to press the blood and juices out of an already-dead duck for sauce-making purposes. Dark!
Simpsons Script for 'The Food Wife', with Signed Inscriptions to Anthony Bourdain
Current bid: $700
In 2011, Bourdain lent his voice to a food blogging-themed episode of The Simpsons, where he, Gordon Ramsay, and Mario Batali appear in a dream sequence. Afterward, the showrunners sent him this script signed by the entire voice cast.
Jacques Pépin, Abstract Painting, Oil on Canvas
Current bid: $4,200
In addition to being a world-renowned chef and TV personality, Jacques Pépin is also a talented painter. Somewhere along the way, he gifted this abstract piece to Bourdain.
French Silvered Bronze Bibendum or Michelin Man Sculpture
Current bid: $2,700
This is another item made all the more valuable by the person who gave it to Bourdain. That would be legendary British chef Marco Pierre White, who back in 1994 became the youngest British chef to receive three Michelin stars.
Custom U.S. Navy Jacket from the USS Nashville
Current bid: $3,600
In 2006, while filming No Reservations, Bourdain found himself in Beirut, Lebanon, at exactly the wrong time, when the Israeli military and Hezbollah began firing shots at one another. Bourdain, his crew, and other Americans were evacuated on the USS Nashville. Later, he was gifted this Navy jacket with a patch reading "Tony Bourdain."
C.C. Filson Co. Smokey Bear Wristwatch
Current bid: $1,250
Apparently, Bourdain had a lot of wristwatches, including a rose-gold Rolex and a Phillipe Patek. But there's something so classic about this Filson watch starring another American icon: Smokey Bear. Plus, it's waaaay cheaper.
Pair of Alexander McQueen Skull Hologram Cufflinks
Current bid: $425
No one would call Bourdain a fashion icon for our time, but the man did know a thing or two about nice clothes, as evidenced by his Tom Ford suits, the aforementioned Rolex and Patek watches, and these Alexander McQueen cufflinks, designed by another great mind who was gone too soon.
Early Handwritten and Typed Poems and Prose by Anthony Bourdain
Current bid: $1,900
Before you're a really good writer, you're usually a really bad writer. And as these poems and essays on long-yellowed paper will likely show, Bourdain probably wrote some cringe-y prose in his pre-Kitchen Confidential days.
Group of Decorative Articles Including Ashtrays and a Taxidermy Alligator Head
Current bid: $475
There are a lot of peculiar items from Bourdain's travels to be found throughout the auction, include keepsakes from Nepal, Thailand, and parts of Africa. But this expertly curated collection of exotic tchotchkes with an alligator head, a skeleton relaxing in an ashtray, and Bhutanese rocks painted with penises takes the cake.
Custom Bob Kramer Steel and Meteorite Chef's Knife with Certificate to Anthony Bourdain
Current bid: $19,500
Bob Kramer is to kitchen knives what the fictional Hattori Hanzō was to katana swords in Kill Bill: Volume 1. They're not available in stores, only by membership, and the painstakingly crafted tools can only be purchased via auction or custom order. So, of course, Anthony Bourdain was a huge fan.