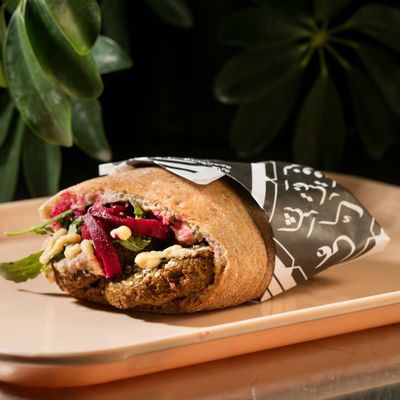 A ta'ameya sandwich.
Photo: Melissa Hom
Since it was founded in 2012, the Cairo-based chainlet Zooba has expanded to six locations (and counting) in the city. It was made in the fast-casual mode, clearly built for scale, but when co-founder Chris Khalifa talks about it, he talks about spreading his own gospel of Egyptian food. "At the very beginning, the vision was always to take this outside of Egypt. And, yeah, the idea behind starting this is, Egyptian food is really not on the map at all," the Egyptian-American entrepreneur says.
Tomorrow, he and his co-founder chef Moustafa El Refaey will make good on that vision with their first American location, right here in Nolita. The Kenmare Street spot is relatively open, with a communal table and swivel seating at the u-shaped counter for ordering. Menus can be grabbed out of a hanging wicker basket; beer and wine are served alongside non-alcoholic drinks like mint limeade and El Rosa iced tea. Khalifa insists that the New York restaurant is not going to be retailored to pander to "American" tastes, and when he says he feels that Egyptian food was not on the map, he says he feels this way about the status of Egyptian food in Egypt compared to, say, Italian or French or Persian food. "Who wrote the rules that koshari" — the rice, pasta, and lentil dish — "had to be cheap with the cheapest raw materials, but normal pasta that you eat at an Italian restaurant in Cairo could be premium, and use the best tomatoes for the tomato sauce?" he says.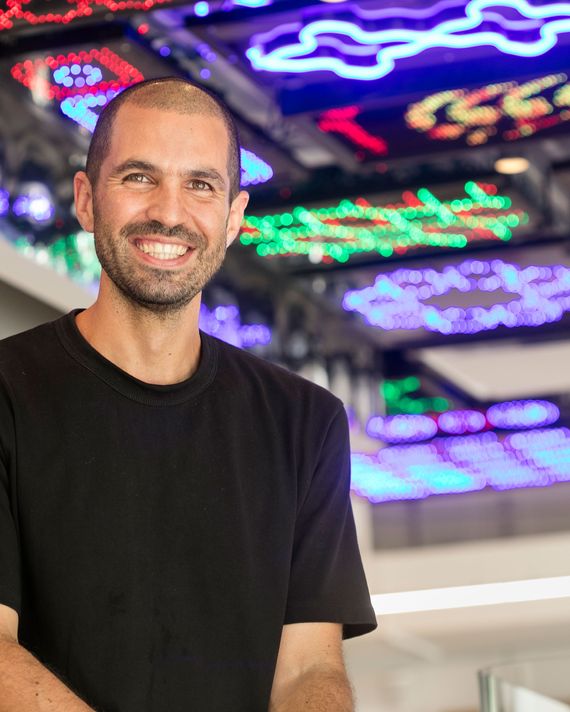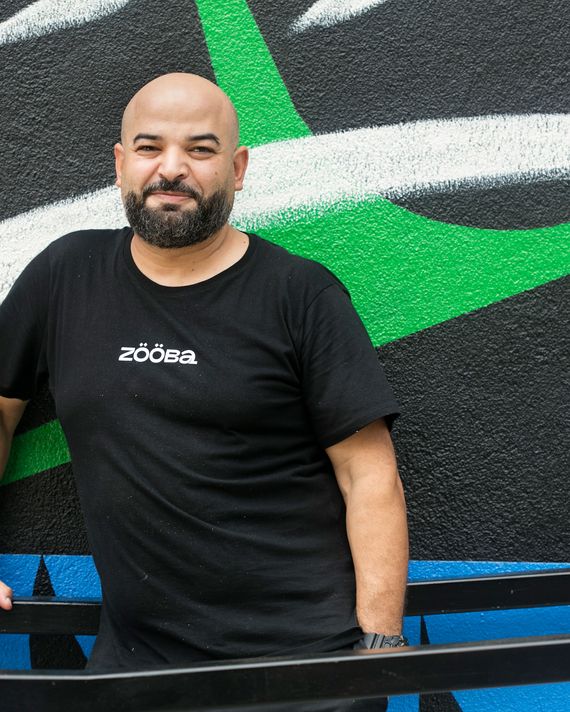 New York, of course, has its Egyptian restaurants.There's the Little Egypt stretch of Steinway Street in Astoria, a neighborhood home to Kabab Café (once featured on No Reservations) as well as the seafood specialist AbuQir. There's hawawshi specialist American Pharaohs, a stand at the Queens Night Market, and Little Egypt (currently temporarily closed) in Ridgewood, among others. Still, generally speaking, the cuisine is less familiar to New Yorkers than, say, Sichuan or French, and less available in Manhattan. So, to help, Grub asked the Zooba team to break down the menu, comprised of things he says "we felt would represent a slice of Egypt the most."
Often compared to falafel, ta'ameya are made of fava beans, with a mix of herbs, and greener then Greta Thunberg. "I mean every Egyptian is eating ta'ameya on a daily basis. It's such a cornerstone of the Egyptian culture. It's the most affordable food in the country. As a result, it's every person's food," Khalifa says. At Zooba, they offer ta'ameya six ways. Four are sandwiches.
From left to right, there's the pickled lemon with pickled beetroot salad, baladi salad, beetroot-hibiscus tahina, and pickled lemon sauce; the classic with baladi salad, arugula, and classic tahina; the cheese with Egyptian roumy cheese, arugula, tomato-onio relish, and classic tahina; and the spicy with harissa cauliflower, baladi salad, tahina, and harissa-raisin sauce.
If you don't want a sandwich, you can get the ta'ameya salad with arugula, baladi salad, pickled eggplant salad, bessara, and beetroot-hibiscus tahina.
Or go for a five pack with dipping sauces.
Zooba chef El Refaey takes the same approach to their hawawshi, a beef patty that's actually about half vegetables. There are three sandwiches, all served on baladi bread. From left to right, these are: the spicy with orange-carrot slaw, classic tahina, and harissa-raisin sauce; the cheese with roumy cheese, argulua, and tomato-onion relish; and the street, sans topping but with your choice of dipping sauce. "It's something that's one of our star items in Egypt and very Cairo street," Khalifa says of the dish "It's one of our favorite items in Egypt."
The spicy hawawshi, going solo.
Then there's the aforementioned beef liver sandwich. The offal gets oven roasted, and is served with some pungent and strongly flavored toppings: pickled lemon sauce, tomato-onion relish, and mixed peppers, plus peppery arugula and nutty tahina. The sandwich itself is, Khalifa says, very much Zooba's own. "But you have liver and sausage shops in the streets in Egypt," he says. "It's definitely one of the core street foods. It'll be interesting to see how people react to that, but that's a good example of one of those items that we know might have very mixed reactions, but we felt was important to have on our menu and to have it added to our menu from a culinary standpoint, and we didn't want to leave it out."
Four of the aforementioned dipping sauces from left to right: hibiscus-beetroot tahina, pickled lemon, harissa raisin, and classic tahina.
All of the sandwiches are served on baladi, a flatbread that they're baking in-house. Typically compared to pita, it's a circular bread made at Zooba with high-extraction flour and grain that Khalifa says is from upstate New York and Maine. "Baladi bread is the bread of Egypt," Khalifa says. "It's delicious, and we make it in every store in Cairo. And we make it in house in New York, and we'll make it anywhere we go. That's the heart of what we do."
"As far as street food's concerned, you can't have a street-food menu and call it representative of Egyptian and not have koshari," Khalifa says. Served only on the weekends, it's thought to be derived from the Indian rice and lentil dish khichdi and is a ménage à carbs. There's short-grain rice, gluten-free spaghetti, simmered brown lentils, and braised chickpeas. It's loaded up further with tomato sauce, baladi salad, and fried onions, then dressed with housemade aswani chili sauce and garlic-vinegar dakka.
To go with those main dishes, they offer several sides like the dukka fries. These are French fries seasoned with a 12-spice version of dukka, here made with cumin, salt, black pepper, cayenne, coriander, sesame seeds, paprika, rose petals, fennel seed, onion, thyme, and hibiscus.
Khalifa describes the baladi salad as a play on salads from rural Egypt. Made of diced tomatoes, diced cucumbers, parsley, lime, and cumin, it's served in some sandwiches and also available as a side. There's no baladi bread!
Asked about the harissa cauliflower and pickled-eggplant salad, Khalifa immediately calls them "very Zooba." As he explains it, "those are us getting more innovative with stuff." The cauliflower is oven roasted and served with harissa-raisin sauce and parsley, while the eggplant comes with bell peppers, raw tomatoes, and braised chickpeas.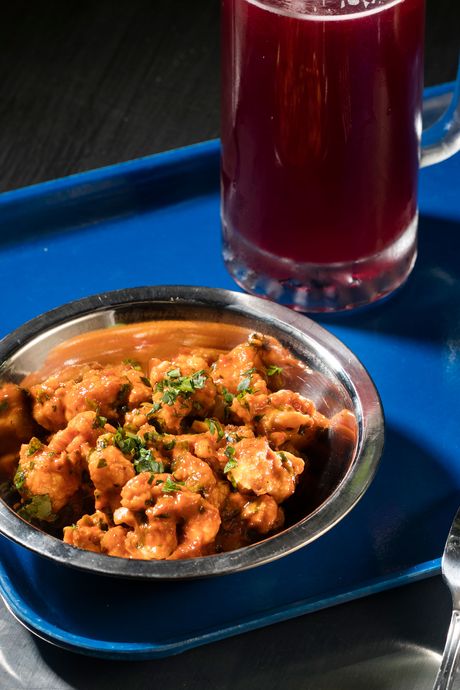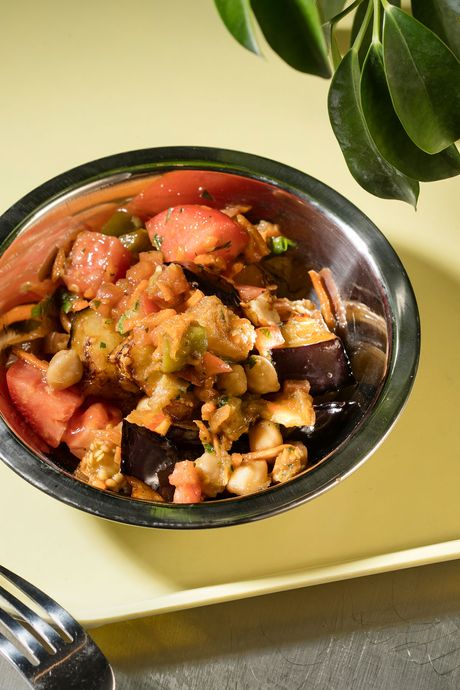 The last side is the torshi, a mixed salt-and-vinegar pickle of onions, carrots, and turnips. "Torshi is incredibly Egyptian," he says. "I can't speak for every pickle, there's so much pickling. Any Egyptian will look at an Egyptian mix of pickles and know that this is Egyptian."
The menu is rounded out by three dips, two of which are made of fava beans. The legume is a theme on the menu here, and in Egyptian food broadly.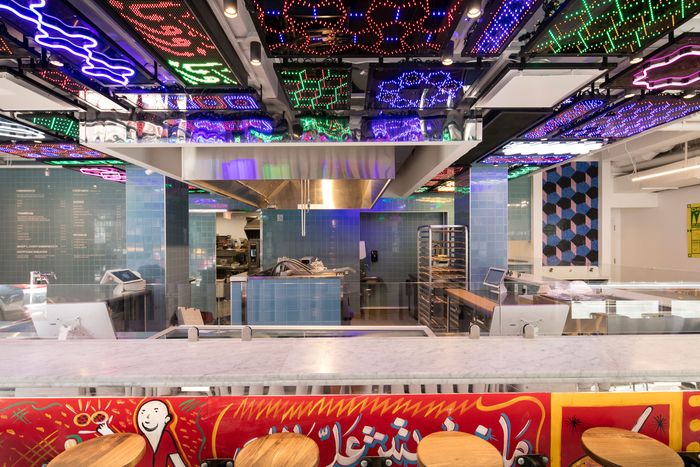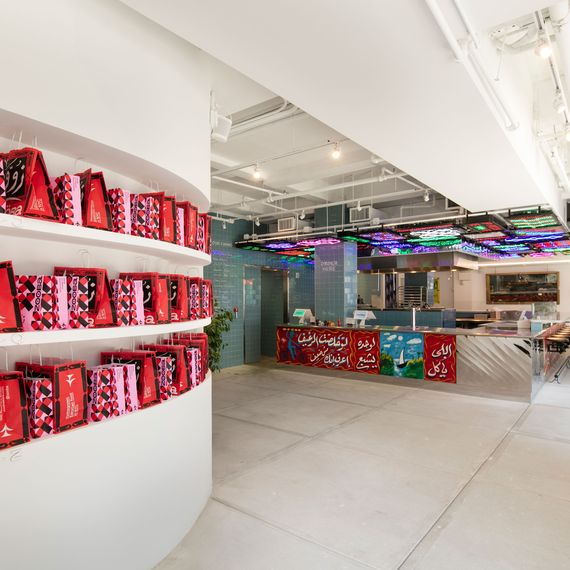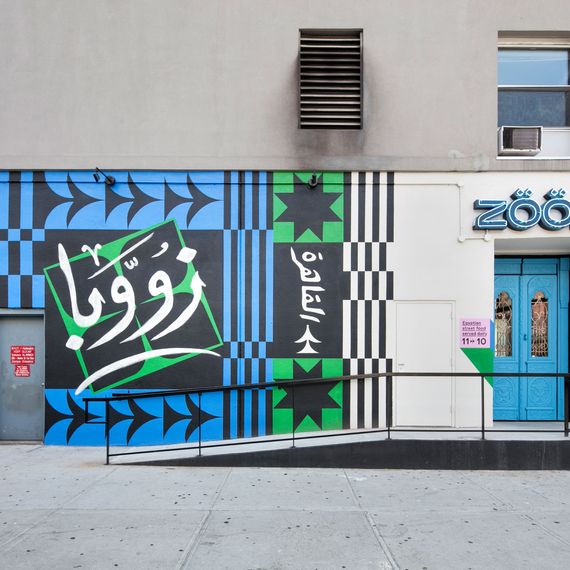 One is the Zooba bessara, a braised fava-bean puree with cherry-tomato-kalamata-olive confit and extra-virgin olive oil. It's served cold and bright green. "The besarra is Egypt's take on hummus," Khalifa says. "That is the national — it's a very national dish in Egypt. Incredibly healthy, as well."
The other is ful medames, for which they soak the dried beans before cooking them for ten hours. The beans come with arugula, baladi salad, pickled turnip, parsley, mint, and classic tahina. Like much of the menu not served on bread, it happens to be vegan and gluten-free.
Finally, there's the olive labna, the strained yogurt cheese, served with a chunky kalamata olive blend.
Zooba, 100 Kenmare St., nr. Lafayette St.; 646-596-8090