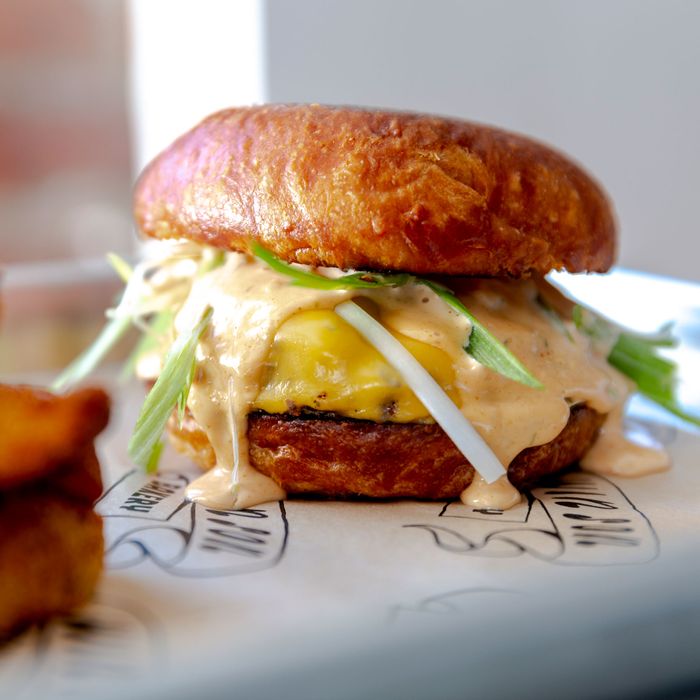 Win Son Bakery's burger.
Photo: Mark Abramson
New York knows no shortage of burgers. Grilled, griddled, pan-fried, smothered in special sauce or blanketed in cheese, served in diners for bargain-bin prices, and made fancy for fancy prices. All in all, though, most burgers are, well, burgers. They're everywhere for good reason, but that also means that, for the most part, it's not like you have to seek them out. Sometimes, though, you find an exception.
Take the one now being served with five-spice wedge fries at Win Son Bakery, the café-bar spin-off of Joshua Ku and Trigg Brown's very popular Taiwnaese-American spot Win Son. There's melted raclette blanketing the burger itself, a garnish of scallions, and an actually special sauce that's mayo-based and made with funky and savory doufu ru or fermented bean curd as well as ginger, scallions, and ketchup. It's like the one they serve on Win Son's big chicken bun. "Both use doufu ru in different ways. The big chicken sauce is more savory. It tastes like ham," Brown says. "This is like a funky and sweeter 1,000 Island."
It's served not on Martin's but a rich milk bread that pastry chef Danielle Spencer bakes in-house and which Brown says is the star of all their sandwiches. (For the breakfast sandwiches, you can also sub out the milk bread for a scallion pancake and pretend you're eating a wrap.)
"It's this milk bread that we have experienced in Taiwan, that we've recreated and tried to apply here in our unique Taiwnaese-American way," he explains. Made with a toasted-milk roux, the bread is used day and night, for breakfast sandwiches like a bacon, egg, and raclette cheese, as well as ones at dinner like the san bei ji "chopped cheese" and an untraditional eggplant parm. That's made with a tomato sauce that starts with sweated onion and garlic, gets spiked with rice wine, and is heavy on the doubanjiang, and which gets ladled over breaded and fried eggplant with an ample amount of raclette. "It's always the eggplant — it's the Trojan horse into people's hearts," Ku jokes, in reference to Win Son's popular eggplant and kefir dish.
Along with the sandwiches, the dinner menu will be rounded out by xiaochi, cold and seasonal vegetable dishes like peaches and sungolds; salads including a white sesame caesar; and a pair of poultry dishes. The big chicken box will remind you of the sandwich across the street, but here it's dunked in a sweet sauce and served with fries and scallion pancakes, and the ya fan is a duck rice dish that's all about pan drippings.
Unlike at Win Son, the Bakery's food was created to be better suited for takeout, and the space is designed to facilitate come-and-go orders. The two restaurants are roughly the same size, but Bakery is longer and sleeker in design, with some plants ("always need more plants," Ku says) and rather cool hanging lamps created by Souda. The studio, co-founded by Ku's friend Luft Tanaka, helped design both restaurants. There are plenty of tables and a bar at the front entrance, while the counter for ordering is sequestered on the other side of the room and near another entrance. Ku expects the Bakery to have its liquor license in about a week, when they'll start serving natural wines and cocktails, like the baijiu and black cherry liqueur-based Running Horse Slushie, from partner Jesse Shapell.
Pastry, though, will be as big a part of Win Son Bakery as anything. Taiwan has one of the world's premiere breakfast cultures, heavy on carbs and freshly made soy milk, as well as a baking culture that pulls from northern China, Japan, and Europe. There will be soy milk, which you can get steamed with espresso, and fan tuan (sticky-rice rolls stuffed with fillings like pork floss), but also some pretty exciting pastries from Spencer. Her baked goods are explicitly in the Win Son style, and inspired by things she ate with Ku on a trip to the island. Take the laminated pollo bao, a pineapple bun made with croissant dough.
"It kind of blew Danielle's mind. Being not familiar with those things and then seeing the two combined in a way that creates something really nice and delicious," Ku explains. There are millet-flour mochi doughnuts, a riff on one they ate in Tainan, milk-bread date cake made with red-rice glaze, and more. The pastries were always on Ku and Brown's minds, and Win Son's popularity gives them license to pursue more ideas. "Hopefully we have a better platform to push these things that are a little more unfamiliar but we think people will enjoy," Ku says.
Win Son Bakery, 164 Graham Ave, at Montrose Ave.; 917-909-1725