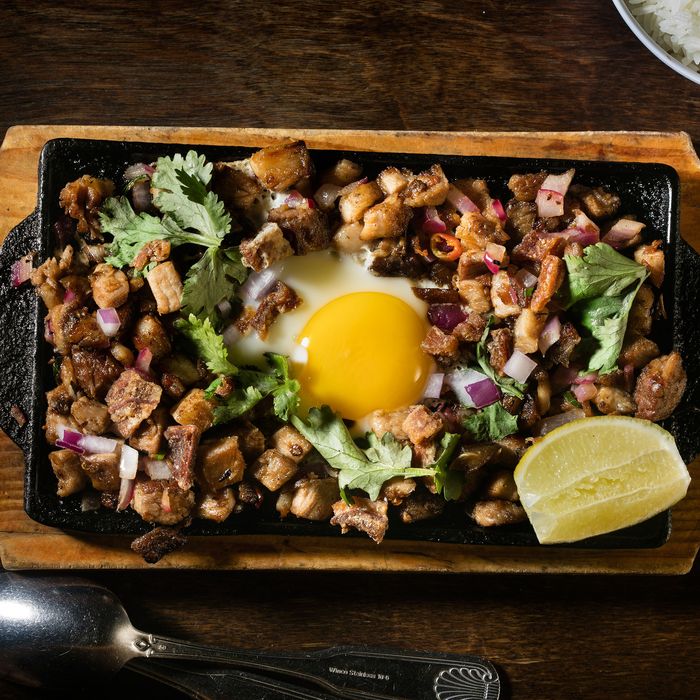 A serious hangover helper from Pig & Khao.
Photo: Melissa Hom
The idea of "brunch" has been around since at least 1895, when Hunter's Weekly published a story titled "Brunch: A Plea." The idea of hating brunch has probably been around since 1896. Over the years, the meal has become something of a pariah in the U.S. because it has also morphed into something that is more or less the same everywhere. Bottomless mimosas. A Bloody Mary menu. Endless egg variations, a few traditional breakfast items like pancakes and waffles, and — in the last decade or so — some version of avocado toast.
But brunch can be so much more if you allow yourself to wander from the unofficial staples of midday dining in Western cuisine. The food of Southeast Asia can, in fact, make you wonder why it's so underrated, and why Americans insist on scrambled eggs when they could be eating garlic fried rice, Filipino breakfast sausage, and pandan-scented waffles.
Southeast Asia is made up of 11 countries: Singapore, Vietnam, Indonesia, Malaysia, the Philippines, Thailand, Cambodia, Myanmar, Laos, Brunei, and Timor Leste. While they are all distinct nations with distinct cuisines, there are certain flavors that unite the region. Savory seafood, sweet coconut, and pandan define the culinary landscape of the tropical Indochinese peninsula. Moonlynn Tsai, co-owner of Malaysian restaurant Kopitiam, says the food "embodies the terroir, so you're basically eating what you can see around."
Nicole Ponseca, founder and creative director of Filipino restaurants Maharlika and Jeepney, adds that even if "brunch" isn't really a phenomenon outside of the U.S., it also isn't a culturally far-fetched concept for Filipinos. "We're such a social culture to begin with," she says. And as a majority-Catholic country, many families tend to eat what Ponseca calls a "leisurely breakfast" on Sundays after church. And, typically, this would be the traditional silog, which is garlic-fried rice with an egg that is the base for several variations. There's tapsilog, which adds marinated beef to that mix. And then there's bangsilog, which is the rice-egg mix with milk fish, plus tocilog, which typically uses sweet cured pork called tocino. Longsilog, meanwhile, calls for the addition of the garlicky breakfast sausage longanisa.
Leah Cohen, the chef and co-owner of the Filipino-Thai-accented Southeastern Asian restaurant Pig & Khao, says that the region's overlapping flavors actually allow for a lot of flexibility: "The Philippines might be more soy-vinegar–based, and Thai is more lime-fish sauce-chili–based, but all of those flavors still work well with each other." At her restaurant, Cohen serves the Filipino dish sizzling sisig — a fatty, aromatic hash made with pig head — as the ultimate hangover cure, finished with a whole egg.
In many ways, eggs can serve as the gateway ingredient for bleary-eyed American brunchers who might not be familiar with many of these dishes. Malaysian nasi lemak — rice cooked with coconut milk and pandan leaf, served with crispy fried anchovies, toasted peanuts, cucumber, and spicy sambal — and slices of toast sandwiching the sweet coconut jam known as kaya that's served with soft-cooked eggs make sense for brunch (and the latter is a great partner for coffee, too), but Western dishes translate well, too. Take, for example, waffles.
A popular Vietnamese snack sold at stalls outside school districts is bánh kẹp lá dứa, a type of pandan waffle. At Madame Vo BBQ in the East Village, those waffles are served with fried chicken. One of Maharlika's most popular items is also their fried chicken with ube waffles, served with caramelized macapuno syrup, and anchovy-compound bagoong butter. The Brooklyn Heights Thai restaurant Pinto Garden also serves a buttermilk fried chicken with lemongrass waffle, and homemade coconut syrup on the side. (Maharlika, Pig & Khao, and Kopitiam also offer interpretations of French toast, such as the version at Kopitiam that adds Milo — the popular chocolate-malt energy drink, and a true SEA cultural phenomenon — to the mix.)
For the chefs and owners making this food in America, assembling the menu is a balancing act, one that requires offering a bit of something for everyone. Kopitiam's Tsai points out that it's important to have something on the menu where customers can "still feel a little adventurous," but can also say, "'I kinda think I know where this is gonna go.'"
Even the traditional flavors, though, resonate with diners. "Southeast Asian cuisine is more based on stronger flavor, more carbs, and more filling," Tsai says. Jimmy Ly, the co-owner and chef of Madame Vo and Madame Vo BBQ, agrees, saying "I feel like in our culture, it's just 'eat a hearty meal so you can have energy.' Our food and our flavors are very strong. I don't think we skimp on anything."