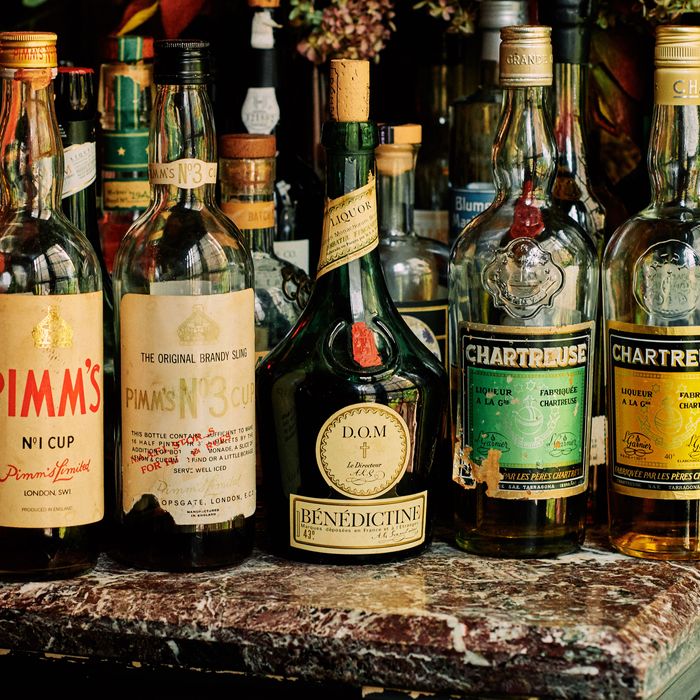 The collection at Le Coucou.
Photo: Christian Rodriguez
It's been about a decade since curious bartenders began seeking out antique bottles of well-known spirits in order to educate themselves and attempt to reconstruct the flavor profiles of classic cocktails as they once existed. (Distillers rarely cop to the fact, but recipes, raw materials, and production methods change over the decades, meaning the whiskey of the '60s may not be the same as the whiskey of today — even if it's the same brand.) Of course, what began as a niche hobby for curious truth-seekers has turned into big business. Every major American city now boasts at least one bar or restaurant that specializes in pre-Prohibition rye, mid-century Campari, or antique Chartreuse.
New York being what it is, we have more than a few joints where curious drinkers can try a facsimile of a 1950s stinger, or check out a 50-year-old brand of fernet they never even knew existed in the first place. Yes, most pours of these truly finite products command high prices, but there is an ounce of history available for all budgets if you know where to look. Here are the city's best boozy museum pieces:
Le Coucou (Soho)
What to drink: Vintage Pimm's
Most vintage spirits peddlers traffic in Scotch, bourbon, and — increasingly — Chartreuse. While Le Coucou has several interesting examples of the latter, beverage director Charles Puglia has made Pimm's a particular passion. The rusty-red British liqueur, famous as the base of the Pimm's Cup, is known to the public through its single iteration, the gin-based Pimm's No. 1. But once upon a time there were other versions with different spirit bases, numbered 1 through 6. Though they are priced to sell as just $24 for one-and-a-half ounces, they're not exactly flying off the shelves. "This is definitely a Sommelier sell," Puglia explains. "People don't necessarily gravitate toward these." The vintage No. 1's, dating from the 1960s and '70s, are interesting for their less fruit-forward character, with the botanicals taking center stage. But, for a real change of pace, try the Pimm's No. 3, made with brandy. It has a gentle richness and round flavor, with notes of chocolate and coffee. (The Pimm's No. 6, with a vodka base, while interesting, doesn't taste too much different from a fairly complex flavored vodka.)
The restaurant also has a small cache of 1970s-era Bénédictine, a favorite of Puglia's, going for $58 for an ounce and a half. Those familiar with the spicy-sweet liqueur of today will be surprised by the elegant, refined character of this specimen. It makes for a perfect after-dinner sip.
Pouring Ribbons (East Village)
What to drink: 40-year-old Chartreuse
Pouring Ribbons is best known as a craft cocktail bar, but it was also the first New York bar to make aged Chartreuse its personal mission. The recipes for the green and yellow versions of the spirit are closely held secrets, and — theoretically — the product has remained constant. But in fact the famed monk-made French liqueur has gone through many changes over the decades, and there are noticeable differences in flavor from year to year. Among Pouring Ribbons current holdings are a 1970s Green Chartreuse ($70 an ounce, though a half ounce can be ordered), which owner Joaquín Simó calls "a completely different animal than the current bottlings" with "gloriously musty herbal aromas wafting out of a glass." Also in stock is a bottle of 1970s Yellow Tarragona Chartreuse ($80 an ounce, with the half-ounce option available), which has a very compelling backstory: When the Carthusian order was expelled by the French government in 1903, they crossed the border into Spain and settled in Tarragona, making their juice there. Bottlings from the Spanish years are considered the Holy Grail by some Chartreuse fans. According to Simó, it tastes of pressed flowers, mint, and white peppercorn.
The Office (Columbus Circle)
What to drink: "Vintage" cocktails
This bar, the hidden annex to the high-concept cocktail temple the Aviary, is the inarguable king of vintage spirits in New York City. Like its Chicago counterpart, The Office boasts a collection of bottles your grandparents might remember, comprising different vintages of gin, brandy, bourbon, bitters, and more. Some of these go into vintage cocktails as bartenders attempt to mimic a Martinez or Manhattan as it may have tasted many decades ago, while others can be had on their own. A recent arrival is a bottle of the completely obscure G&U Finest Dry Gin, a product of Grommes & Ullrich, a pre-Prohibition outfit best known for its whiskey. The Office uses it in a wet Martini (made with discontinued, 19th-century Lash's bitters), but you can get an ounce of this gentle, lightly botanical gin on its own — if you have $275 to spare. Among the most unusual items in the bar's collection is a huge jeroboam of 20-year-old Hennessy Cognac, bottled in the 1940s. (According to the bar, even the Hennessy people have never seen anything quite like it.) The brandy is drier than the sweet stuff that carries the Hennessy name today, with delicate tropical fruit notes. $260 will get you an ounce.
Fine & Rare (Midtown)
What to drink: Mad Men–era Cutty Sark
This swank Midtown restaurant and drinkery lives up to its name by offering a variety of rare bottles, including examples of Armagnac, bourbon and Scotch. It's no secret among educated drinkers that a lot of the heritage Scotch blends were once a lot better than they are today, and at Fine & Rare you can find out exactly how much better. They have old renditions of one-time benchmark blends like Ambassador, Pinch, Hedges and Butler and others. For $31, you can try an ounce and a half of 12-year-old Cutty Sark from the 1960s, which is gentle and lovely, tasting of orange and pineapple. It illustrates why this blend was once the most popular Scotch in the United States. As for Bourbon, they have on-hand representatives of a few different eras of I.W. Harper, an old brand that disappeared from the American market for decades, and was reintroduced to shelves only recently. These include a mellow 1960s bottle that sells for $55 per ounce and a half.
Fine & Rare also sells some of its vintage finds by the bottle, so if you have a spare $1,844 sitting around, you can grab a 1930s Harper that will be kept for you at the restaurant, brought out whenever you drop by.
701West (Times Square)
What to drink: Ghost whiskey
The tony, Ian Schrager–designed cocktail lounge inside the Times Square Edition hotel sits high above the hubbub the neighborhood. It's an appropriately posh home for the tidy, but growing collections of rare Scotch that bar director Salvatore Tafuri has put together. In terms of rare spirits, Tafuri specializes in the works of so-called "ghosts distilleries," bygone Scotch producers that have been bought out by big liquor conglomerates and mothballed, with the fruits of their remaining barrels of aged whiskey released from time to time as premium prices. The bars current collection includes an affordable Port Dundas 18-year-old, a light an approachable dram with chocolate and tropical fruit notes ($40 for a two-ounce pour); and, on the spendier side, Cally 40-year-old ($350 for two ounces), a burly and potent Speyside whiskey that was distilled in 1974, just before the distillery closed up, and not bottled until 2015. Only 12 bottles reached the United States. 701West has two of them.
The Cabinet (East Village)
What to drink: Mezcal, from the time before it was trendy.
Cabinet, the latest watering hole from cocktail bar mogul Greg Boehm — Boilermaker, Existing Conditions, Katana Kitten — focuses on two of Boehm's favorite spirits, rye whiskey and mezcal. Vintage spirits are not necessarily the bar's bailiwick, but the do have a few bottles that are hard to find. One is the Mezcal Real Minero Espadin/Largo. A blend of mezcals made from the espadin and largo breeds of agave plant, it was distilled a legendary mezcalero, Don Lorenzo Angeles, before he died in 2016. A relatively affordable $22 will get you a one-ounce pour.