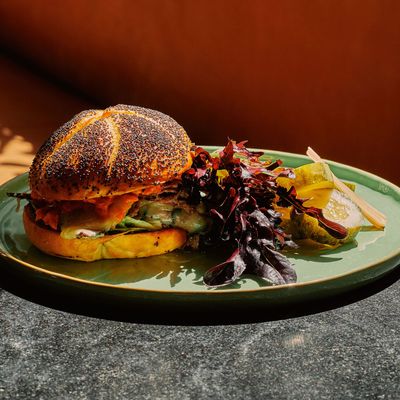 The short rib sandwich at Crown Shy arrives on a housemade kaiser roll.
Photo: Christian Rodriguez
Let's just put it out there: Lunch is actually the best meal of the day. It's something to look forward to, a much-needed break in the midst of chaos. And yet, so few of us take advantage of it, opting for something quick and convenient, instead of going out to lunch. Like, bye gainful employer, see you in a full, company-mandated hour. We at Grub Street say it's time to reclaim lunch and actually spend it away from our desks, and we've put together a stellar lineup of 15 places to do just that.
Crown Shy
Financial District
What to order: The romaine green goddess salad, roasted short-rib sandwich, apple sorbet with sticky toffee pudding ($45)
Over the summer, Crown Shy began serving a prix-fixe lunch menu designed for a new kind of dine-and-dasher — one who needs to be in and out before the closing bell. We suggest the romaine salad, non-alcoholic Ginger Jammer with mango and togarashi, and the surprisingly filling short-rib sandwich featuring thin slices of tender beef. But the real treat comes at the end, when the restaurant sends you home with miniature versions of executive pastry chef Renata Emani's worth-writing-home-about desserts.
Floret
The Bowery
What to order: The peekytoe crab bowl ($21) or roasted lamb sandwich ($15)
The menu at this sleepy hotel restaurant — perfect for a lunch where you can actually hear yourself talk — isn't divided into breakfast, lunch, and dinner, but "day" and "night," meaning you could ostensibly have granola and yogurt at two in the afternoon. But where chef Joe Ogrodnek's menu really shines is when it goes international, like with the fragrant Asian-influenced peekytoe crab bowl with spicy kimchi and ginger, and Thai basil and the Mediterranean-style roasted lamb sandwich on fresh-baked ciabatta with red pepper confit. A global menu for a global hotel.
Little Wayla
Lower East Side
What to order:The stir-fried cuttlefish with salted egg yolk and chili paste ($10)
Rather than open for lunch, the folks at Thai hotspot Wayla opened a quick-service counter right upstairs from the basement restaurant. Smart! The to-go spot serves customizable lunch plates and guests can pair, say, creamy-spicy panang curry with purple sticky rice or stir-fried pork with garlic sauce and mixed greens. But if you really want to live, get the stir-fried cuttlefish with a salted egg yolk and chili paste, a lesser-known Thai specialty and altogether more interesting lunch choice than a sad desk salad.
Khiladi
Alphabet City
What to order: Nacho chat ($12) and Idly poutine ($18)
This new Indian "tapas" spot specializes in South Indian food, which means less naan bread, roti, and samosas and more dosas, idlys (rice cakes), and heat. Khiladi is hardly the first restaurant to probe this territory, but they're certainly one of the first to introduce nacho chat, crispy papri puffs topped with potatoes, mint, yogurt, and tamarind for a dish that's acidic and full-bodied; and idly poutine — shredded rice cakes mixed with ground beef, cilantro, and masala curry.
Gai Chicken & Rice
Midtown East
What to order: Khao man gai with ginger rice ($12)
In case you missed it, this is now a poached-chicken world and we're just living in it. And one of the leaders of this new order is Gai Chicken & Rice, from one of the chefs behind downtown favorite Fish Cheeks. The focus is Hainan chicken, a dish created by Chinese immigrants in Southeast Asia, that combines gently poached chicken (or fried chicken because this is America) with sweet soy sauce, ginger-chili sauce, scallions, spicy jaew sauce, and as the name implies, rice. In other words, it's the thoughtful fast-casual spot we need in these chicken-crazy times.
Win Son Bakery
East Williamsburg
What to order: Big chicken box ($15)
Hear us out: Maybe you don't work near Williamsburg or even have time to make the trip out there on your lunch break, but if you go to Win Son Bakery, order the big chicken box with fried chicken brushed in a sticky, sweet Imperial Glaze, and pop it in the fridge, we can guarantee that it will taste just as good (if not better!) the next day. Thank us later.
Bar Wayō
Seaport District
What to order: Clam soup ($14) and half smothered royale ($14)
Of all of David Chang's new NYC projects — Kāwi, Bāng Bar, Peach Mart — Bar Wayō will be the most familiar to people who remember waiting in line for noodles at Momofuku in 2005. It's run by Momofuku vet Sam Kang, who's blending Japanese cuisine with American comfort food, like a wagyu beef burger (a blend of wagyu, short rib, and brisket) served French dip style. But the two menu standouts are undoubtedly the clam soup, a play on clam chowder with a light dashi broth plus the requisite bacon and potatoes, and Kang's signature menu item: the half-smothered royale, an ode to omurice featuring an omelette with sausage gravy and mushrooms served over rice, or comfort food turned up to 11.
Manero's Pizza
Little Italy
What to order: Garlic knots ($4) and square slice ($4) with burrata ($3)
Yes, it is still quite possible to eat a great lunch for under $12, and if you're sick of the deli next door to your office, you might want to consider grabbing a slice and chilling on the curb outside Manero's, the newish spot from the team behind LES favorite Regina's Grocery. (So, you know the meats are good!) And whether you go for a slice of pepperoni or the whole pie, be sure to put straight-from-the-cow burrata on it or regret not doing so for the rest of your natural life.
Pastis
Meatpacking District
What to order: A steak sandwich ($29) and Rouge Fumée cocktail ($16)
Drop by this 180-seat Keith McNally restaurant, resurrected by restaurateur Stephen Starr, around noon any day of the week and it's packed to the gills with tourists, midtowners, and professional lunchers, but don't fret, the (overwhelmed) staff turns tables over at a fast clip. An ideal order is the restaurant's hearty steak sandwich with Gruyère, caramelized onions, and aioli on a crackly baguette plus the spicy, mezcal-based rouge fumée (or "red smoke") cocktail to wash it all down.
TAK Room
Hudson Yards
What to order: Golden-tomato gazpacho ($16) and New York strip steak ($160)
With The Four Seasons gone, the power lunch is ostensibly dead. But Captains of Industry gotta eat somewhere and Thomas Keller's pricey TAK Room might be a natural successor. Where else, after all, can you get fettuccine alfredo with black truffles, a $160 New York strip steak for two, or Elysian Fields lamb chops ($75) in full view of a multimillion Thomas Heatherwick sculpture?
The Jones
NoHo
What to order: Manila clams ($15) and Filet O' Fish ($17)
If you can manage to grab a seat in this tiny new revival of the late Great Jones Café, then plan to dig into some seafood because that's the main focus. The manila clams — covered in Cajun barbecue broth — are an ode to the original restaurant's Cajun roots, and the filet o' fish — made, depending on the day, with flaky cod or pollock; American cheese; and tartar sauce on a potato bun — is quickly becoming the restaurant's star menu item.
Ayada Thai
Chelsea
What to order: Raw shrimp salad ($14) and crispy duck panang curry ($25)
We've always said that the food at Ayada is well worth the trip to Elmhurst. You can lead a horse to water, but yada yada yada. Now, you can enjoy the restaurant's eye-opening panang duck curry — sweet, sour, and spicy all at the same time — the mango sticky rice, and all the highlights of the Queens original from the relative comfort of Chelsea Market. But if the tourists prove too much, we must insist, once again, that you hop the train to Elmhurst at your earliest convenience.
The Fulton
Seaport District
What to order: Warm octopus and mozzarella ($17), fish and crisps ($24), cherry pavlova ($12)
Where you might go to Dave Chang's Bar Wayō for a chill, laid-back lunch, Jean-Georges Vongerichten's is more upscale. Go for the just-cooked octopus tentacles with dollops of fresh mozzarella in small pond of olive oil, followed by the fish and chips with a quenelle of crushed spring peas. And if you have the time, get the elegant cherry pavlova with pistachio ice cream and Champagne sabayon which our own Adam Platt calls "the ideal dessert" for enjoying the restaurant's Brooklyn view.
Roey's
Greenwich Village
What to order: Riviera chopped salad ($15) and broccoli rabe pizza ($18)
Earlier this year, Rosemary's Pizza became wellness-minded, all-day cafe Roey's. But don't worry, they still serve pizza albeit with a gluten-free crust option. Grab the chopped salad for an upgraded version of the pizza shop classic (read: baby gem lettuce and kale instead of iceberg) and the all-green broccoli rabe pizza, soft stracciatella cheese, pine nuts, and pecorino.
Zerza at Essex Market
Lower East Side
What to order: Zalouk ($7) and chicken tangine ($13)
After a decade-long run in the East Village, this Moroccan restaurant got an upgrade in the form of real estate at the shiny new Essex Market and it's definitely one of the highlights in the space. Try the warm, fragrant zalouk, or roasted eggplant spread, to start and then dig into fall-off-the bone chicken tangine over a delicate bed of couscous. Talk about a second lease on life.