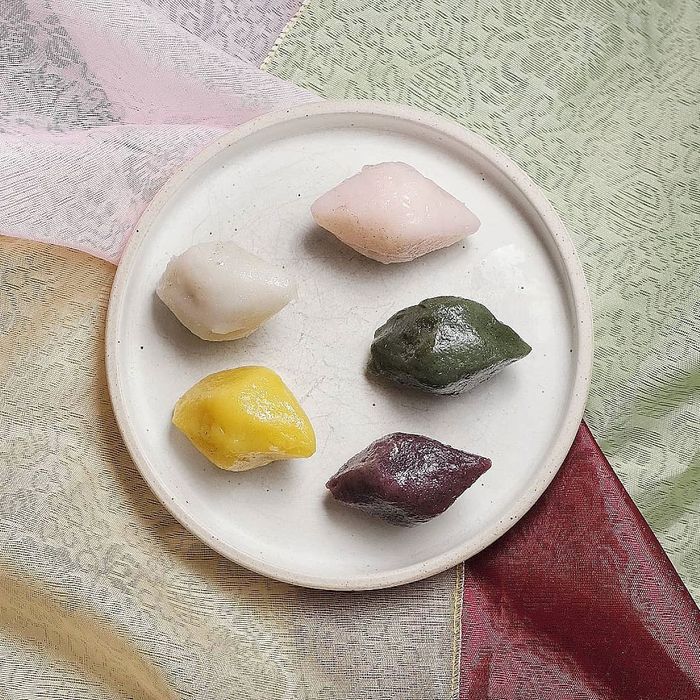 At Atoboy, expect to enjoy the songpyeon.
Photo: Diane Kang/Courtesy of Atoboy
For some New Yorkers, this Friday marks the unofficial start of fall: It's Chuseok, a Korean harvest festival that's often compared to Thanksgiving. "The food is one of the most important parts of this holiday," says Junghyun Park, the chef at Atomix. "Each family will have slight difference in style and menu, but common dishes for Chuseok are jeon, galbi-jjim, songpyeon, and seasonal fruits — these are some festive foods that highlight the seasonal bounty." On top of swinging by your local Korean spot for some songpyeon, a Chuseok-specific steamed rice cake in the shape of a half-moon that's filled with red bean paste, the holiday is also a great time to hit one of the city's venerable Korean restaurants.
HanGawi
What to order: matsutake
This groundbreaking Koreatown spot — the word hangawi is the old name of Chuseok — remains one of the most seductive culinary sanctuaries in the city. A fall specialty is matsutake mushrooms, prized for their storied powers of detoxification, immunity, and revitalization. (And try to wear nice socks because you'll be required to leave your shoes at the door.)
JeJu Noodle Bar
What to order: tuna kimbap
While most kimbaps — long, gim-wrapped rice rolls — are packed with vegetables, ham, and egg, JeJu diverts from its ramen specialty with this elegant, satisfying elevation of canned-tuna kimbaps by layering fatty and lean tuna to impressive effect.
BB.Q
What to order: Korean Army stew
In case you're confused by the hard-to-Google name, it stands for "Best of the Best Quality." This chimaek spot — yes, there's a Korean word for the pairing of chicken and beer — is mostly takeout, but there are tables and the basement is sit-down. Enjoy a Korean soap opera as you chow on olive-oil-fried chicken. Go with a group to tackle an order of budae jjam pong tang, an army stew packed with ham, mushrooms, sausage, ramen, and rice cakes.
Miss Korea
What to order: imperial dining experience
A starter and main popular with the royal court of the centuries-long Joseon dynasty — from 1392 to 1897 — are accurate down to the Bangjja yugi brass cutlery. Gujeolpan, the starter, feels like a taco station with its pile of wheat crêpes surrounded by meats and vegetables for packing. Sinseollo, the main, is a packed hot pot that's prepared tableside.
Kang Ho Dong
What to order: naeng myun
Try the naeng myun, which is a popular cold buckwheat noodle dish that can be mixed like bibimbap or served as a cold soup. It's a major classic that doesn't get enough credit, one that's best eaten with barbecue, not instead of.
Atoboy
What to order: tempura fried chicken
Regardless of what you choose from the very shareable menu at Junghyun Park's more casual restaurant, you'll be able to truly celebrate the holiday with some complementary songpyeon, which are traditionally steamed with pine needles.
Cafe at Your Mother-in-Law
What to order: chak-chak
This Uzbek twist on Korean food serves plenty of hearty lamb dishes with sweet-and-spicy salads, but the real treat is chak-chak, a Rice Krispies Treat riff of puffy fried noodles held together by honey.
Soogil
What to order: japchae
Japchae, a hot glass-noodle dish, is common at weddings or festive celebrations, including Chuseok. At Soogil in the East Village, carrots, mushrooms, and spinach are doused in sesame oil and soy sauce with the entire dish topped with bulgogi. Pair it with a pork-fat-fried mung-bean pancake, which comes with a kimchee sprout salad to alleviate some of the gluttony guilt.
Baekjeong
What to order: short rib lunch special
While short ribs are a Chuseok tradition, chef Mike Sim takes his lunch special one degree further by including jujube and Korean pears in the braise, both traditional harvest fruits. The lunch special only runs from 11:30 a.m. to 3 p.m., so skip out on work to give it a try.
Tang
What to order: ox-bone soup
Counterintuitively for such a sleek operation, Tang — which means "soup" in Korean — uses unfamiliar cuts of meat, including eel, goat, jowls, loach, nakji squid, and neck. Despite its modern setting, food is presented very traditionally. Lots of grandma-quality comfort food, especially seolleongtang (ox-bone soup, boiled to a milky broth) and yukgaejang (a spicy beef vegetable soup favored by the South Korean ambassador).
Osamil Upstairs
What to order: banana milk
No holiday is complete without a drink, and this Korean-inspired mixology bar is not your typical soju lounge. Try the banana-milk cocktail, with dried banana, for a soju-spiked take on liquified banana cream pie.
Yoon
What to order: Busan neighborhood pancake
Bobby Yoon is Korean-restaurant royalty, the grandson in a family dynasty that has run Haeundae Somunnan Amso Galbijip in Busan since 1964. Naturally he is lifted by chef Anna So, who hails from a line of royal chefs herself. Together they create popular takes on seafood dishes and a pork-kimchee stew that plays off Busan's signature dweji-guk bap (pork-rice stew). But the star of the menu is the Busan neighborhood scallion pancake, packed with bulgogi and shrimp run red with chiles.