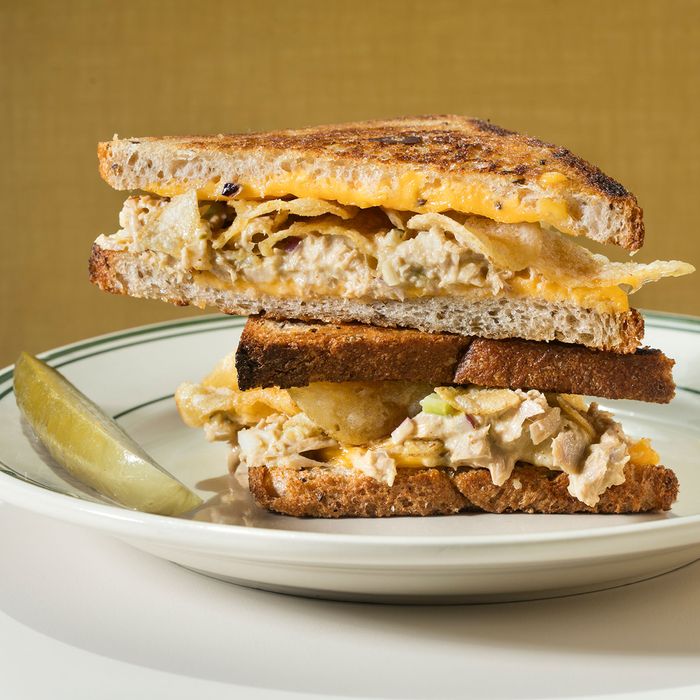 Golden Diner's potentially game-changing, dinner-only tuna melt.
Photo: Melissa Hom
After waiting the usual eons for Con Ed to show up and switch on the gas, the excellent Golden Diner — which has been operating as a breakfast-and-lunch-only electric kitchen since March — is ready to roll up its sleeves and really start cooking. Just like during the day, the main attraction at dinner, which starts Thursday, is classic diner victuals given a few Asian-inspired tweaks: wontonini en brodo, Korean-BBQ-style short ribs, and a Thai Cobb salad dressed in a fish-sauce vinaigrette. As befits a native of the great diner borough of Queens, chef-owner Sam Yoo is well-versed in the simple pleasures of coffee-shop cuisine and even considers himself a bit of a tuna-melt aficionado. The secret to his dinner-only version, he says, is a dash of French's mustard for tang, Pickle Guys' bread-and-butter pickles folded into the mayo for sweetness, and a cache of salt-and-pepper potato chips for texture.
Diners aren't necessarily known for pasta, but that is not stopping Yoo. We're talking carnitas garganelli, Cantonese-style rice rolls with Benton's bacon, and black bean vongole. That last, a riff on linguine and clams, is a nod not only to the restaurant's Chinatown environs and one of Yoo's favorite dishes—Great NY Noodletown's clams in black bean sauce— but also an homage to his former bosses, Rich Torrisi and Mario Carbone, and their Torrisi Italian Specialties kitchen. "And I love pasta," says Yoo.
With the boosted fire power, Yoo can now expand his breakfast and lunch menus with dishes like pancakes and biscuits and gravy. There will also be dessert: the Korean shaved ice called patbingsu, in flavors that change seasonally.
*A version of this article appears in the September 16, 2019, issue of New York Magazine. Subscribe Now!