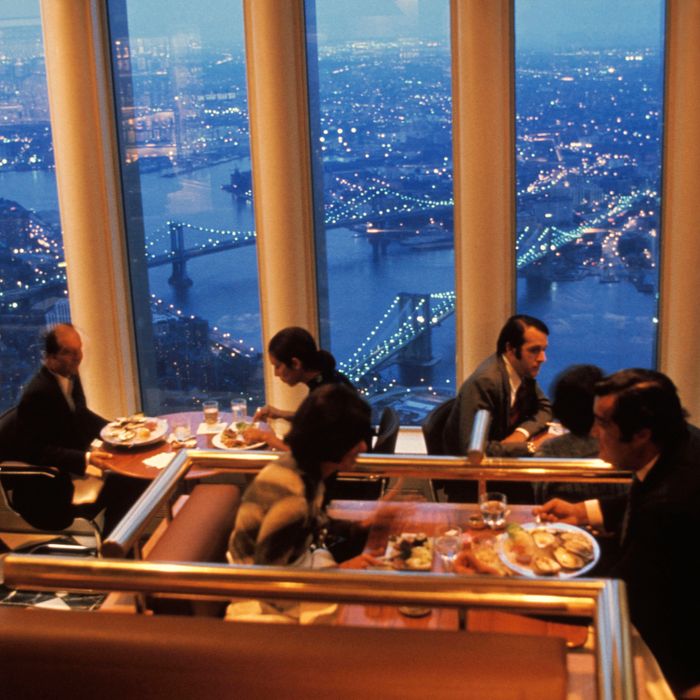 Photo: Burt Glinn/©Burt Glinn / Magnum Photos
"America is a gooood country." It was a joke, but not really. It's what the Windows on the World crew said to one another after a heavy night, after turning and burning a station of eight tables with more guests waiting at the door.
It's what the front waiters said to the back waiters, who said it to the busboys, managing the stress of six hundred covers or more through banter and a nod to something bigger.
It was one of the many running jokes for a staff that treated one another like family or fellow combatants. It was a sarcastic sign-off, as in, This is what I signed up for? As in, I've got to be on my feet for six hours straight, in constant motion, doing a hundred things at once and always with a smile? 
But it also, in fact, meant: This is the answer to my prayers. As in, I came to this country unsure I could survive the week, and now I make enough for my children to have a future I can be proud of. 
Most nights, it was said when tips were paid out, accompanied by handshakes and backslaps and competitive bravado about just how much one had made that night — two hundred dollars, three hundred dollars, five hundred dollars, the number always slightly inflated — and the recognition that, yes, everyone was happy to be there.
And it was followed by nights in fluorescent-lit restaurants where the Windows staff would go after their shifts were over, so that they could be together into the wee hours to laugh and drink and suck on black bean shrimp heads in Elmhurst, Queens, or wash down sushi with cheap sake near Tompkins Square Park.
Of its four hundred–plus employees, the Windows on the World staff included immigrants from more than two dozen countries: the Dominican Republic, Ecuador, Guyana, Ghana, Mexico, Bangladesh, Poland, Peru, China, Egypt, Ivory Coast, Nigeria, Pakistan, Cuba, and so on.
And here they all were, some undocumented, most living in the outer boroughs, working together, at the top of the greatest city in the world.
"I'm never going to leave this place," Paulo Villela, a captain and sommelier, would say to his friends on staff. Villela had studied agricultural engineering in his native Brazil but had moved to America in 1983 because his son, Bernardo, had a rare metabolic disease that required care he could find only in the United States. "Windows on the World gave us full benefits. I would have worked there just for the insurance," he says. "But the money was so good. There were busboys, straight out of Bangladesh, making sixty thousand dollars a year. People from all over the world. We got along great. It was the best place to work."
At two o'clock in the morning on September 11, 2001, Moises Rivas was still awake in his home in Queens, playing his guitar and singing to his wife, Elizabeth. A songwriter and musician, Rivas supported his family by working as a cook at Windows on the World. The alarm went off at 5:00 a.m., and Rivas turned it off. But by 6:30, the twenty-nine-year-old from Ecuador was up and rushing. He said he had to "fly," to get to work in the cafeteria serving breakfast on the 106th floor of the North Tower of the World Trade Center.
Executive pastry chef Heather Ho didn't want to be there. She'd given notice several weeks before, but she was staying on for a while —  she was not the sort of person to leave someone high and dry — until executive chef Michael Lomonaco had a replacement. The daily grind of churning out hundreds of desserts wasn't the right speed for the Hawaii native. Ho was a tireless worker, but she wasn't about volume. She had a boutique sensibility.
The Gomez brothers — Jose and Enrique — from the Dominican Republic were doing prep work, as usual, cutting vegetables and cleaning seafood. Their other two brothers, Ramone and Miguel, weren't working that day. Lucille Francis, a grandmother from Barbados, arrived early to lay out the towels that she would be handing to patrons in the women's bathroom. Her son, Joseph, a Windows waiter, took the day off to oversee a construction project at home.
Most of the seventy-three Windows employees working that morning were in the banquet area on the 106th floor, one floor below the main restaurant. The morning was a cherished time, because it was relatively calm. It's when waiters might help themselves to a generous slice of yesterday's chocolate cake, if they could get to it. You could sneak five minutes, sitting at one of the east-facing tables, with your feet up and naval-style jacket falling open, watching the sunrise.
Windows had been annually serving hundreds of thousands of New Yorkers and visitors, putting on a massive and intricate high-wire act, for two and a half decades — with a three-year gap when the restaurant went dark after the 1993 bombing in the World Trade Center basement that killed six people, including one of its employees. Business was now at full throttle; Windows was the highest-grossing restaurant in the country and was preparing for its triumphant, twenty-fifth anniversary party in October.
The lion's share of the responsibility for the celebration would fall on the shoulders of chef Lomonaco, a Brooklyn native who could remember, when he was a taxi driver in the 1970s, how Windows represented the ne plus ultra of great New York dining. He'd been running the kitchen since 1997 and was a primary force behind turning the restaurant's flagging fortunes around.
That morning, Lomonaco was on his way to work after voting in his Upper East Side neighborhood in the primary election for mayor — Mark Green was in a tight race with Fernando Ferrer on the Democratic ticket, with billionaire media mogul Michael Bloomberg running as a Republican. Lomonaco had driven down FDR Drive and dropped off his wife at her office before parking in his lot near the World Trade Center. It was a little after 8:00 a.m., and he reconsidered his afternoon appointment to get his eyeglasses repaired at LensCrafters, which was in the vast mall underneath the World Trade Center plaza. Why not just get it done now, he thought.
In the store, the clerk said it wouldn't take long to get the glasses fixed and his eyes checked. Just twenty minutes, she said.
It took a little longer than that, and Lomonaco was settling the bill when he felt his chair shake. It was a heart-stopping rumble unlike anything he'd ever felt before.
He thought, Is that the subway? There was a station exit not far away. And then the lights flickered, and an alarm started wailing. Some seconds passed, and a woman appeared and said, "We have to leave." Lomonaco exited, forgetting his glasses on the counter, and joined a throng of people who moved through the concourse, not pushing, just streaming forward, toward the exits. When he walked through the glass doors to Liberty Street, he saw a massive, smoking, churning piece of metal surrounded by debris on the ground. It was the size of a car, but he didn't know what it was. And there was a strange shower of papers falling around him. Right across the street was a fire station, Engine and Ladder Company 10, and the firefighters were standing there, looking up toward the North Tower, which was blocked visually by the South Tower.
Lomonaco's cell phone wasn't working, but he wanted to call his wife to tell her he was OK. Ambulances, fire engines, and police were arriving with their sirens blaring. After he finally found a pay phone, he returned to the World Trade Center, remembering when the 1993 bombing occurred, and all those people streamed down the stairwells. He thought of who was working at the restaurant, and he wanted to be there when they got down to ground level. As he approached on Liberty Street, between Nassau and Broadway, he heard the drone of an airplane above, which made him reflexively look up at the South Tower. He saw a tremendous explosion: fireballs going in all directions. Someone grabbed him by the arm and pulled him away from the carnage.
New York City experienced an unfathomable tragedy on September 11, 2001. Windows on the World was one of the worst places to be that morning. None of the one thousand three hundred forty-four people who were above where the first plane crashed into the North Tower survived. The damage suffered that day is most aptly measured by the two thousand nine hundred ninety-six individuals who perished in all the attacks. So many family members and friends lost loved ones. More than three thousand children lost a parent on September 11. Of those killed were seventy-three Windows employees, six men working on a renovation job for the restaurant, and ninety-one guests at Windows on the World.
Also destroyed was the livelihood of the restaurant workers who survived. And there was the physical space: the two acres' worth of kitchen utensils, pots, pans, lighting fixtures, tables, forks, plates, and napkins, as well as the tens of thousands of bottles of wine that were mostly stored three levels belowground under the South Tower.
There were also less tangible losses, such as the destruction of a gathering place, an axis point for New York City's natives and its guests, a repository for their memories and dreams. It was the place where New Yorkers went to celebrate, the place they went when they wanted to show off their city,
Looking down from a quarter of a mile up, the restaurant's audacity was integral to its makeup. It opened in 1976, when New York City had become synonymous with fiscal mismanagement, poverty, rampant crime, drug abuse, burning buildings, and garbage on the streets. Guy Tozzoli, the director of the World Trade Center, hired restaurateur Joe Baum to dream up a restaurant dubbed a "Versailles in the sky." With Windows on the World, Baum, a man with the chutzpah to never look down, gave the city a beacon.
Many New York restaurants hold a special place in the hearts of the people who cherish them. Windows on the World was one of them, but it was something more. Not only did it become the highest-grossing restaurant in the country during its twenty-five-year existence, it also became a landmark that embodied the city's greatness.
The restaurant's demise wasn't mere coincidence. Windows was at the center of a watershed moment in American history for a reason. It was a part of the splendor of the World Trade Center that made it a target to those affronted by American values and might.
And although what happened on 9/11 was extraordinary, the passage of time has allowed us to see the restaurant as part of the city's life cycle, which extends not only through the blood and grit of New Yorkers but also through all the concrete and the parks and the neighborhood storefronts. Every corner of the city is forever going through the process of birth, decay, death, and rebirth. Sometimes it's visible, as in the new bar that keeps the old bar's neon sign, but there are always invisible layers of the past coating anywhere you are in the city.
After the Twin Towers came down, a very real, ghostly white cloud of debris spread out over the city. It was everywhere. One particular stream of it was carried on a current of wind a half mile southeast across the East River over Brooklyn Heights and into a backyard where former New York magazine editor Kurt Andersen, one of the city's many champions, lived. For a time, Andersen ran the magazine that had once anointed Windows, an act that was partly credited for launching its success. And he had a strong personal connection to the restaurant: It was where he introduced his parents to the woman who would become his wife. How mind-boggling, then, that among the debris that landed behind Andersen's house, there was a letter addressed to Joe Baum, who had died three years before.
The paper was frayed and burned around the edges like a cartoon-ish pirate treasure map, but the words were quite legible; scrawled in blue pen, its sender wrote, "I felt as though I died and went to heaven, which I imagine is not too far from the 107th floor!"
There's a new building there now. You wouldn't know it, but since 2015 they have served food at the top, at One Dine, One Mix, and One Café, a tasteless trinity of names that immediately disappears from memory as if it never touched your tongue. Anyway, you can't eat there without waiting on a TSA-like line and paying the $37.37 per person observatory ticket, so what's the point?
There's nothing up there that commemorates what once occupied the nearby sky for twenty-five years, which is sad but perhaps reasonable. There are, after all, two enormous holes, the reflecting pools, in the ground, as well as a museum for anyone who wants to memorialize the past. The names of the Windows on the World staff who died on 9/11 have been grouped together on the north side of the north pool, closest to One World Trade Center.
If you do take the elevator up to the 101st floor, and you're willing to plunk down twenty-six dollars for a hamburger, and you start asking your waiter about 9/11, you may be surprised when he calls over Mohammad Quddus, a back waiter, originally from Bangladesh, who used to work the same job at Windows. He's the only one at One World Trade Center from before.
For five years, Quddus avoided Manhattan, because it was too painful. He remained in Queens, where he worked and helped raise his two young sons with his wife. But when One Dine began hiring, he returned. It was his way of moving on.
"Windows on the World was a dream," Quddus says. "We were a family from so many countries. I learned so much. I took care of my family. I sent money home. Everything I could do was because of Windows. When I lost Windows, I lost my dream."
Quddus sometimes forgets he's working in the new World Trade Center and he takes the wrong stairs to the locker room. Or, he intentionally tricks himself into thinking he's still working at Windows while carrying a tray from the kitchen to the restaurant floor. He often sits in the Memorial Plaza, not far from the Survivor Tree — a pear tree that was discovered in the charred rubble of Ground Zero and was restored and replanted — and he closes his eyes and sees the Twin Towers as they once were, and he imagines that the place is the same.
Clinging to memories is part of being human, but there's something particular to New Yorkers' attachment to the city we once knew, whether it's that slice of pizza you can no longer get, the basketball court where you had that fight, or the bodega where you met your husband, because those authentic, resonant experiences are what make New York City our own.
And 9/11 is something we — on a spectrum, of course — all share. It has had a significant impact on the city and where America is today. The destruction of the World Trade Center remains a wound that may never fully heal. And maybe it shouldn't.
The debris of the buildings has long since scattered in the wind, been removed to a landfill in Staten Island, or been placed in boxes like the one in Kurt Andersen's basement or in the National September 11 Memorial & Museum's large, off-site storage facilities.
So much was destroyed on 9/11, but the past still lives within us, in strange, powerful ways. You see it in the city's skyline, even as an absence. And the city perseveres, making it all the more magnificent. It is more diverse. Its culinary scene is outrageously vibrant. Downtown is thriving like never before. Its tallest buildings are now taller. The city keeps ascending.
Excerpted from The Most Spectacular Restaurant in the World by Tom Roston, published by Abrams Books © 2019.