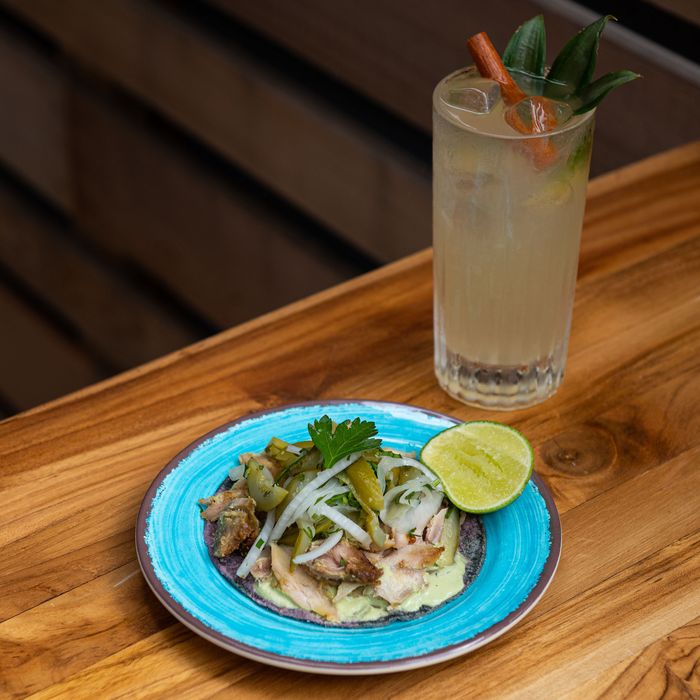 The chicken shawarma taco from TacoVision.
Photo: Liz Clayman
Every month in New York, there are a bewildering number of new dishes to eat, drinks to imbibe, and food-themed events to attend. Often, the hardest part is just figuring out what's really worth your limited time. So Grub Street kicks off each month with a curated selection of dishes, drinks, and events that should absolutely be on your agenda. Make your plans now.
1. Eat chicken shawarma tacos with jalapeño tahini.
TacoVision: Is it an all-tortilla-content streaming service? Is it a brand whose frontman smokes way too much weed? No, it's a new restaurant (244 East 53rd St.) from the crew behind Crave Fishbar, opening September 4. A counter-service space with full restaurant and bar upstairs, it will — in a twist worthy of an M. Night Shyamalan movie — focus on tacos. That means conventional tacos like al pastor, but also inventive ones like chicken shawarma with jalapeño tahini, and other dishes like barramundi aguachile with tomatillo broth. They'll be served on blue-corn tortillas made from Tortilleria Nixtamal's masa, along with cocktails like the Eye Candy (coconut-washed bourbon and Mexican coke).
2. Go to the very last Vendys.
On September 21, the Vendys — New York's celebration of street food and the people who make it — will return for one last go around the taco truck. (Tickets are $60 or more for VIP options, and can be purchased here.) In proper finale fashion, the Street Vendors Project will shut it down with a People's All-Star Vendy Cup category featuring a lineup of past participants. Those include the Arepa Lady, NY Dosas, Lechonera La Piraña, Guandong Cheong Fun, and ten others. There will be two other new categories, including Best Freshman, a lineup that features Birria-Landia, and Best Desserts, which four vendors are up for. Go celebrate the Vendys, one of New York's great food events.
3. Head just out of the city to check out Dale Talde's new restaurant.
Dale Talde is back, nine months after separating from the business partners he ran other restaurants with. He's cooking just north of the city now, and on September 3 will open Goosefeather in the Tarrytown House Estate. The restaurant will focus on Cantonese cooking, in dishes like prawn toast ($15) with pickled chilies and crushed avocado, char siu pork collar ($19) with grilled scallions and spicy mustard, roast duck ($59) with caramelized hoisin, scallions, and pancakes, and shrimp and clam chewy noodles ($26) with Talde's own XO sauce.
4. Go to a Win Son fundraiser for a public school's art program …
You are probably used to heading to Win Son for your ice-cream baos and Nutritious sandwich. Consider a different cause (than your need for Taiwanese food) on September 9, when the East Williamsburg restaurant will host a fundraiser for the art department of the nearby Lyons Community School. $15 will get you in the door from 8 p.m. to 11 p.m., and they'll be serving a limited menu from Win Son along with drinks and music. A public school for children who may have struggled in the traditional school system, Lyons Community School is described by one of the school's mentors and event organizers as trying to bring a progressive approach to inner city education.
5. … Then check out the brand-new Win Son Bakery.
Speaking of Win Son, owners Joshua Ku and Trigg Brown will expand on September 3, for the first time, with Win Son Bakery. Planned to be open all day, it will open at first for breakfast, from 7 a.m. to 1 p.m., and then for dinner, from 5:30 p.m. to 11 p.m. The food will be in the same Taiwanese-American vein that's caught fire at Win Son, so expect egg-and-cheese milk buns, milk bread, and pastries like black sugar egg-custard tarts and mochi doughnuts from Danielle Spencer. Sandwiches will be served at night, along with big chicken boxes with Taiwanese fried chicken, spiced jojos, and scallion pancakes, small vegetable dishes, and plenty of natural wine, cocktails, and Taiwanese beer from Jesse Shapell.
6. Go to a dinner inspired by Dali's cookbook in Greenpoint.
How about a surrealist dinner inspired by Dali? No, this is not an idea someone cooked up during an acid trip. Yes, it is actually happening on September 5 at 7 p.m., when Greenpoint's Archestratus Books + Foods will host Le Diner de Dali (tickets are $50). The dinner will feature dishes inspired by the surrealist cookbook, which was republished in 2016 for the first time and was described by Saveur as "one of the most unusual recipes books ever created, a bit like Escoffier on acid." Put on by Butter & Scotch co-owner Allison Kave and artist Lindsay Mound, it will feature interactive artwork created by Mound and diners are encouraged to reflect the Dali vibe with their outfits. Mark your calendars for September 12, too, when they'll host Alice Feiring in conversation with writer Melissa Clark to talk about her new book, Natural Wine for the People. (Tickets are $30, wine and cheese will be going down.) Also on September 18 but not at Archestratus, the Centrale is hosting the chef Danny Mena for an event to celebrate his book, Made in Mexico, featuring food from his restaurant La Loncheria and Mezcal de Leyenda cocktails.
7. Eat pie to cope with summer's end.
If the end of summer is a hard pill to swallow, the antidote may be fall pie. While tickets to Dominique Ansel Kitchen's annual Pie Night are sold out, you can still pre-order pies off the event menu for pickup at Kitchen, any time from September 10 through October 3. From salted caramel pie to spanakopita, the pie plenitude runs the spectrum from sweet to savory, and this year, customers can also order pies inspired by chef recipes, like Ruth Reichl's Cherry Crostata, and Danny Meyer's silky chocolate cream pie, piled high with Chantilly cream and chocolate feathers. In the end, it doesn't matter that you missed pie night, or that the leaves are changing colors. Grab your forks and go hard — the pie limit does not exist. — Bindu Bansinath
8. Go to a Gourmet reunion.
It's now been a decade since the last issue of Gourmet was published. To honor the celebrated magazine, former editors are getting together near New Hope, PA (about 90 minutes outside the city). The Farm Cooking School's Ian Knauer and Shelley Wiseman — who both worked in the magazine's test kitchen — are hosting the Ode to Gourmet Institute alongside Ruth Reichl. (Grub's editor, Alan Sytsma, who worked at Gourmet, is participating in the event.) On September 14 and 15 (tickets are $750 for the whole weekend, or $450 for each day), former Gourmet staffers will gather for to host workshops about the modern kitchen and panels on food writing and storytelling, eat wood-fired pizza for lunch, and more. The weekend isn't cheap, but it's basically like a Gourmet reunion meets a pop-up magazine.
9. Attend a symposium dedicated to all things corn.
Corn: You love to eat it, drink it, and turn it into something decorative so everyone knows you love fall and pumpkin spice flows through your veins. Also, it's an absolutely vital crop around the world. On September 8 and 9, Topic48 will put on the Corn Symposium, with support from the great publication New Worlder. Lectures and discussions will take place on the first day ($100 for tickets; second days sold separately) at the New School, with Marion Nestle talking about corn and public health, farmer Zaid Kurideh and chef Victoria Blamey talking about flavor, Masienda's Jorge Gaviria explaining nixtamalization, and more. The second day's events will take place around the city, including one ($85) at Saveur on baking corn with Alice Medrich and another ($45) at Estela where you'll taste corn with Glenn Roberts of Anson Mills. To cap it off, Casa Publica will host chefs for a dinner ($125, including drinks and tip) celebrating corn in Mexico, Peru, and the American South.
10. Drink beer and eat pizza at a party for the new book from New York's top beer geek.
Beer guy about town and occasional Grub contributor Joshua Bernstein wants to celebrate his new book, Drink Better Beer, with you. So on September 17, the day it's released, he's throwing a party that's also the first time the public will get to drink at Wild East Brewing (623 Sackett Street), a brewery that's opening this fall in Gowanus. (Tickets are $35 for a book and drinks, or $25 for drinks only.) Drink Czech-style pilsners, fruited Berliner weisse, and more from Wild East, as well as beers from nearby Strong Rope, Neapolitan pies from Groundlings Pizza Co., and more in the 7,000-square-foot space.
11. Head uptown to hear Gwyneth Paltrow talk pasta with chef Evan Funke.
Evan Funke is Los Angeles's prince of pasta. His restaurant, Felix, has been raved about by many and his first cookbook, American Sfoglino, promises to teach you how to make fresh pasta and become the sultan of spaghetti in your own home. On September 25, he'll be at the 92nd Street Y (tickets are $60) to talk with one Gwyneth Paltrow, about Emilia-Romagna's eggy pastas, the ins and outs of rolling dough, and how to form a more perfect union with sauce. If you're less into pasta and more into soba, then you might want to head, instead, to another event at the Y for Ivan Orkin and Chris Ying's new book, The Gaijin Cookbook. (Tickets are $29.) The book channels Orkin's unusual life — his Jewish upbringing and adult obsession with Japan — into recipes like Ivan Ramen's tofu Coney Island. It will start with a conversation between the co-authors, followed by a book signing.
12.  Go support a couple restaurants that were temporarily closed because of fires.
The flagship Black Seed Bagels was forced to close earlier this year after an early morning fire. Between insurance, the city bureaucracy, and everything else an owner needs to deal with in order to actually rebuild, it sounds like a nightmarish slog. So it's good news to hear that, nearly six months later, Black Seed has reopened the Elizabeth Street location, which is now serving its wood-fired bagels from 7 a.m. to 5 p.m. daily. Black Seed's flagship isn't the only downtown restaurant that's recently reopened after a fire. The East Village's Sauce is reopening on September 6 after closing because of a fire, with a redone interior, an updated menu, and new drinks including signature spritzes like the Green Apple Honey (Villa de Hard green apple, honey syrup, prosecco, and soda) and negronis like the Bianco (gin, Dimmi, and Aveze).
13. Make your hot-pot plans.
The Flushing outpost of Beijing's First Lamb Shabu Shabu serves some of the best — if not the best — hot pot in New York, in a style that's not like the Sichuan sort you typically find in this city. It's made with a heady and gamey lamb broth, complete with an island of lamb already in the pot. Now, there's another spot to get your fix, as the chain has opened a second location in the East Village (218 E. 14th St.). Run, don't walk, once it cools down: for the peppery chrysanthemum greens, the egg-crêpe dumplings, the many meats, and sides like clay-oven rolls.
14. Live luxuriously at Le Club.
The half-restaurant formerly known one as Le Grill at L'Atelier de Joel Robuchon has been reborn as Le Club. A new concept from executive chef Christophe Bellanca that's opening the week of September 16, it will be separated from L'Atelier and, as you may have guessed from the name, have a clubbier vibe to its design and music. The menu is unsurprisingly fancy — think foie gras crème brûlée with green-apple foam — and cocktails will include a weekly daiquiri (same), while some wines will be served by the magnum.