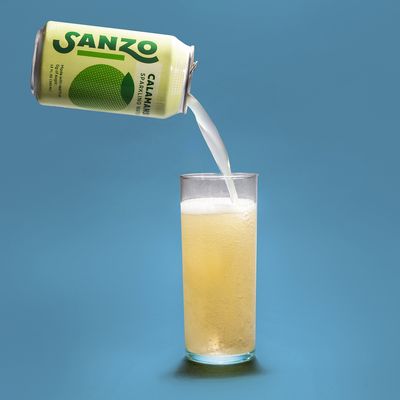 Way better than coconut seltzer.
Photo-Illustration: Jed Egan
The can is easy to miss on the shelf. It looks like any other modern-day seltzer: The bright label is eye-catching, if a bit unassuming. There is a graphic illustration of a fruit. It looks like it might have CBD in it. (It doesn't.) But if you look closely, one word will stand out: calamansi.
A tart citrus fruit native to the Philippines and other parts of Southeast Asia, the calamansi is not a popular sight in New York City, let alone in the cooler of a Williamsburg bodega. You'd even be hard-pressed to find a fresh one in any of the city's specialty Asian markets. But for Sandro Roco, the 31-year-old founder of NYC-based sparkling water company Sanzo, that's all part of the appeal.
"I always thought calamansi was the best possible version of a citrus fruit," says Roco, who was born in Flushing, Queens, and visited family in the Philippines as a kid. Now, he's translated that love into a new product: a canned blend of sparkling water and fresh calamansi purée. "You really can't get calamansi in New York," he adds, noting that he's had to look to specialty farms in Florida or California to even get his hands on a local one. Now, he imports a purée straight from the Philippines.
The calamansi is a hybrid citrus fruit with a thin, green rind and sour, tangerine-colored flesh. It's a popular condiment for many Filipino dishes, and is also often made into a lemonadelike drink, in which the juice is diluted with water and sweetened with sugar or honey. "That was actually the first iteration of this drink," Roco says. "But when I ran the nutrition info on a version I had made, it had something like 50 grams of sugar in one serving. And I was drinking so much sparkling water at my job at the time, it was like the best way to get this flavor across was literally right in front of my face."
Spindrift fans will instantly recognize the texture and heft of Sanzo, a solid bubble weighed down with a dose of actual fruit. (Somehow, the calamansi flavor still weighs in at zero calories.) But where the vibrancy and freshness of everyday citrus fruits like lemons and limes start to fizzle out over time, something about the calamansi shines in the can. It tastes like a cross between a lime and a tangerine, with the bracing acidity of a lemon. There's no tinny aftertaste, no sensation that you're drinking a product off a shelf. Roco attributes this to the fruit itself and its unique flavor: "I wanted to highlight the flavor of the calamansi, and it turned out sparkling water was a great medium for it."
But in a heavily saturated market, what opportunities are there for a new seltzer brand — whose current flavors also include lychee (from Thailand) and mango (from India) — to make it big? Roco's not that concerned: "Yes, it's sparkling water," he says, "but that's secondary, or even tertiary, to what our brand is really going for. Flavors like these have been stuck in the 'ethnic' aisle for too long, and if this happens to be the medium through which it gets out there, so be it."
Roco's vision is to ultimately produce somewhere between seven to ten flavors, all made with fresh purées from celebrated fruits across South Asia. For now, Sanzo is available on the company's site, in a handful of local natural-foods stores in NYC, high-end grocers like the Greene Grape in Brooklyn, and premium quick-service Asian restaurants, most notably Momofuku's Bāng Bar in the Time Warner Center. By the end of this week, it will also be sold in three by CHLOE locations across the city. Cans typically cost between $2 and $3.
"Other brands, even if they're going upmarket or down-market with their flavor variety, are still making lemon, lime, orange, grapefruit," Roco says. "But I really believe there's just a huge flavor differentiation with these fruits that shows why they belong on the shelf, too."