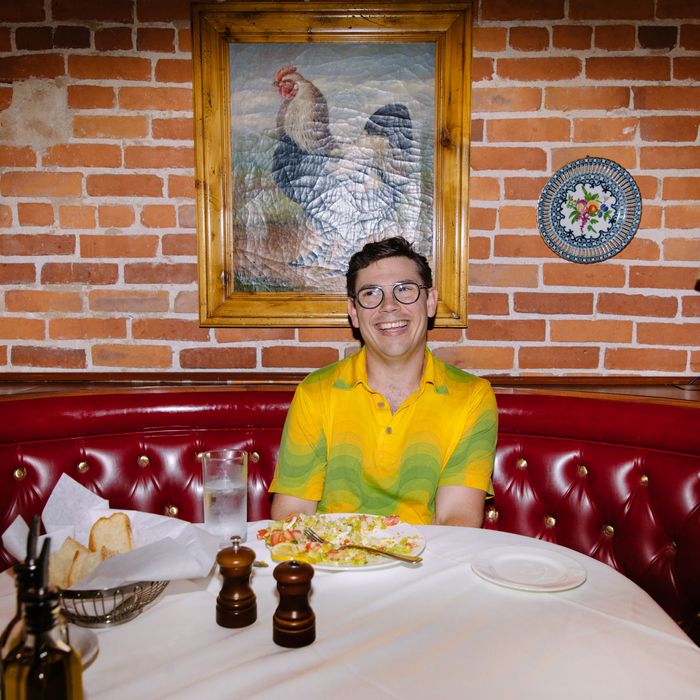 "I'm a booth bitch. Bury me in a booth," says Ryan O'Connell, at La Scala.
Photo: Kendrick Brinson
Ryan O'Connell — the creator, star, and executive producer of Netflix's sweet and hilarious Special — is very clear about his eating habits. "I do not identify as a snacker," he says. "I'm a meal girl through and through." And yet: Connell spent his week in the writer's room, which meant a lot of snacking, plus popping by awards parties (Special was up for three Emmys), and heading to Seattle. Yet he still found time to live his meal lifestyle: picking up "psycho house party" wine for dinner at a friend's, getting lunch at Gwen, and doubling down on pasta in Seattle. Read all about it in this week's Grub Street Diet.
Thursday, September 19
I woke up and got coffee at Blue Bottle, which is almost like Hip Starbucks now but I'm into it. I usually go to the gym after having my coffee but today I had a 9 a.m. pitch at Warner Bros., so goodbye, endorphins!!!
Pitch went great (oh, hi endorphins!). My work wife, Leila, and I decided to get a little something at Olive and Thyme, which is like Joan's on Third but 11 percent less good. (I know, shots fired!!!) We ordered an avocado and poached egg on toast and split it. I know this is illegal to say, but I don't like breakfast and rarely eat it. I basically graze until 6 p.m. and then I consume 60,000 calories. My diet is a doctor's dream!
I'm working in a writers room, which means I'm constantly betraying my body by putting random snacks in it, like peanut-butter pretzels and chocolate-covered almonds. I call it "writers room goggles" and it's when food that I would never normally eat suddenly becomes so appealing because I need to distract myself from the hell that is breaking stories. For lunch, we ordered Zankou Chicken, which was fucking delicious. I ordered the chicken tarna and, because I'm a monster, I slathered garlic sauce on each individual bite. (Big mistake: My stomach was UNSOOTHED for the rest of the day.)
Note: I don't cook. Like, at all. My fridge is filled with Polaroid film and wine. This fact used to make me feel interesting and now I realize it just makes me seem useless and delayed. I also read a lot of books about food, like Laurie Cowin's Home Cooking, which was really influential for me, and Ruth Reichl. I feel like I'm fascinated by food because I can't cook it. I don't even understand how to boil water. So I really like books from home cooks or chefs and I'm just sort of dazzled by it, like "gosh, how do you do that?" It's like seeing a rocket go to the moon.
I got out of work and stopped by Psychic Wines in Silver Lake to pick up some bottles for a dinner party at my friend Adam's. Adam is an amazing cook. He is an OG food blogger, the Amateur Gourmet, and he's casually written two cookbooks. He hosts dinner parties often and I'm always in charge of the wine, but here's the deal: I like my wine weird. I like my wine to smell like barnyard and taste like a psycho house party. So my goal is to always bring wine that legit freaks people out. I brought a bottle of Barbera by Maurizio Ferraro that packed a fucking punch. Effervescent to the point of sparkling, juicy, big, funky. Everyone was addicted and/or potentially hated it. Success!
Adam cooked an insane dinner for me; my boyfriend, Jonathan; and one of my closest friends, Karley. An heirloom tomato and burrata salad that was beyond, cacio e pepe, and homemade mint-chip ice cream. Adam's apartment is basically my favorite restaurant in L.A. Like, just a few days earlier, I called Adam to ask him a question and he was like, "I'm roasting a chicken, wanna come over?" I MEAN. HELLO. I'm gnawing on a pack of Polaroid film right now, yes I would.
Friday, September 20
I woke up hungover, which was rude and semi-unexpected. In an effort to feel less shitty, I got coffee at Blue Bottle, ran for an hour at the gym, took two Advil, and became best friends with a hot shower. All of that put me at 92 percent battery life once I left for work. My office is around the corner from this chic butcher-restaurant Gwen, and I decided to pick up a sandwich to-go. But, babe? Bad news. I found out that it was THE LAST DAY GWEN WAS SELLING SANDWICHES AND PASTRIES. I felt faint and clutched a countertop in order to steady myself. Why … would my precious Gwen do this to me? They say they're transitioning to a more formal sit-down lunch journey.
I asked if they would allow ANY items to be to-go? They said no, it's eat-in only. Okay, wow, POWER MOVE.
With no choice I ordered my last lunch at Gwen: the Grinder (an Italian sandwich) and a coffee with a citrus muffin and chocolate-chip cookie for my work wife, Leila, and I to share. I devoured the Grinder once I got to my office. Each sandwich comes with potato chips and a pickle. Delightful. RIP, Gwen to-go lunches.
Leila didn't touch the citrus muffin or cookie (weird … I thought we were allies) so my hangover ate half of each. We then spent the day rewriting an outline and doing notes calls and then taking other calls about future calls. I blinked and it was almost time for me to go to an Emmy party!
Okay, here's the deal: My show was nominated for three Emmys (love!). We didn't win any of them (LOL) but now I get to go to fun Emmy parties with no anxiety or pressure. This one was at Ted Sarandos's house who, like, owns Netflix, NBD. I didn't have time to eat before so I arrived starving and immediately went full Binge-y Kohan (Jenji Kohan? Get it?!!!) on some fried-chicken sliders, beef skewers, spicy tuna rolls, etc. I had one margarita but my body was like "bitch, you're grounded from last night," so I obeyed and just continued to eat more. The party was fun and weird, like all industry parties. I talked to Charlie Barnett from Russian Doll, who was so nice and down to fucking LOL. Catherine O'Hara was floating around but I was too nervous to say "hey." Oh, and I saw Antoni from Queer Eye. He's one of the hottest people I've ever seen in my entire life. Wait, is this diary still about food?
Saturday, September 21
I woke up feeling like I was on the verge of getting a cold. (First hungover, now sick, this diary is a fucking rollercoaster!) Freaked out, I immediately went to Erewhon, which is a healthy grocery store rich people shop at to let other people know they are healthy and rich. I did an immunity-defense lineup, which was basically just me taking shots of various disgusting things. I then got coffee and went to the airport. I was flying to Seattle to do a talk at the University of Washington and, yes, I was obvi worried because everyone knows airplanes are just day spas for germs but c'est la vie. I didn't have time to grab food before my flight so I was at the mercy of airplane food, which a perverse side of me actually enjoys. It's usually so gross that you have to respect it, you know?
Thankfully, my meal wasn't so bad. I ate a chicken farro salad with crackers and an oatmeal-raisin cookie. The cookie was low-key delicious. The salad was a no: rubbery chicken, tasteless faro, random raisins. I landed in Seattle, checked in at my hotel, and went to go meet my friend Anna to face-fuck some pasta at Spinasse. Anna's been shooting a TV show up here for two months so she knows her shit. She told me I had to order the butter and sage pasta. I'm like "k" but then I saw a delicious-looking pasta with ragù and I'm "Torn" by Natalie Imbruglia. I ended up getting half orders of each because FUCK IT, babe!!!! The butter and sage pasta was fucking incredible. Remember when you used to just eat noodles with butter and parmesan as a kid? This dish was like that but grown-up with a job and a 401k. Sooooo good. The ragù was also delicious but the butter and sage beat it by a margin.
My talk went great! I contemplated going to Anna's wrap party but decided to go back to the hotel and sleep off this cold. For a moment I considered getting a sweet treat from room service but then I remembered I already ate dessert at Spinasse — a delightful huckleberry semifreddo with shortbread cookies — and getting a second one on top of my two orders of pasta is a little too YOLO, even for me!
Sunday, September 22
I woke up feeling a little better. Seattle was cold and rainy but I got an iced latte anyway at Slate Coffee Roasters near my hotel. I have that disease where I must have my coffee iced even if it's ten degrees. I flew back to L.A. and again found myself at the mercy of airplane food. They served me a different variation of a chicken salad, this time with hard-boiled eggs. It was like a Cobb salad that hadn't found its voice. I ate it all anyway and then I was reunited with the oatmeal-raisin cookie from yesterday! So sad how much joy this brought me.
I spent the afternoon back in my apartment reading Jia Tolentino's book, Trick Mirror, which is as good as everyone's Instagram says. Me and Jonathan then watched the Emmys at home. I Postmated the Southwestern salad from Joan's on Third. Ughhhh, that salad is fucking delicious. It has corn, jicama, bell peppers. It's a texture paradise! I also ordered an iced latte (yes, at 5:30 p.m.) because I was fucking exhausted and knew I needed to rally for the Netflix Emmy party.
The coffee did the trick. I was truly BUZZING during the Emmys, some might even say hyper! My boyfriend and I then went to the Netflix party at Milk Studios. I didn't drink because I was still feeling kind of sick so I threw back sparkling waters all night and ate 5,000 Impossible burgers and hummus and other passed apps. It's #dark because I was legitimately full when I arrived at the party but I can't turn down free food, babe.
Okay, now can I say something not chic? I know everyone has a giant boner for the Emmys and all the parties but I found the whole experience to be kind of overwhelming and stressful? I am really not used to being around that many famous people and I get shy in those kinds of spaces. I don't usually go to parties. That's, like, not my journey. However, the Netflix party, for whatever reason, felt different. The mood was light and jovial. I introduced myself to Andrew Rannells and we lolled. I did a fun li'l video with Tan and Antoni from Queer Eye. (It involved Antoni kissing me on the cheek. Did I manifest?) Adam Sandler randomly hit me in the arm and said, "Hey buddy." I've realized that when I don't drink I actually tend to be more outgoing and social, which feels like it should be the opposite! I had a great time. But the second I got home and into bed I realized the 5:30 p.m. coffee was really going to fuck me re: sleep. Oops!
Monday, September 23
Hi. Welcome to being fucked. I got three hours of sleep. Still, I was up at 7:15 a.m. to meet my trainer because I'm a hero. I went to Blue Bottle for an iced almond-milk latte with three shots. That woke me up a smidge. I got through my workout looking like Samara from The Ring but, still, I did it. I am a hero.
Afterward, I got a protein shake at Earth Bar which really just tastes like a milkshake. I've been drinking protein shakes for a while now after my workouts and always think, "This tastes too good to actually be good for me."
I felt so bad I did not have time to go to La Scala. It's a very, very formative restaurant for me in L.A. It's a red-sauce Italian joint, red leather booths. I love a booth. I'm a booth bitch. Bury me in a booth. Also, the chopped salad is legendary. This town runs on chopped salad. People have chopped-salad brains. La Scala is chic. It's just a version of chic that isn't chic to me. You know what my equivalent in NYC is? Indochine. Love Indochine. LOVE Indochine, honey. Bury me in Indochine. By the way, the food always needs to be good. I'm not going to a place with bad food. I think I'm trying to retire from doing things ironically.
At work, I ate approximately 40,0000 peanut-butter pretzels, mainlined another latte, had a Sad Salad from Sycamore Kitchen, and absentmindedly ate a scone and a cookie. Hot.
For dinner, I flirted with the idea of going out but then decided to pick up food from one of my favorite restaurants in the neighborhood, Spoon By H. Okay so I was never really that into Korean food, but then I discovered Spoon By H a couple months ago and am now a full convert.
They have this udon noodle stir-fry dish with chicken and vegetables that is like if sweet fucked spicy the perfect amount. I ordered that and kimchi fried rice. It's too much food. It's always too much food. I order this once a week — the noodle stir-fry and the kimchi fried rice — and every time I eat the stir-fry and take like one bite of the rice because I'm so full but that one bite of the rice is perfect and I cannot part with this order.
Then, because I'm a true bad girl, I ate two chocolates that were Emmy gifts.