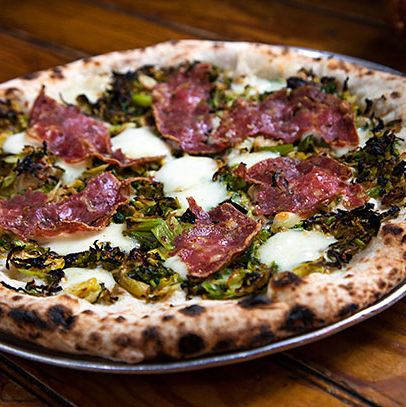 There will probably be pizza.
Photo: Dominic Perri/Dominic Perri
Bushwick pizzeria Roberta's is coming to Manhattan. The Commercial Observer first reported the news that the restaurant is expanding to 15 Avenue A, and chef-owner Carlo Mirarchi has confirmed to Grub that they'll be opening what he calls Roberta's Wine Bar. In an email, he writes that there will be wines "from some of our favorite producers. Lots of mags, lots of fun."
Expected to open in 2020, the new business will occupy a 1,300-square-foot space. It will be the fourth brick-and-mortar location for Team Roberta's, which has expanded to Los Angeles and has a location in the $3 billion, 11-acre Domino development in Williamsburg currently being built. There are also Roberta's stands in the UrbanSpace food halls.
Both the Los Angeles and Williamsburg locations are in shinier spaces then the original Roberta's, which opened in an industrial corner of Bushwick without heat, gas, hot water, or a liquor license. Since those early days of food reheated in toaster ovens, the restaurant has become one of the most successful in New York — despite a rocky road that's included a nasty legal fight between owners, exodus of staff, and a wage lawsuit.
With the expansion, Roberta's will resemble something like a small empire. Needless to say, this is not your older brother's Roberta's anymore.