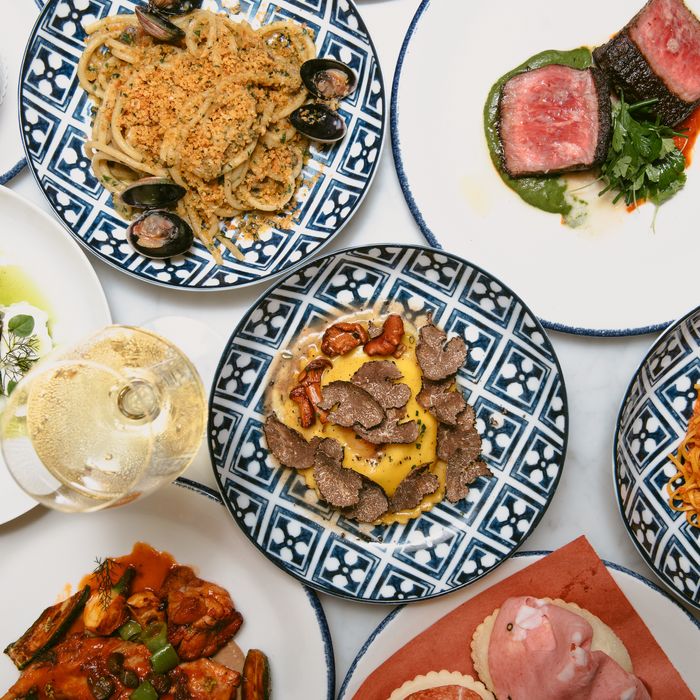 Some of the offerings at Rezdôra in Manhattan.
Photo: Scott Heins
Few things stir the hearts of big-city food aficionados these days like the news of the arrival in town of yet another highly touted upmarket pasta destination. Italian cooking replaced French cuisine at the top of New York's great food-snob pyramid long ago, of course, but in this streamlined, comfort-addled age, nothing draws a crowd quite like the latest iteration of uni-larded noodles from Sicily, say, or a properly executed faux-Roman carbonara or selection of esoteric Ligurian dumplings (or are they Venetian?) shaped like gondolas or hats or tiny, carefully twisted candy wrappers. As Grub Street reported not long ago, the appetite for the next "It" noodle has become so extreme that chefs around town often travel to the old country to unearth forgotten regional delicacies and have even been known to conjure up strange names and murky pasta origin stories all their own.
Not that Stefano Secchi — whose hit restaurant Rezdôra has been mobbed with hordes of frenzied pasta loons more or less since the day it opened in a narrow, predictably cacophonous space in the Flatiron District — employs any of these slightly dodgy tactics. Secchi grew up in Dallas, but he's a scholar of Emilia-Romagna, the breadbasket region responsible for many iconic Italian dishes besides pastas and ragùs, and as a young cook, he served apprenticeships in the most renowned kitchens in the province (most notably at Massimo Bottura's Osteria Francescana in Modena). The pasta section of his menu is filled with meat-stuffed anolini dumplings from Parma and faithfully executed Modenese ragùs, and like many restaurateurs in Italy and elsewhere, he has a fondness for invoking the homey traditions of Grandma's cooking (rezdôra is Modenese for "grandmother").
It took me a while to get a taste of Secchi's cooking, although it wasn't from a lack of trying. The restaurant attained the Resy reservation app's dreaded "notify" status long before the laudatory reviews started rolling in, and even now it's best to plan at least a month in advance if you want to secure a table. I was politely turned away when I showed up at 5:30 p.m. to try to get a seat at the front-of-the-house dining bar, and when I managed to secure a spot weeks later (hint: Show up when the doors open at five), I quickly plunked down $90 for the five-course pasta tasting menu, which included tiny tortellini poured with a deeply flavored chicken broth (delicious); a nest of thin, eggy tagliolini folded with a rich Modena-style ragù made with mortadella, prosciutto, and plenty of gently simmered pork shoulder; and the aforementioned crown-shaped anolini dumplings bathed in a creamy Parmesan sauce that was a little overwhelmed by a drizzle of Modena's most famous export, balsamic vinegar.
Were these carefully articulated (and not inexpensive) bites of pasta worth the hassle of scoring one of the somewhat cramped seats at Rezdôra? For serious aficionados who pride themselves on being up on the latest pasta fashions and trends, the answer would be yes, especially since only two of the items on the tasting menu show up on the regular à la carte list (the tagliolini and the anolini). But there are plenty of less crowded, equally accomplished pasta destinations in town, and if you lose yourself in well-executed but familiar dishes like spaghettoni con vongole ($24 on the à la carte menu, tossed with plenty of clams, parsley, and garlic) and that old haute-pasta favorite uovo raviolo (constructed here in the classic way with an infusion of ricotta and herbs, a single egg yolk, and shavings of truffle on its brown-buttered top), you may miss what's arguably the best part of dinner at this polished little restaurant.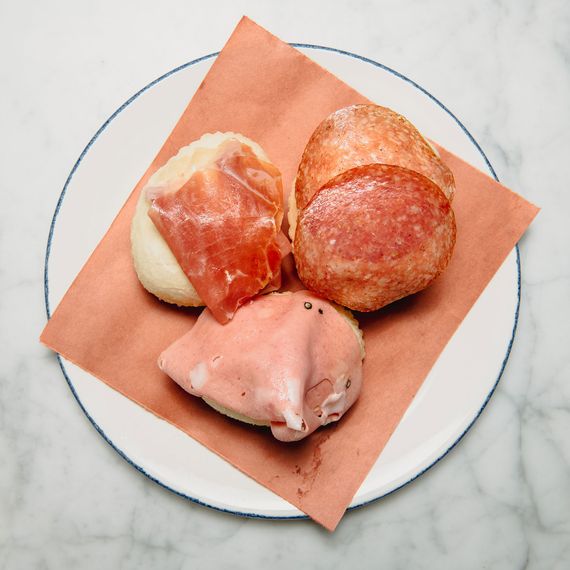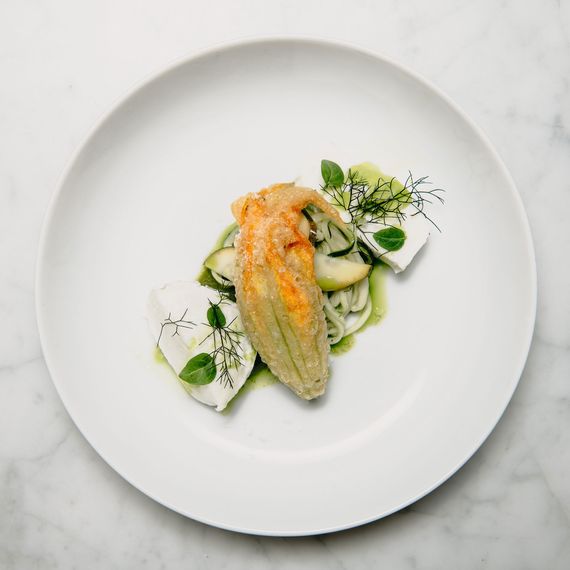 I'm thinking of the knuckle-size fried-dough gnocco fritto, draped, as in some crowded market in Bologna, with ribbons of mortadella and salami, and platters of soft white cheeses (burrata, mozzarella, stracciatella) plated with different kinds of Greenmarket bounty (tomatoes, cherries, frizzled ricotta-stuffed zucchini blossoms), which you can enjoy with dense slabs of griddled bread drizzled with olive oil (fett'unta) for an extra five bucks. Emilia-Romagna is one of the great meat and offal regions of Italy (it shares a long southern border with Tuscany), and Secchi and his cooks serve up wobbly veal cheeks poured with onion sauce, portions of rabbit cooked in various enticing ways (braised and in sausage form with some veal sweetbreads thrown in), and a flowery-sounding steak dish ("Cow Grazing in Emilia Romagna") so good that my daughter refused to part with it when I timidly asked for a small bite.
I managed to get a taste of my tender, grass-fed Emilia-Romagna beefsteak in the end, and one day, when the pasta loons have moved on from the packed little dining rooms, I might even return for a bite or two of the dry-aged bone-in rib eye per due, which is enlivened, according to the menu, with a proper pesto Modenese made with a mash of garlic, rosemary, and plenty of lardo. After all of this pasta and meat, the desserts are mercifully light. Inquire about the seasonal option, which was a strawberry meringue earlier in the summer and is a thin, crumbly wedge of peach tart now, served with a puff of whipped ricotta on the side. For all seasons, however, your safest bet is the smooth house gelato, which comes in a combination of flavors (half-pistachio, half-stracciatella on my last visit), served in a frosty metal coupe and garnished on top, in the classic way, with a large, pinwheel-shaped waffle cookie.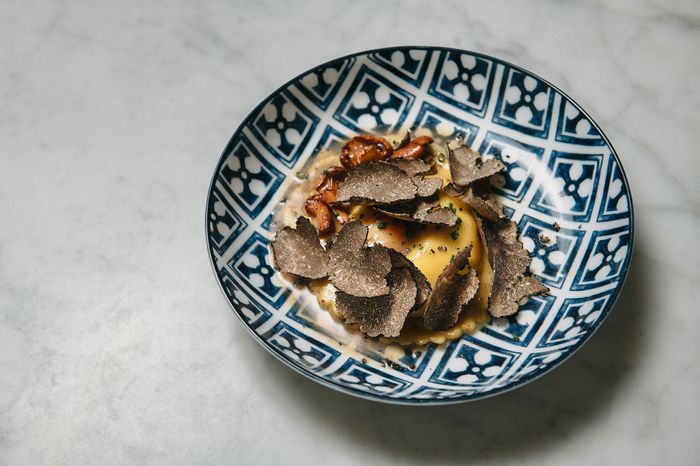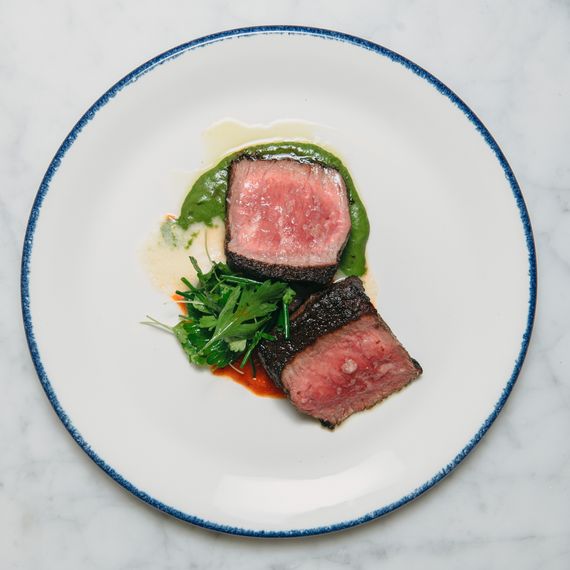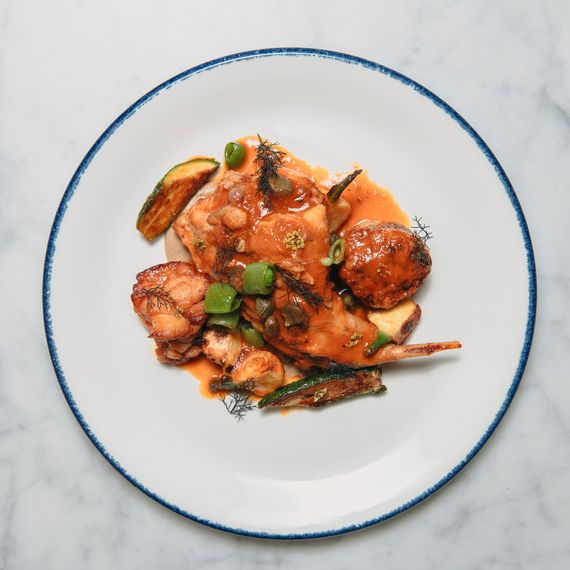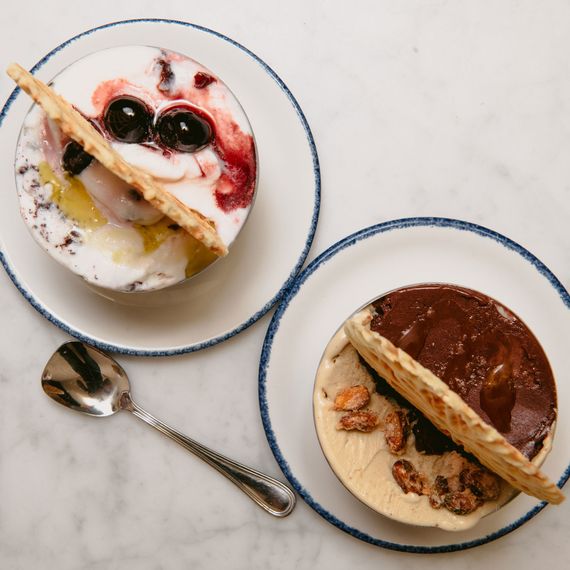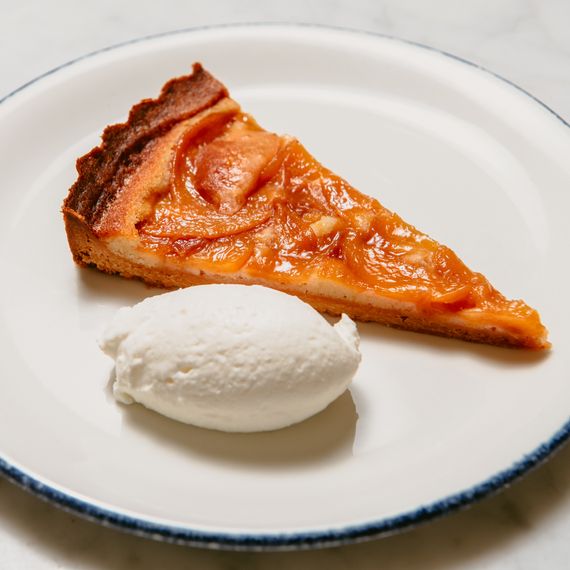 Rezdôra | 85 (out of 100)*| Very Good
27 E. 20th St., nr. Broadway; 646-692-9090; rezdora.nyc
Open: Dinner nightly.
Prices: Appetizers, $5 to $19; pastas, $20 to $25 ($90 tasting); entrées, $27 to $31.
Ideal Meal: Stracciatella with cherries, toasted bread with olive oil, tagliolini with ragù, veal cheeks or rabbit, gelato.
Note: The five-course pasta tasting menu has to be ordered by the full table (and does not include dessert), which means it's best enjoyed in solitary contemplation at the bar.
Scratchpad: On busy evenings, the space can resemble a crowded dining car during rush hour, but service, quality of cooking, and strong point of view add up to a very respectable 85.
*The rating scale of 0 to 100 reflects our editors' appraisals of all the tangible and intangible factors that make a restaurant or bar great — or terrible — regardless of price. See The Thousand Best for 999 more great places to eat and drink.