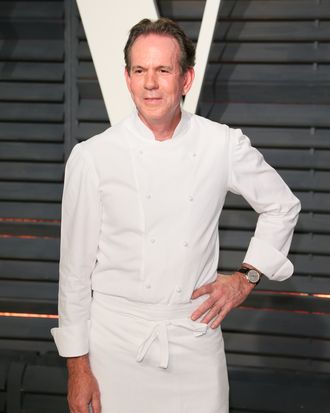 Thomas Keller.
Photo: JB Lacroix/WireImage
A retrial has been ordered in the $5 million pregnancy discrimination case against Thomas Keller Restaurant Group. The eponymous chef and his restaurants Per Se and the French Laundry had been cleared by a jury in the June trial, but the verdict was appealed by plaintiff Vanessa Scott-Allen about two weeks after it was handed down.
The San Francisco Chronicle reports that Judge Victoria Wood of the Napa County Superior Court agreed with Scott-Allen's argument that there was a lack of evidence to support the verdict, as well as misconduct by the jury and the defense counsel. The defense's evidence and many witnesses also lacked credibility, according to Wood.
In reviewing the case, Wood determined that the jury reached the wrong verdict on the claims of concealment, gender/sex/pregnancy discrimination, and intentional misrepresentation. The judge did not find this to be the case for solicitation of employee by misrepresentation, the fourth claim the Thomas Keller Restaurant Group was on trial for. Scott-Allen had requested a transfer from Per Se to the French Laundry, only to move across the country and find out she was without a job. She was pregnant at the time, as a hiring manager learned a few weeks earlier.
During the trial, the defense argued that the Thomas Keller Restaurant Group lacked a transfer policy as the two restaurants exist as different entities. However, Scott-Allen's attorneys argue no employee had been previously been denied a transfer and that no one before Scott-Allen had been required to sign a resignation form before moving to the French Laundry. Woods did not buy the defense's argument that this was standard procedure. Additionally, the ruling states that there was misconduct among some jurors because they discussed the case and evidence before deliberations and announced their decision among themselves at the start of deliberations.
In a statement to the Chronicle, Scott-Allen's attorney Dustin Collier said, "The court's ruling sets forth the strength of our evidence and the weaknesses of the defense in significant detail." He goes on to argue that the court has explained there was an "unjust result" due to the defense counsel's misconduct and "a few rogue jurors."
The paper reports that the French Laundry plans to appeal Woods's decision, and responded with a statement saying, "We are deeply disappointed by the judge's decision to reopen the case that fully exonerated Thomas Keller and the French Laundry on June 26 from any wrongdoing claimed by Vanessa Scott-Allen."