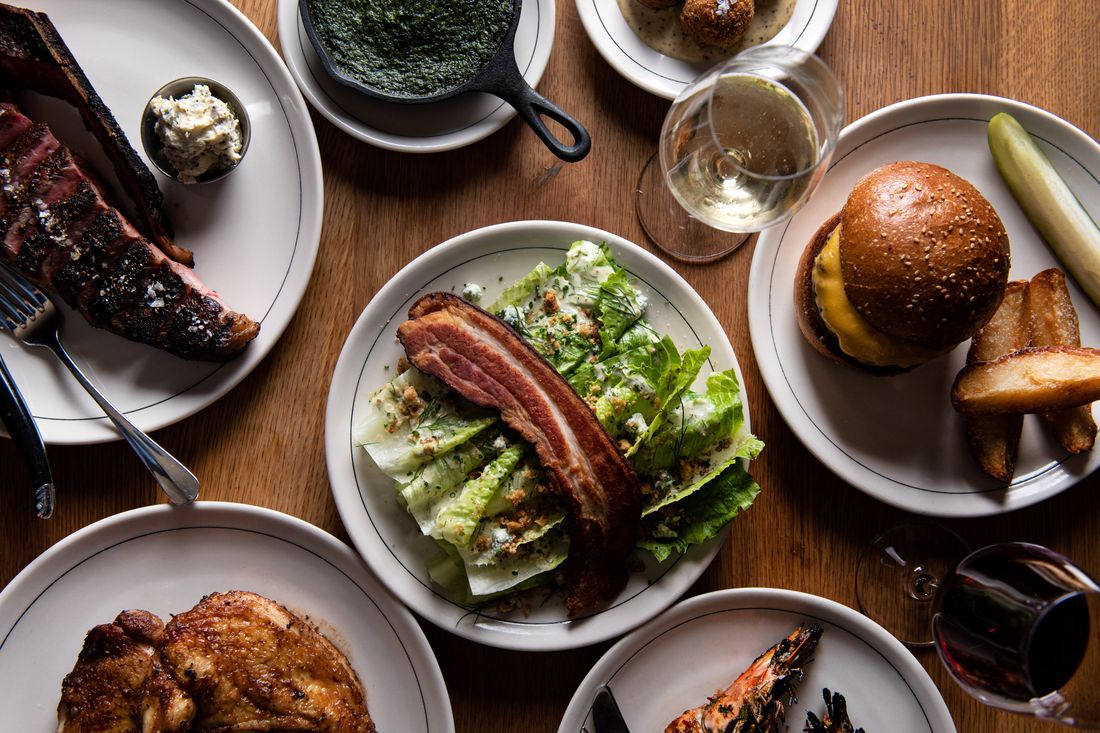 Photo: Liz Clayman/Liz Clayman
In the era of Shake Shack, Black Label, and the Impossible Burger, the rollout of the latest eagerly awaited, breathlessly touted big-city burger creation tends to follow a settled pattern. Before the great leviathan is even sighted, there's a rumble of carefully orchestrated rumors and speculation online. This is followed, after a decent interval, by the actual burger reveal, which is accompanied by a blizzard of posts and hot takes by members of the city's fractious burger community (style of burger, type of grind, burger-to-bun ratio, etc.) along with mouthwatering images of the burger from every angle. After the friends-and-family preview, crowds sometimes gather on the sidewalk before opening time to get a taste of the burger or even form lines à la the original Shake Shack, which started the madness over a decade ago and continues to this day in Madison Square Park.
Which is how your dutiful critic found himself loitering on the sidewalk one bright late-summer afternoon with a group of slightly restive burger aficionados waiting for Billy Durney's new pub-restaurant, the Red Hook Tavern, to open its doors. As every beef-eating New Yorker knows, Durney is the father of Hometown Barbecue, the Red Hook institution that has evolved in a few short years from a local smokehouse joint into one of the premier barbecue destinations in the country. Durney is a proud son of Red Hook by way of Flatbush, and according to the multitude of posts I've consulted, he has designed his new venture as an homage to the intimate corner taverns of his youth, with their stamped-tin ceilings, weathered wooden bars, and, yes, their pub burgers served in the spare, pre-burger-frenzy way, with melted American cheese on top, a slice of raw onion perhaps, and a pickle.
Durney's burger isn't your run-of-the-mill pub burger, of course, and when the doors opened at 5 p.m., the burger folk filled the 18 seats at the bar quickly and quietly (the bar is first come, first served, and the tables in the small corner space are booked a month in advance), like parishioners filing into the last empty pew at church. The most devout among them could recite the details of Durney's burger by heart — how it took months to perfect the various elements (the bouncy, gold-colored bun; the hefty eight-ounce mix of chuck and dry-aged strip), all of which were inspired by Durney's favorite burger, the lunchtime classic at Peter Luger Steak House, which is served, like this one, with the bun tipped to one side to reveal the fat, just-sizzled patty.
I'm on record as not being a great fan of Luger's or of large burgers in general, such as the unwieldy, endlessly popular grease bomb at Corner Bistro in the West Village. But when Durney's majestic creation appears, it washes these petty prejudices away. It's actually sort of beautiful to look at (and to photograph), especially with the round, crispy-edged bun on top, and if you don't like giant burgers, you can cut it in half with minimal fuss since the only garnish, besides cheese, is a single slice of onion. The griddled beef is peppery and crunchy and beautifully aged, and it mingles in that classic way with the melted cheese, the bite of the onion, and the fresh-baked sweetness of the bun. Ketchup isn't banned, but it's not encouraged, either, although you might want to order a dab or two, along with a small tub of mayonnaise, for the thick, salty steak fries (although Durney prefers the term "potato wedges") that come on the side.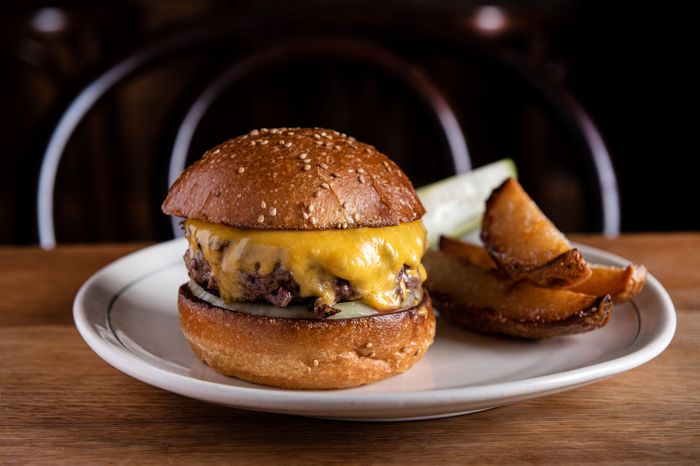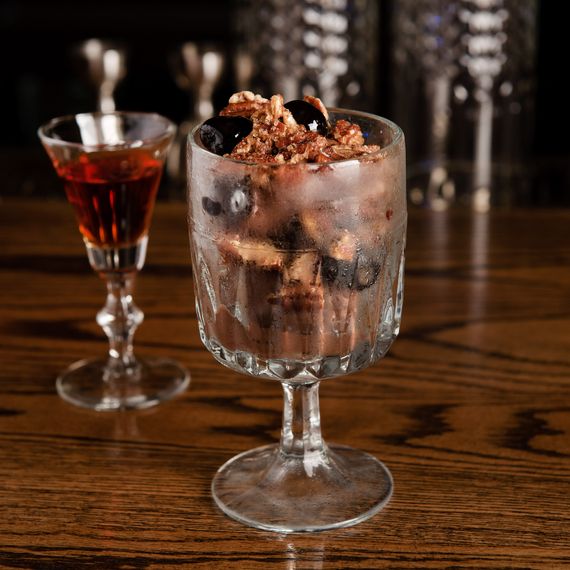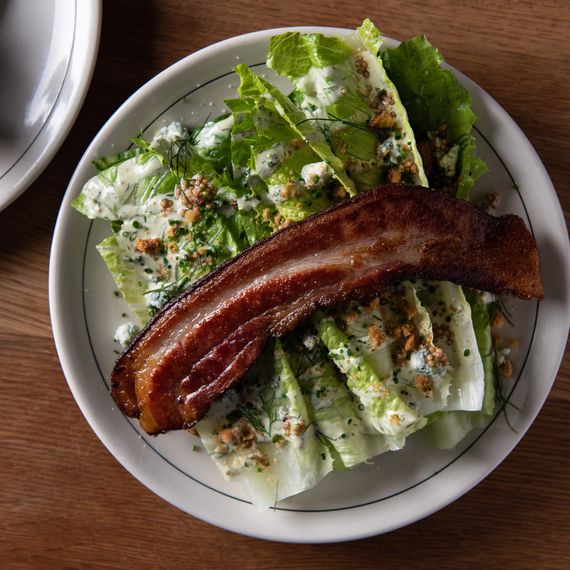 This $22 burger isn't the only thing on the menu at this local tavern, of course. Durney likes to tell anyone who'll listen that he hired his executive chef Allison Plumer not for her facility with ground beef but for the quality of her pan-roasted chicken, which was perfectly cooked on the evening I enjoyed it and served with a buttery mash of Yukon Gold potatoes pooled with chicken gravy. There are also smooth, faintly boozy helpings of chicken-liver pâté, and dainty ham croquettes that the kitchen rolls in rye-bread crumbs before frying and plates with fresh-whipped Dijonnaise. I enjoyed the grilled spot prawns much better than a watery, disappointing helping of littlenecks, but if you're looking for one dish to go with your burger, do what the rest of the burger faithful at the bar were doing and call for the romaine wedge, which is garnished with generous crumblings of blue cheese and a single thick slice of Nueske's bacon.
With its trophy burger, its sense of raffish camaraderie, and its roster of hungry man foods inventively conjured by a first class chef, the Red Hook Tavern reminds me of the old seminal gastropubs which were popping up all over town a decade or so ago. There are plenty of potable draft beers on tap, although most of them hail from Brooklyn, not the U.K., and if you feel like dropping a little cash on a bottle of Champagne (17 selections), you can do that, too. As with any lively bar or gastropub, the kitchen can become overwhelmed when the crowds get too thick (in addition to the grim littlenecks, my eagerly anticipated 45-day-aged New York strip was radically underdone). Not that you'll need any more red meat after your burger, which is well worth at least one trip out to Red Hook, or the simple, calorie-bomb chocolate-sundae desserts, the best of which, I blearily recall, was constructed with scoops of fior di latte gelato, a healthy pour of chocolate-fudge sauce, and a sprinkle of candied pecans.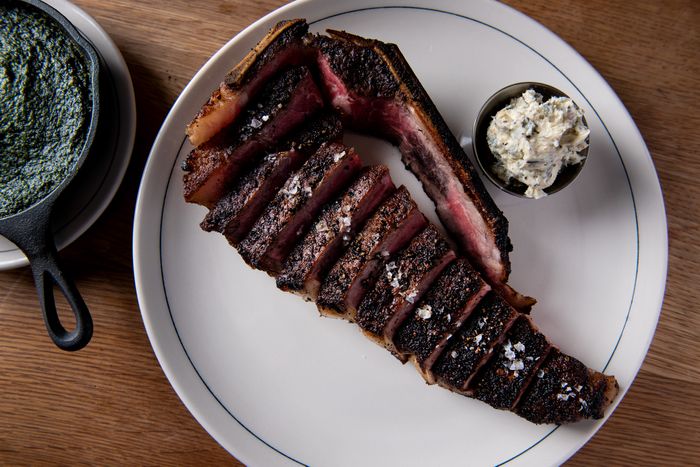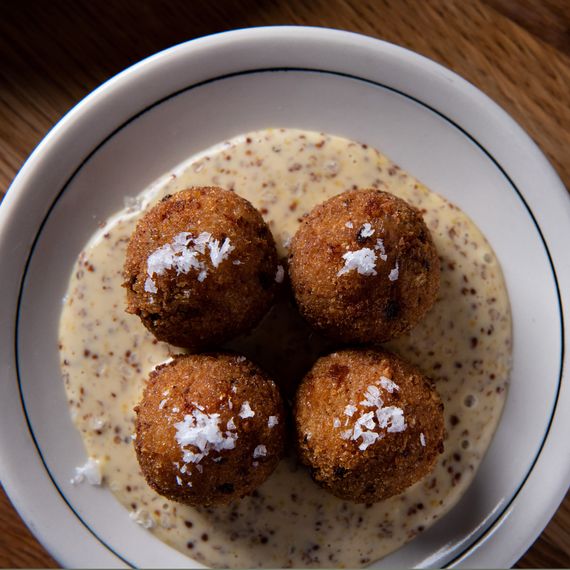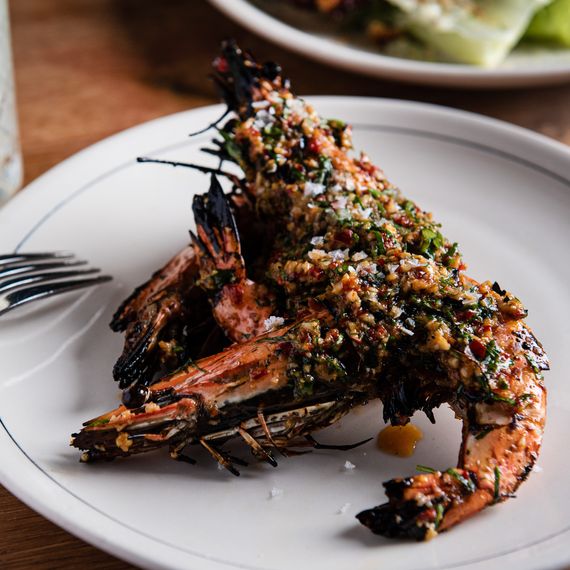 Red Hook Tavern | 83 (out of 100)*| Very Good
329 Van Brunt St., at Sullivan St., Red Hook; no phone; redhooktavern.com
Open: Dinner, Tuesday to Sunday.
Prices: Appetizers, $8 to $18; entrées, $22 to $49.
Ideal Meal: Romaine wedge and/or chicken-liver pâté, dry-aged Red Hook "tavern burger" and/or pan-roasted half-chicken, fior di latte chocolate sundae.
Note: The house opens at 5 p.m., which makes this the prime time to secure a seat at the bar, although on another visit, later in the evening, there were plenty of bar spots open along with a table or two.
Scratchpad: Red Hook may be a long way to go for dinner at the neighborhood pub, but multiple points for the city's latest destination burger, plus a few more for the best of the other dishes, add up to a solid 83.
*The rating scale of 0 to 100 reflects our editors' appraisals of all the tangible and intangible factors that make a restaurant or bar great — or terrible — regardless of price. See The Thousand Best for 999 more great places to eat and drink.
*This article appears in the September 30, 2019, issue of New York Magazine. Subscribe Now!