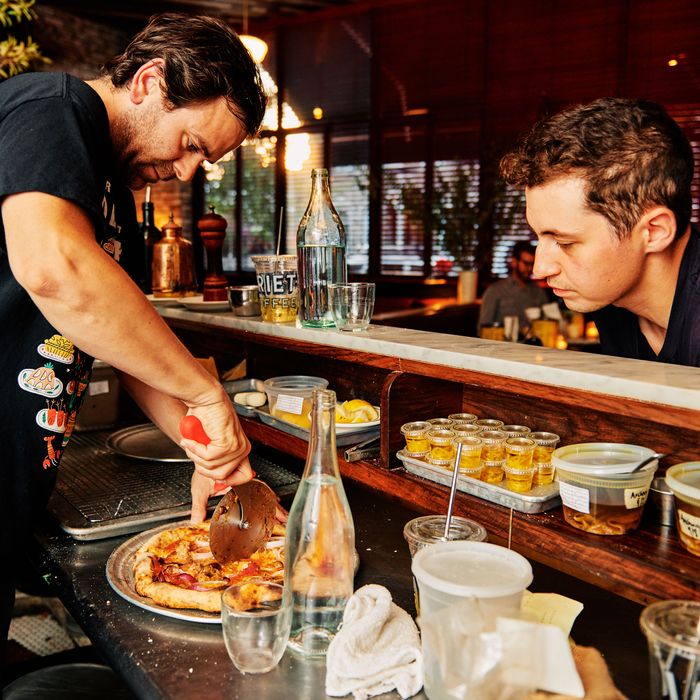 Mike Fadem and Joey Scalabrino making pizza at Ops.
Photo: Christian Rodriguez
New York could use more Ops. Or, at least, some more places like it. It's a restaurant with an obvious and wide appeal — who doesn't like good pizza and wine? — but also one that feels entirely of its owners, Mike Fadem and Marie Tribouilloy. Together, they've created a space that's actually relaxed and casual without any of the usual posturing, where you can eat Neapolitan-ish pizza topped with mortadella and where the wine lists amounts to your server explaining what they have and think you'd be into, too. Unfortunately, there's only one Ops. But now, Fadem will branch out with a larger pizzeria called Leo.
The new restaurant is in the former home of the Lodge, the Williamsburg spot that occupied a corner of Havemeyer Street for 14 years as both a restaurant and deli. Taking advantage of the space's layout, Leo will be both a counter-service restaurant and a takeout café, open from noon to midnight. For now, the plan is to open takeout first in October, followed by the restaurant a few weeks later in November.
As Tribouilloy did with Forêt Wines, Fadem is going his own way with Leo. Along with Variety Coffee owner Gavin Compton, a partner in Ops, Fadem has teamed up with a couple employees of Ops in Joey Scalabrino, who's also spent time lately picking up shifts at Bread and Salt, and Thomas Traudt, who was Ops' first employee. Leo won't just be Ops with a little more space and a place to get your pizza to-go, though. "The whole idea is to something totally different," Fadem initially explained.
When Fadem first brought the new restaurant up, he talked first about the square pizza they'll serve as slices to-go. This pizza won't be like the excellent square they serve at Ops — of which Fadem says "we ripped off DiFara" — and Fadem doesn't point to Rome but Puglia, Abruzzo, and other places along the eastern coast of Italy. "They make these huge sheet pizzas and they're crispy and oily and don't need to be heated up," Fadem says. At Leo, they'll heat their squares up and go produce-heavy on the toppings.
"There aren't a lot of pizzerias in the city with a lot of vegetable pizza," Scalabrino explains. "And that's the kind of pizza we like."
Along with square slices, they'll serve sandwiches on house-baked breads, like maybe one, Scalabrino says, in the style of Ops mortadella and pickled pepper-topped Juno. At night, it'll also be a place to have a drink.
In the proper sit-down restaurant, Fadem & Co. will serve both circles and squares. Like the squares, the round pizzas won't be clones of the Ops pies, save the sourdough crust. For starters, the pizzas will be baked in an electric PizzaMaster, the same being used at the recently opened Norm's in Downtown Brooklyn, rather then a wood-fired oven. The round pies, Fadem explains, will be conceptually similar but more New York–style. There will be the usual add-on toppings for the basic pies and then a few others like one with greens, pesto, and potatoes, and another with clams. Fadem counts himself a fan of West Haven, Connecticut's Zuppardi's, but there's won't be a nod to that one. "It's this thing Joey came up with," Fadem explains.
While the kitchen at Ops is a squeeze, the added space at Leo will allow the team to serve actual entrées like pork-and-beef meatballs, made with reduced tomato sauce, and a roasted meat. There will also be a vegetarian lasagna that's, incidentally, gluten-free, as well as a couple salads, bread and butter, and other appetizers. "We like the idea of baked pasta, like classic, old-pizzeria style," Scalabrino says. "But trying to make it good."
Along with some uncomplicated classic cocktails, natural wine will factor heavily into Leo's equation. There won't be a wine list here, either, but instead a handful of wines on tap and a couple fridges from which customers can grab bottles. "We're trying to not make it too service-y, just a little more simple and really casual," Fadem says. With Leo, he says, the goal is to open something more accessible than Ops, both in the more central location and through the takeout. It might not be another Ops, but an offspring of Ops? New York will take more of that, too.
Leo, 318 Grand St., at Havemeyer St.; no phone yet