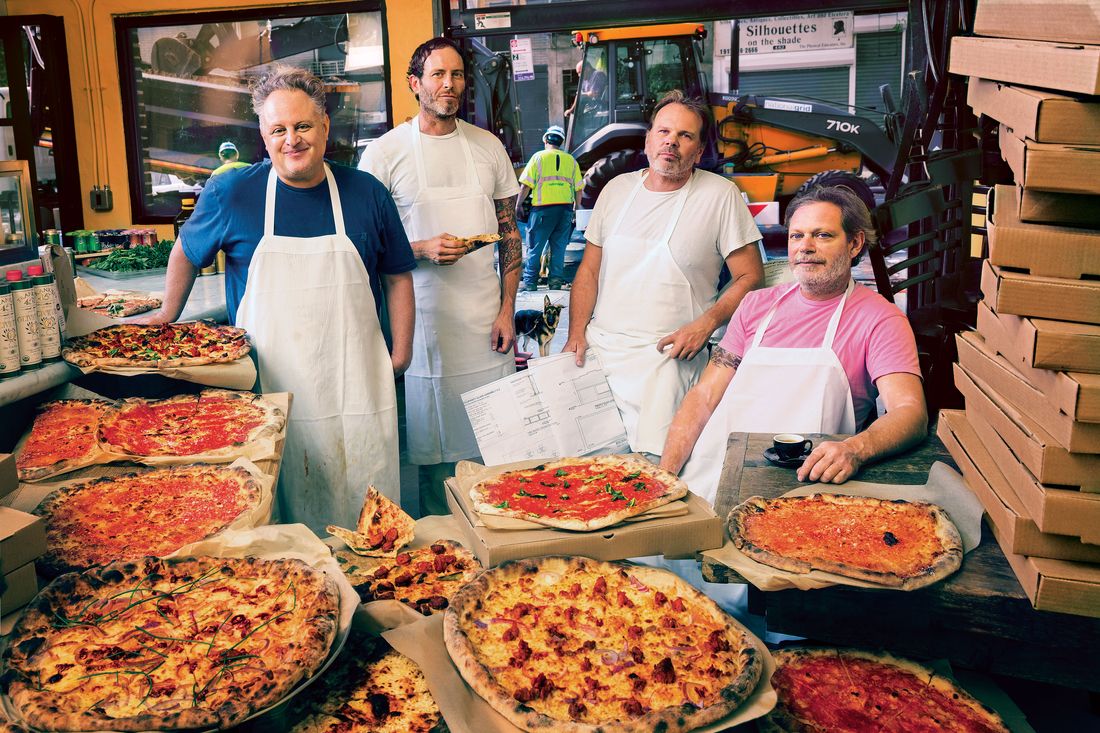 From left, Chris Bianco, Chad Robertson, Frank Castronovo, and Frank Falcinelli.
Photo: Jonas Fredwall Karlsson
It's not every day that internationally famous pizza and baking royalty can be found stretching dough in converted Brooklyn garages. But that is exactly what passersby witnessed one sunny afternoon last week in Carroll Gardens. Phoenix-based pizzaiolo Chris Bianco and Chad Robertson of Tartine Bakery fame had flown in from Los Angeles, where they had recently teamed up to open the mega-culinary complex, the Manufactory. The purpose of their trip was twofold: to guest-chef the season finale of the Franks' Backyard Chef Series, and to conduct a pre-opening pizza-making clinic for said Franks — Frank Castronovo and Frank Falcinelli, their close friends and the co-owners of Frankies Spuntino, Franks Wine Bar, and the forthcoming F&F Pizzeria, which was the site of this momentary confluence of star power. Robertson, dressed for the part in a white T-shirt and white apron, had brought his sourdough starter with him ("just for insurance, if the Franks' starter wasn't kicking"). Bianco (white apron, blue T-shirt) had brought along 40-odd years of pizza-making wisdom.
F&F, slated to open today in a single-story space between the spuntino and the wine bar, is fairly no-frills, with a sunny yellow paint job ("Mediterranean," clarified Castronovo), copper-tinged concrete floor, paper plates, and standing tables. But if all goes according to plan, the 16-inch round pies and the Sicilian-style squares that emerge from the Swedish PizzaMaster 925 electric oven ("No hot spots!" said Falcinelli) will reflect the philosophies of two of America's most sophisticated and obsessive baking minds.
"These are the fucking worst!" barked Bianco at an offending pair of kitchen shears he'd been given to slice a test pie. "They compress the crumb. Give me a fucking bread knife." He raced around behind the marble counter, ladling his proprietary Bianco DiNapoli tomato sauce and applying toppings in the minimalist fashion he's known for. As the Franks taste-tested, Bianco was assisted in these sacraments by Tyler Black, an eager young pizzaiolo and CIA grad from Gainesville, Florida, whom Bianco had recommended to the Franks, and who was busy soaking up his mentor's maxims, warnings, and topping-combo ideas as they flew, unfiltered, from his mouth.
"Are there any red onions in the house?" Bianco inquired of the room, eventually combining them with Calabrian chiles and chives on top of a pie. As he put the final touches on a so-called cavatelli pizza, featuring Frankies' house hot sausage cooked in butter and sage, he called for a couple extra sage leaves. And noting the smoothness of the tomato sauce, he counseled his apprentice to stop running the tomatoes through a food mill. "Keep 'em chunky, straight out of the can," he said. "A little olive oil, a basil leaf, that's it."
The famously voluble Bianco wasn't the only one present with strong feelings about New York's most popular food. Though neither bread bakers nor pizzaioli, the Franks have always wanted to make pizza. "We talked about it for years," said Castronovo. But along the way they expanded into other culinary arenas, like German-inspired chophouse fare (Prime Meats), and third-wave coffee (Cafe Pedlar). "We thought that people wanted something different than another Italian or Italian-inspired food thing," said Falcinelli. "In retrospect, what we discovered is…they don't."
"They want Italian food!" agreed Castronovo. "They want pizza, man."
"It's the ultimate egalitarian food," said Falcinelli. "When we opened Frankies, we wanted it to be sanitation workers, rock stars, cops, billionaires, trillionaires, zero-aires, all sitting and eating together. And that is what you get with pizza. But we're in a time and a city where everybody is a pizza professional. Everyone has an opinion. Before, it was the pizza place down the block, that's the pizza you got. No one was using terms like cornicione or pizzaiolo. It was fucking pizza."
Always the pragmatists, the Franks knew that if they were going to make pizza that could withstand the scrutiny of the average New York pizza connoisseur, they needed some help. So after an initial stab at a partnership with veteran Long Island pie man Umberto Corteo fizzled out, they did what anyone in their position would do: They flew out to Los Angeles to ask Bianco and Robertson if they would act as their pizza consigliere and bestow upon them all their naturally-leavened secrets.
What seemed to the Franks like a big ask amounted to a no-brainer for Bianco and Robertson, who couldn't have been happier to help. "When your friends move, and you've got a truck, you show up," said Bianco.
"I know these guys are amazing chefs," said Robertson. "Whatever we give to them, we're going to get something back. They'll do their own spin, and then I'll have that idea in my head, and maybe I'm going to make something else with that down the road. Collaborations always work that way for me."
The Franks' pizza dough will be based on Robertson's country-bread recipe: natural leaven, long fermentation, high hydration, maybe some whole-grain flour in the mix. The goal is a slice that hits all the classic slice-joint notes but is made from the best ingredients and is easy to digest. Digestibility, in fact, is an endlessly fascinating topic of conversation for these middle-aged pizza mavens. They say they want to make a pizza they like, and that is a pizza that's easy on the gullet and doesn't sit in the stomach. Still, they don't want to hit the customers over the head with that message.
"Someone was asking me if this is going to be like whole-grain hippie pizza," said Robertson, who has had as much of an impact on American grain farmers and millers as on the rustic-bread-loving public. "And I'm like 'No. No.' We're not doing it to make you eat healthy pizza. You won't know it's healthy or easy to digest by how it looks; you're gonna know by how you feel."
Despite their commitment to the end result, Bianco and Robertson see their roles as merely advisory: "It's the Franks' house, and we're just the architects," said Bianco. But will this be more of a C&C pizza or an F&F pizza? "An F&F pizza," said Bianco. "It's like Rick Rubin producing Johnny Cash. It still ends up Johnny Cash." Whether the pedigree will matter to the pizza-eating public remains to be seen. Although last week's test run was employees-only, the activity and aroma drew a crowd. A young slice hound wearing a Sammy's Roumanian T-shirt with a basketball under his arm repeatedly and persistently approached the counter, oblivious to the greatness in his midst, the brightness of the sauce, the digestibility of the crust. He had only one thing on his mind. "Hey, can I get a slice?"
459 Court St., nr. Luquer St., Carroll Gardens
*This article appears in the September 30, 2019, issue of New York Magazine. Subscribe Now!