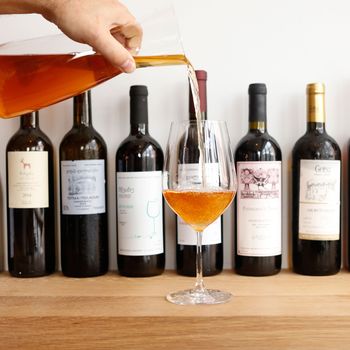 Orange wines from Georgia.
Photo: Melissa Hom
Over the weekend, the New Yorker published a weird story that attempts to, once and for all, stop Big Orange Wine. In it, the author talks about visiting the land where this strange beverage has become de rigueur: an Italian restaurant in Brooklyn, where (gasp!) the children's menu has cheese older than some of its audience and all the wines are natural. And what was learned on this journey? That, uh, orange wine is not really about tasting good so much as it is about challenging your taste buds.
The story reads like one long troll, with the author describing his unpleasant experiences of drinking orange wines. He finds "undertones of acid reflux" in one, saying drinking it was "a test of stamina." He identifies what might've been "a hint of Goodyear rubber" in a Sicilian wine. In talking about an orange wine he actually likes, the 2017 Domaine Glinavos Paleokerisio, he notes that some orange wine geeks actually don't like it because of "its extreme pleasantness" and determines that orange wine mania is a trend driven by the "fervor of ideologues." Ultimately, orange wine is just another style of fermented grape juice but "an especially dramatic example of aggressions against taste buds." (Grub Street, for our part, likens orange wine to Bon Iver: Maybe it's not to everyone's taste, but there are many moments of joy to be found for the people who do like it.)
There's a classic and boring line of grumpy thinking running through this story, which basically amounts to: I'm unfamiliar with these flavors, I don't like them, surely they must be bad. But to be boil it down to a trend or to say that the pleasure in orange wine is about "disgust" is pretty silly. Wine has been made this way for thousands of years in Georgia. Regardless, it's funny, too, because natural wine is still a relatively niche interest in this country. Nonetheless, it has annoyed people ever since the stuff has started getting more attention here. It's been six years since a Forbes writer decided Tecate is better than orange wine! Anyway, somebody get this guy a White Claw.