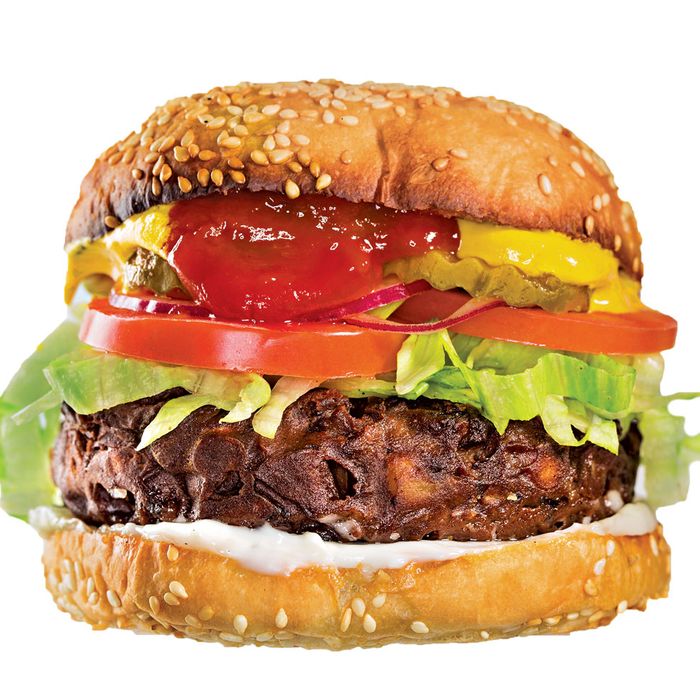 A new veggie burger inspired by an ancient recipe.
Photo: Melissa Hom
Considering that she established her professional identity celebrating vegetables and eschewing meat, Dirt Candy chef-owner Amanda Cohen has some surprising opinions about veggie burgers: "They're usually kind of thin patties; they're mushy; they don't hold together; there's a lot of sauces or things accompanying them that I think mask the flavor; they're always a little grainy." Most of all, though, they're just plain boring. "I don't feel like they're doing anything to advance my culinary learning," she says, which might make you wonder why she's gearing up to open Lekka, a fast-casual Tribeca restaurant devoted to them.
When Cohen was approached last year by South African philanthropist and hotel heiress Andrea Kerzner, whose passion for the environment fueled a plan to save the world via vegan burgers, Cohen had a change of heart. She had recently participated in a project at NYU where she'd been paired with a religion scholar and food historian to reincarnate an ancient Chinese recipe for yuguanfei, a mock meat shaped like a fruitcake, stained red from cultured rice, gelled with mung-bean starch, marbled with bits of fried cruller to mimic fat, and steamed. "As soon as I made this recipe, I was like, 'I don't know what I'm going to do with this, but I'm going to do something,' " she says. The whole-foods simplicity of the dish, the intriguing link to Buddhist mock-meat traditions, and the opportunity to compete in a realm that has gone from marginal to mainstream in the last few years all conspired to make Cohen reconsider her veggie-burger stance.
For Lekka, which is Afrikaans slang for "delicious" or "awesome," she worked up a brand-new recipe that takes the original Song-dynasty text purely as inspiration, not scripture. It contains mushrooms, beans, gluten-free grains, and something secret that prevents the thing from disintegrating on the flame grill. She plans to serve it on a house-baked vegan Japanese milk bun; dress it with toppings like Hatch-chile sauce and curry-tamarind ketchup; and offer it alongside crinkle-cut fries, inventive salads, and nondairy shakes. In addition to 50 seats and a full bar, the counter-service spot has a focus on takeout and delivery and the healthy ambition and plans for expansion that tend to define the fast-casual category. "We're thinking world domination," says Cohen.
Lekka; 81 Warren St., nr. Greenwich St.; opens October
*A version of this article appears in the September 2, 2019, issue of New York Magazine. Subscribe Now!