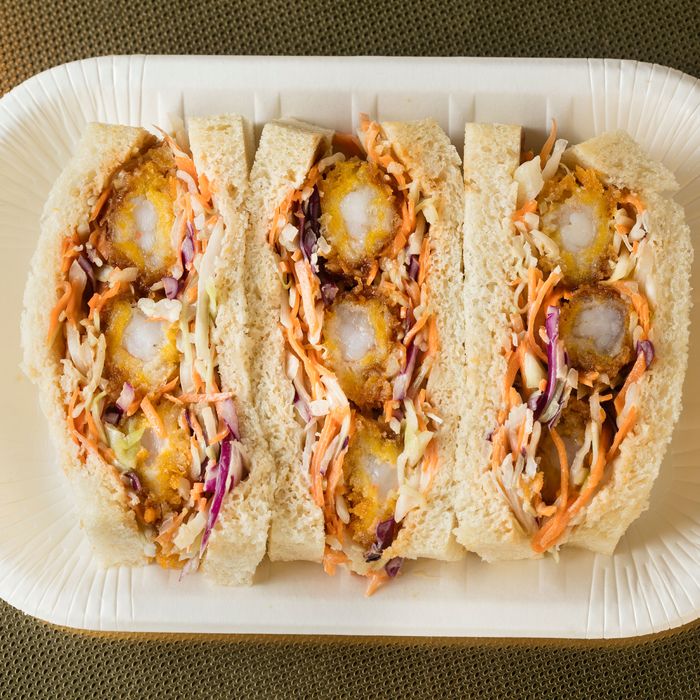 The shrimp-katsu sandwich that was not meant to be. Or is?
Photo: Melissa Hom
Even by the often-torturous standards of New York restaurant openings, the debut of Konbini — a new all-day café modeled after Japanese convenience stores — has been shockingly dramatic. Owner Sarah Kang had it set to go, with a grand opening scheduled for this past Monday. A few days earlier, the Koreatown café had even soft-opened — which is to say, it was open. Customers floated in, Konbini broadcast its imminent arrival on social media, and Food Baby made the requisite early bird visit. But then on Sunday, the official opening got delayed. Come Monday, the team had called off the opening completely, and Kang wasn't responding to emails asking why. She did, eventually, reply — only to say that PR would be in touch. A rep said the team would instead "be working on something new." Sungchul Shim, a chef who'd helped on the menu, confirmed the news, telling us on Tuesday that Konbini was kaput and that the team had "decided to change the whole concept" at the last possible moment.
It was, in a word, unexpected. But what's even more surprising is that now, just two days later, it appears Konbini's opening is back on. Call it an all-day ca-phoenix, rising from its fluffy egg-strewn ashes to live again — maybe.
At this point, it's impossible to know what, exactly, is happening at Konbini, but the café's PR team sent a late missive yesterday to say that it had "JUST received news that it would be opening again" and that "unfortunately there have been many changes internally." The team also added that there is no hard timeline for the reopening, aside from the fact that it will happen "in the coming weeks," but that it will, in fact, be the same business, the same name and the same idea, just with a "few minor changes." That means that you can possibly expect to find food like this when — or rather, if — Konbini ever actually does get off the ground: 
This post is updated as news of this ongoing saga continues to evolve.