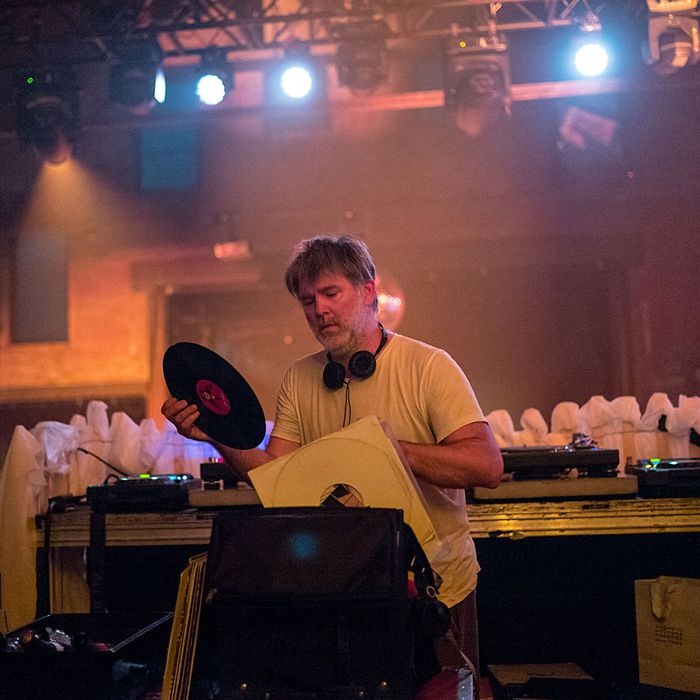 James Murphy dug into his own record collection for Daymoves.
Photo: Steven Ferdman/Getty Images
Before opening the natural wine bar the Four Horsemen, James Murphy talked, publicly anyway, more coffee pots then pét-nats. His love of coffee was well documented in Shut Up and Play the Hits, and he tinkered away on a custom espresso blend that Blue Bottle released in 2014. More recently, Murphy and his Four Horsemen collaborators have been tinkering away on a new blend — not a coffee blend but their custom blend of a café by day and bar by night. And this Thursday, they open the doors to the café half of the equation, Daymoves. (It won't yet be open at night, when the space will be called Nightmoves.)
Located discreetly next door to the Four Horsemen, it involves the same faces, including owners Christina Topsøe, Justin Chearno, and Randy Moon. There's no sign outside, and to enter you go down a long hallway that feels like an alleyway with walls covered in particleboard. "People have to be a little bit intentional about coming here," says Amanda Spina, the general manager of both the Four Horsemen and Daymoves/Nightmoves.
When the space became available, she says they started thinking about where they'd like to go. "We started talking about a daytime space where you can feel present and have a decent coffee without it feeling super, super buzzy or loud or busy," she says.
In other words, they don't want Daymoves to be a grab-and-go kind of place, or one where people are glued to computers. To start, the food will just be pastries from Bushwick's L'imprimerie, and a couple weeks down the line they'll likely start serving some dishes from Four Horsemen chef Nick Curtola. He's tight lipped on details, as they all are about the whole thing, but says it'll be similar to the restaurant's weekend lunch: raw or poached fish, lots of vegetables. "Nothing too substantial. We're not trying to do heavy brunch food," he says. "I'm not trying to compete with a bodega sandwich."
The drinks menu is still in the works, too, but there'll be natural wines and some cocktails. Spina floats the possibility of draft Negronis. For caffeination, the owners brought on Gem's former coffee director Elliot Foos to pull the shots, and he adds that they want to "stray away as best we can from being a high-volume, get-up-and-go café." They'll pour coffee from the likes of Sey, Café Integral, and Coptic Light, and, Foos says they intend on having signatures and "mocktail-type things."
Even in its construction, the room looks made for lingering. There's a big skylight with mirrors around the base, and the space has been outfitted with mostly vintage Italian furniture that looks like it was taken out of an old ad. There's a long bar, a big table in the center of the room during the day, and then different nooks, one with a green leather couch that's separated by a '40s Art Deco screen on hinges and another by an etagere with plants and sculptures.
"We're fairly design minded and we wanted everything to be beautiful. But we didn't want it to be so nice you couldn't get comfortable," Spina says. "We we were imagining, kind of, an artist's loft in the '70s or '80s. Where someone was living there and then they started entertaining."
The first thing you notice when you enter, though, are the big speakers painted in primary colors and custom built by Murphy. These look like Tetris or Lego pieces or, as Spina says, "Nintendo blocks to jump on." Murphy explains that he "wanted a similar but beefier version" of what he uses in his studio. The speakers are not big for show, but because, he says, that's what they demand. They're also using McIntosh MC2500 amplifiers, from the '70s that are capable of 500 watts but which, during the day, will only be run at a quarter of a watt per speaker. ("Nothing you couldn't talk over," Spina says.)
"Usually, because amplifiers are quite expensive, you wind up with things that are just, almost enough to do the job and they're strained," Murphy says. But here? "There's no strain. They're really open and easy sounding."
Next to the bar, there's an old Italian minibar retrofitted as a DJ booth and equipped with a Techniques SL1200 turntable — what Murphy calls "the DJ workhorse" and "stupid proof" — but during the day the staff will play records from Murphy's collection. For now, Daymoves will only be open during the day. They're talking about doing private events at night for now, and using the next couple of months to figure out what they want it to be during the witching hour.
"We want it to be a place that is a calm zone, but also a place where you can have a drink with a friend in the afternoon. More of a sit-and-chat kind of place, more than a bar bar," Spina says of the café.
Daymoves, 295 Grand St., nr Havemeyer St.
This post has been updated to note that Daymoves is now opening this Thursday.