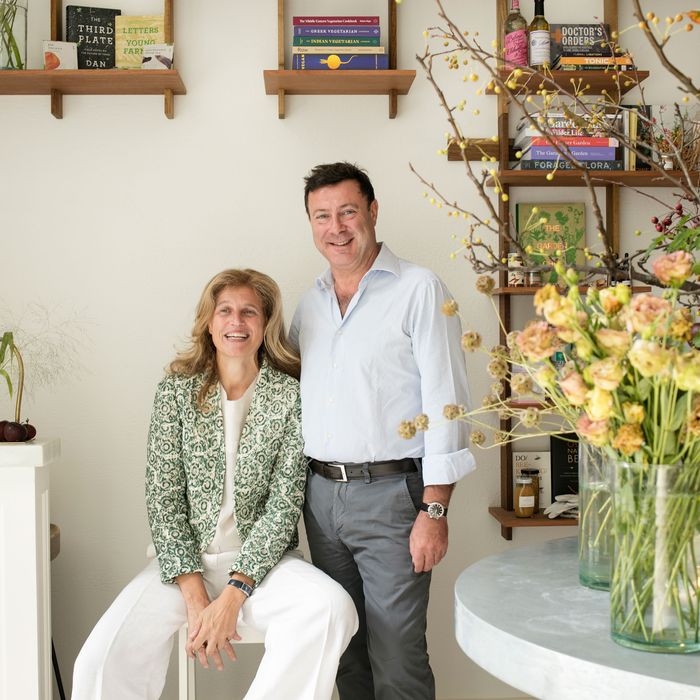 Alessandra and Mario De Benedetti.
Photo: Melissa Hom
Almost certainly, you have friends or family who've talked about maybe one day shirking the responsibilities of life and opening a restaurant or bar or little country inn. They're fantasies, of course, and people usually don't follow through, for whatever reason. But Alessandra and Mario De Benedetti did follow through with that plan, and so the couple packed up their life in Italy, moved to New York, and, as of today, opened their own restaurant, Il Fiorista.
"I grew up in Italy. This has a big impact on this project, because when we think why we arrived at this, which I'm sure is one of your questions — we also want to know why we arrived here," Allesandra says with a laugh. Now, the Nomad space — in the former home of Maysville — is part restaurant, part boutique, part florist, and part educational center, where they'll host classes on fermentation, flowers, and more.
The De Benedettis are gregarious, possibly incapable of not enthusiastically explaining what they're up to, and frequently guilty of finishing one another's sentences. The couple met in Milan, where Alessandra was born and raised, and Mario, a native of Turin, had moved after spending time abroad.
Before arriving in New York, neither of the De Benedettis had worked in restaurants before. She was a professor of law and he had spent the past 20 years in private equity, investing in small and mid-size companies throughout Europe. "We always had this dream to do something together," Alessandra explains. "We had this dream to do hospitality, which we love. The idea was not only to build a restaurant, but something more."
Then, about three and a half years ago, they decided it was time. It was New York or nothing, so they put their now 6-year-old daughter in an English-language school and got ready to move. Along the way, they spent a lot of time reading and researching, especially about flowers, which are, you could say, the theme of the business.
There are flowers everywhere at Il Fiorista (which means "the florist"): in the logo and frescoes that decorate the tall walls of the sunny space, in arrangements throughout the restaurant, and in the actual cooking and cocktails. Though not in the way you might imagine: less photogenic and trendy edible flowers and more salted chrysanthemum leaves and pickled nasturtium buds, which Alessandra promises taste better than capers and which they'll use come winter.
The De Benedettis brought on Mindy Cardozo, the florist who developed her reputation at Estela and Café Altro Paradiso. (There's a dedicated storage room in the basement for flowers that's bigger then most restaurant walk-ins, and the idea is for Cardozo to create arrangements that customers can buy as well.)
All parts of the flowers will be used for dishes and drinks, too: The bartender Gates Otsuji showed off cordials made with flowering coriander stems, vodka steeped with golden beet leaves, and a particularly intoxicating-smelling sherry infused with dried hyssop blossoms. On his menu, there's flowering coriander in the Sparkle, a tequila-based drink that also has sesame, lime, and acacia honey. The beet-green vodka goes into the Cosmic Gardner, and there's an Aviation of sorts made with Maraschino and grapefruit peel.
The flowers are used in obvious and less obvious ways in the menu of their chef, Garrison Price, who draws inspiration from all over the world. "We didn't want to build an Italian restaurant," Alessandra says. Mario adds, "The Italian influence is more on the ingredient side than the technique."
On Price's menu, there are dishes like baby carrots with carrot-top pepian and pistachio, and artichoke hearts with preserved lemon, flageolet beans, and shaved speck. Skate wing is grilled over binchotan and served with fermented plum relish, sorrel, and capers; there's a particularly summery arctic char with grilled peach, sprouted hazelnuts, and succulents. The Italian touches come through in entrées like the duck confit cappellacci, the pasta made richer through the use of duck eggs instead of the usual chicken, and the ricotta he's using in the corn tart. Price talks about incorporating ingredients like salted chrysanthemum leaves and learning to work with new ingredients. "Working in a lot of different genres of cuisines, this has one been super-exciting because it's like a whole new world," he says. "The flavor profiles and how to preserve these flowers we have now."
For the De Benedettis, the restaurant is the beginning of a whole new world. "When you are going to be 50, but not yet, it is not easy to change life and also to change friends," Alessandra says. But, Mario explains, they wouldn't want it any other way: "Honestly, we are very happy to speak with friends and family. But do we have the feeling of, Oh, you are so lucky, you are there and I am here? No," he says. "It's the opposite."
Il Fiorista, 17 W. 26th St., nr. Broadway; 646-490-8240