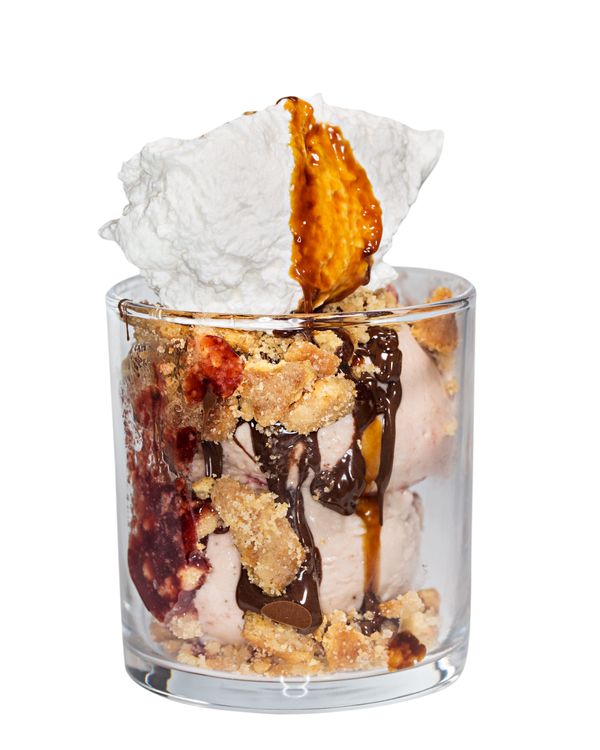 Caffè Panna's hazelnut cocoa sour cherry affogato sundae combines cocoa-hazelnut-sour-cherry-swirl ice cream with graham-brittle crunch, cocoa-hazelnut paste, espresso, and panna.
Photo: Melissa Hom
If you happen to be in Gramercy and find yourself craving ice cream or coffee, you could always dart into Danny Meyer's Daily Provisions, or his Maialino, or head a couple blocks north to his Caffe Marchio. It would seem that the restaurateur was attempting to corner the market in caffeine and frozen dairy. But Meyer is about to get some very friendly competition: His 26-year-old daughter Hallie is opening her own, unaffiliated café-bar-gelateria in the very same neck of the woods. The younger Meyer, who has cooked and worked in food-related ventures for much of her life, has apparently inherited the hospitality gene. "I always wanted to open an ice-cream shop," says Hallie. "I thought it was going to be in my old age or something—Oh, I'll just do that when I've done the real thing. But then I was like, This is the real thing, actually."
She began as a hobbyist and started churning professionally last year at a Mott Haven pop-up near the elementary school where she was serving as an AmeriCorps volunteer. That led to debuts at Bronx Night Market and Hester Street Fair, the Penn State ice-cream short course, and a monthlong gig at Otaleg, a new-school gelateria in Rome. It was in that city, on a sojourn cooking at the American Academy, that Meyer first fell in love with Italian gelato culture — how the product was churned daily and not allowed to harden overnight, the fruit-forwardness of the flavors, the way it was ingrained into the whole of society's daily life. But especially, Meyer says, with panna, or whipped cream, the topping that inspired the name of her new shop, Caffè Panna. There, the high-fat cream of Piemontese cows will be whipped fresh and dolloped freely, as it is in Italy. It will also be used to crown Meyer's signature dessert, composed affogato sundaes that combine their Italian roots with Meyer's all-American love of mix-ins, crunch, and swirls. "I just have so much fun pairing coffee and ice cream, and figuring out all the different things that go really well in an affogato," she says. "And it tastes like Rome to me. It makes me really happy."
Caffè Panna, 77 Irving Pl., at 19th St.; opens September
*A version of this article appears in the September 2, 2019, issue of New York Magazine. Subscribe Now!