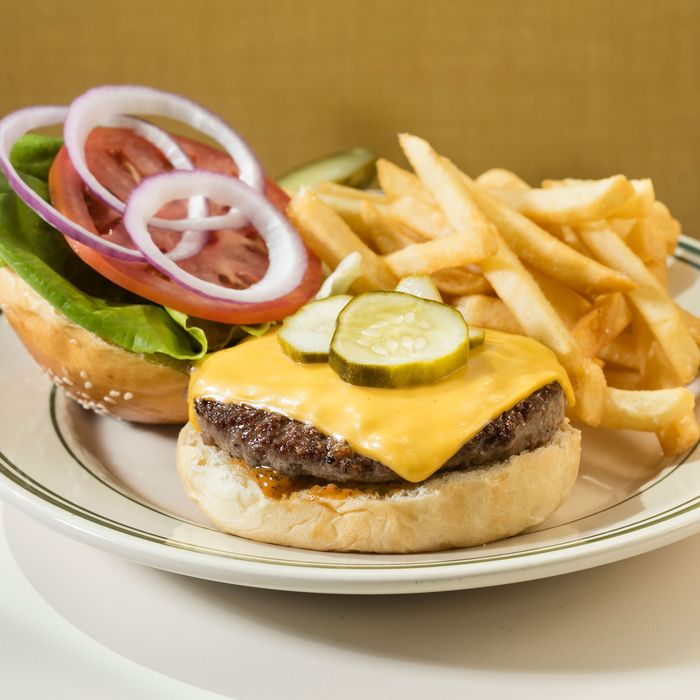 Golden Diner's Asian-influenced burger comes with classic, frozen diner fries.
Photo: Melissa Hom
We've entered the age of the high-tech veggie burger and while they've come a long way, nothing beats the real thing. Burgers are the type of meal that we all have a distinct understanding of, but that's also easy to remix in new and interesting ways. Accordingly, many of the city's newest restaurants have a burger on their menu in hopes that they might be able to reinvent one of the food world's most iconic wheels. Below, we've got 11 of this year's most notable additions to the great burger pantheon, and where to get them.
Ryerson Double Burger
Where: The Ryerson
How Much: $18
What makes the double-patty burger at this Southern-leaning restaurant stand out isn't so much the meat as the subtle campfire flavor, which comes from smoked cheddar cheese aged in caves underneath Crown Heights and mildly hot, pickled Fresno chilis. As for the burger's "tobacco onions"? No nicotine involved, they just look like shredded tobacco.
Golden Cheeseburger
Where: Golden Diner
How Much: $19
Golden Diner's burger patty is straightforward enough, featuring a blend of chuck, short rib, and brisket. But as with all the menu items at this Chinatown hotspot, Asian influences play a huge role in the form of a sesame-scallion milk bun and a mushroom-kochujang sauce that's both spicy and funky, a result of the mushrooms being dried, caramelized, and cooked with garlic and shallots. Really, the most classic aspects of Golden Diner's cheeseburger are the fries: dense and blonde nostalgia incarnate.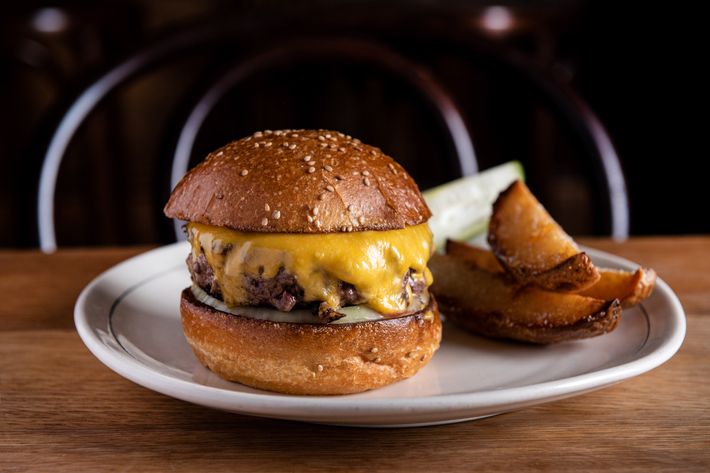 Dry Aged Red Hook Tavern Burger
Where: Red Hook Tavern
How Much: $22
Red Hook Tavern's burger is, at present, the most Instagrammable, hyped burger in town. IRL, it arrives with three chunky steak fries, a barely pickled pickle, and a hefty patty that's nearly rare. Surprisingly, the burger isn't the gut bomb you'd expect it to be, a result of the rather fine grind of the aged beef and just two toppings: onions and cheese. It looks imposing, yet somehow still leaves you wanting more when it's all gone.
Nobody's Burger
Where: Nobody Told Me
How Much: $15
Even as high-priced chef burgers continue to populate New York's restaurants, the humble bar burger cannot be overlooked. The burger at this Upper West Side pub is straightforward enough: patties, cheddar, and classic special sauce, but the real development is the subtly sweet Hawaiian roll the burger is served on, proving there's more to life than Martin's potato rolls.
Grass-Fed Burger
Where: Canal Street Oysters
How Much: $22
Why would anyone go to a seafood spot for a burger? Because this particular version features a custom blend of brisket, short rib, and trim for a truly pleasant mix of textures. Then comes the melty aged cheddar, and a not-so-secret sauce: Thousand Island dressing. The whole thing is served on the world's freshest potato rolls, made just down the street at Grandaisy Bakery.
Gruyère Cheeseburger au Jus
Where: The Fulton
How Much: $22
Another case for the seafood-restaurant burger? This luxury take at the Fulton features a short-rib burger mixed with buttermilk-soaked onions. On top of that, there's melted Gruyère and green-chili aioli. On the side: some jus for dipping.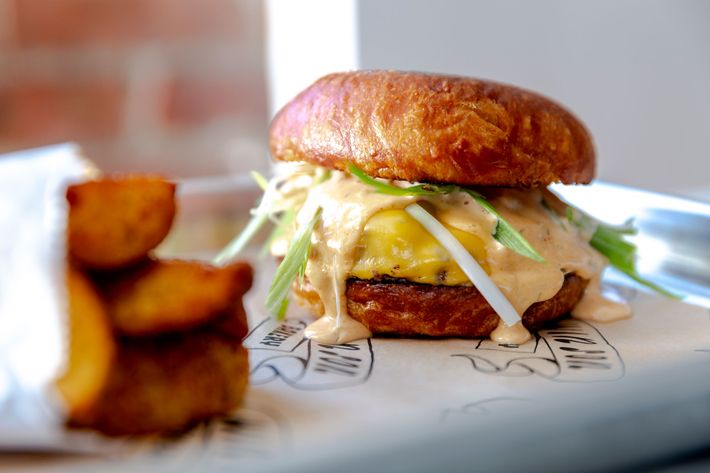 Hambao
Where: Win Son Bakery
How Much: $14
This aged-beef burger has a superb name, and it's the perfect amount of messy. Make sure there's a napkin close at hand when the blob of grassy, melted raclette cheese begins to flow out, bringing the fermented bean curd and mayo sauce with it. After all, there's only so much two milk buns can do.
Vic's Burger
Where: Gotham Bar & Grill
How Much: $28
Victoria Blamey has resurrected one of New York's most famous chef burgers — aged beef, bone marrow, mango BBQ sauce, and frizzled shallots— at Gotham Bar & Grill, two years after she made that iconic burger at Chumley's. Who says there are no second chances?
The Select Cut Burger
Where: The Grill Café at the Standard Hotel
How Much: $31
Chef Rocco DiSpirito much-celebrated comeback at the beloved Standard Grill hasn't been limited to the hotel restaurant's dining room. He's also reworked the menu at the hotel's more casual café. Among the new offerings is this incredibly rich burger with melted cheddar. DiSpirito has also switched the classic pickle relish for a pleasantly, tangy sauce made with pickled ramps that should hold us all over until next spring.
Edie Jo's Cheeseburger
Where: Edie Jo's 
How Much: $12
This may be the cheapest burger on the list, but that doesn't make it any less refined. Chef Jonathan Short serves his grass-fed beef patties on shiny brioche from nearby bakery Bien Cuit, and aged New York cheddar. Tomatoes and lettuce come on the side with the type of fries that usually accompany a hanger steak at a nice French restaurant.
American Wagyu Cheeseburger
Where: TAK Room
How Much: $24
What is a power lunch without an equally powerful burger? Enter this offering from the TAK Room's new lunch menu featuring Pacific Northwest–grown wagyu beef, topped with umami-rich aged Vermont cheddar, and served on a bun griddled in beef fat, because if you're going all the way to Hudson Yards for a burger, it had better leave you full for the next two days.