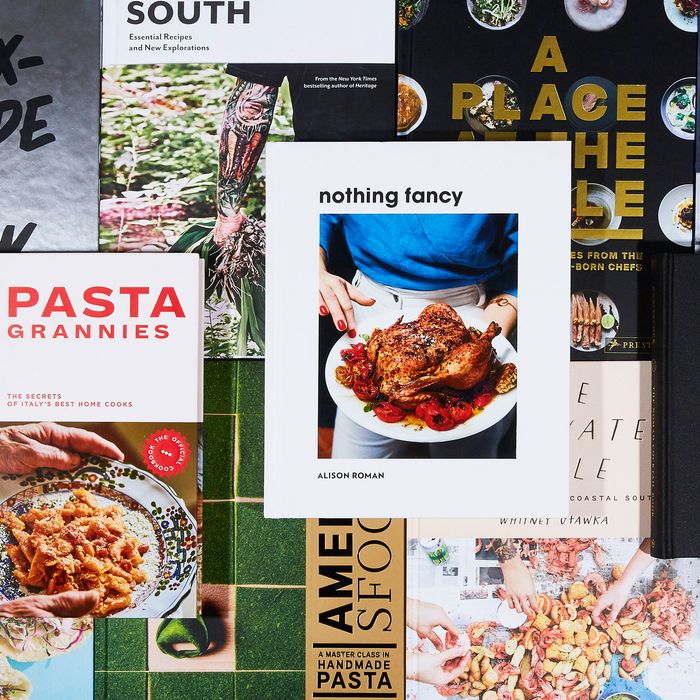 The fall cookbook lineup.
Photo: Stella Blackmon/New York Magazine
Fall is just a few weeks away and with that comes the energy to take on new projects or cook elaborate meals for the hell of it. Nothing goes better with that renewed sense of momentum than a new cookbook, and lucky for us, this is the time of year when great new cookbooks come out on a near-weekly basis. Grub combed through the dozens of cooking guides arriving between now and November and looked for the recipes we're most excited to cook in our kitchens over the next few months. Here are the 12 cookbooks most worthy of your bookshelf.
The recipe: Shrimp-and-okra pancakes and charred-scallion dipping sauce
Why: Because Korean-Creole crossover cooking is our new fall vibe.
The beauty of this book is that whether you cook or not, it's worth the purchase. First and foremost it's a book about how some of the country's best immigrant chefs made it in America, like Café Boulud chef Jae-Eun Jung, who was born in Korea, ended up cooking for Queen of Creole Cuisine Leah Chase, and then landed a coveted position at Le Bernardin. Here, all of those experiences blend into her shrimp-and-okra pancakes and charred-scallion dipping sauce. It's just one of dozens of recipes, with other contributions coming from chefs Dominique Crenn, Edward Lee, Michael Solomonov, Daniela Soto-Innes, and others. Out September 24
The recipe: Vietnamese braised pork belly
Why: Because where else will you find Eric Ripert and Q-Tip in the same cookbook?
Of all our food-obsessed celebrities, Questlove is definitely the most connected. And that's on full display in this new compilation of recipes from his friends in both Hollywood (Maya Rudolph, Fred Armisen, Jessica Biel, Natalie Portman) and the food world ( Eric Ripert, Greg Baxtrom, Kwame Onwuachi). And did we mention Martha Stewart wrote the foreword? The Roots drummer avoids recipes that are overly complicated — like this dead-simple recipe from D.C. chef Kevin Tien — making Mixtape Potluck much more accessible than most chef-y cookbooks, plus there's a premade party playlist at the very end. Talk about a one-stop potluck shop. Out October 15
The recipe: Crowder pea and hominy succotash
Why: Because Sean Brock still has a lot to say about southern cooking.
The last two years saw chef Sean Brock leave his Husk restaurant empire, give up alcohol, and welcome his first child. Accordingly, Brock is in the midst of a transition from hellraiser to torchbearer, and in this follow-up to the James Beard Award–winning Heritage, he achieves that with a guide to the foundations of southern cooking, like deviled eggs, smoked pork, and fried green tomatoes. But don't sleep on the more obscure recipes, like this hominy and succotash dish. This is where Brock shines, bringing the South's most obscure recipes to national light. Out October 15
The recipe: The Loisaida Avenue
Why: Because it's the ultimate guide to a very special genre of cocktails: hotel lobby drinks.
The NoMad Cocktail book has actually been around since 2015, when it came as a part of The NoMad Cookbook, essentially making it the speakeasy of the drink-book world. But come next month, that will change with the official release of this illustrated guide by bartender Leo Robitschek, featuring recipes from the 2015 version as well as 100 new concoctions he's put together. This sweet-and-smoky cocktail feels the most on trend, featuring jalapeño-infused tequila, mezcal, Angostura bitters, Chartreuse, lemon juice, and simple syrup — and it's definitely worth making at home. Out October 22
The recipe: Domenica's Raviole di valle Varaita
Why: Because Italy's best cooks are its grannies.
In 2014, Vicky Bennison decided she wanted to learn how to cook at the elbow of an Italian grandmother, a project that became a super-popular YouTube channel and Instagram where she showcases so-called "pasta grannies" with names like Sperandina and Graziella. Next month, Bennison will release a book featuring all the recipes she's compiled over the years, including this raviole (actually a type of gnocchi) made with old potatoes, light cream, Parmigiano Reggiano, and a boatload of butter. Out October 29
The recipe: Cumberland paella
Why: Because the real seasons are Oyster, Vegetable, Shrimp, Heat, and Smoke & Cedar.
The southern coast is long, stretching from Virginia to Georgia. More specifically, Cumberland Island, Georgia, where chef Whitney Otawka runs the Greyfield Inn (after stints at Hugh Acheson restaurants in Athens, Georgia). Though Otawka grew up in California, she's spent the last decade learning the language of southern seafood. Accordingly, this book is divided into that region's seasons, including oyster season (January through March), heat season (June through August), and smoke and cedar season (October through December). Though there are plenty of non-seafood options, the book shines when it digs deep into the region's briny history and puts a spin on it, like with this paella featuring shrimp, flaky fish, littleneck clams, and Carolina Gold rice. Out October 22
The recipe: Apple-cider sticky buns
Why: Because this is the new apple-cider doughnut.
For her second book, Boston baker Joanne Chang dives into the recipes she loves personally, like strawberry slab pie, fig danishes, and the butter mochi she first tried in Hawaii. But if there's one thing Chang is famous for, it's her sticky buns. So you can bet we'll be baking her apple cider take, which Chang claims are even better than the original recipe. Out November 5
The recipe: Bagels with Japanese-ish fixings
Why: Because this is how you embrace another culture without completely ripping it off.
It takes a lot of chutzpah to write about Japanese cooking as an American, but if anyone's qualified, it's Ivan Orkin. In The Gaijin Cookbook, which gets its name from the Japanese equivalent of "gringo," the chef embraces the fact that despite his incredible love of and appreciation for Japanese culture, he will never truly be Japanese. That being said, he's learned a few things after running successful restaurants in the notoriously insular country. The book covers a lot of the basics — think tonkatsu, okonomiyaki, and ramen — but where it shines is with recipes like this Japan-inspired take on bagels, including cream cheese with powdered seaweed and shiso gravlax. It's just simple enough to try out the next time you have the gang over for mimosas and bagels. Out September 24
The recipe: Chicken and dumplings
Why: Because this is how you share the history of African-American cooks.
Back in 2015, Toni Tipton-Martin — the first black woman to hold a food editor position at a major publication — published The Jemima Code a compendium of two centuries of African-American cookbooks. Now, she's turned all that information into Jubilee, which adapts many of the recipes she came across in her research for the 21st-century cook. Expect classic recipes like sweet-potato casserole and wilted greens with bacon, as well as this killer recipe, the epitome of comfort food. Out November 5
The recipe: Coconut-braised chicken with chickpeas and lime
Why: Because Alison Roman has managed to put together another eminently cookable book.
It's impossible to predict exactly which recipe in Alison Roman's new cookbook will be the next Instagram superstar. Instead, Grub is excited about recipes like this one, because it exemplifies that classic Roman approach to cooking: well-known ingredients rearranged in interesting and compelling ways for young home cooks who want food that looks (and photographs) as good as it tastes. Out October 22
The recipe: Triangoli with pumpkin, butter, and sage
Why: Because here's your chance to see into the kitchen of L.A.'s pasta king.
When Evan Funke materialized in the national food consciousness in 2017, operating out of a bigger-than-it-looks restaurant on Venice's trendy Abbot Kinney Boulevard, Los Angeles had no choice but to bow to his pasta prowess. Two years later, it's still basically impossible to get a last-minute reservation at Felix Trattoria, and why not: Funke is producing some of the freshest and most beautiful pasta west of the 405. But the man isn't stingy with his knowledge. Just as he went to Italy and learned the art of pasta-making, he hopes you'll learn from him in this book, with step-by-step instructions and detailed photographs of 15 pasta shapes from strichetti to cestini. Braver folks may want to jump right into the caramelle with artichoke, but we say start simple, like with this autumnal pasta recipe. Out September 24
The recipe: Kielbasa and potato scramble
Why: Because who can resist a chef-y take on our nation's greatest cuisine: Tex-Mex.
Chef Josef Centeno made his name slinging Spanish-Mediterranean fare at his flagship L.A. restaurant Bäco Mercat, but at one point or another, all chefs return to their roots and the food they grew up eating. Centeno did just that with his Tex-Mex cantina Bar Amá, which the late Jonathan Gold once praised for its puffy tacos and sopa seca with kielbasa and octopus. Now, you can cook your way through the restaurant, including Centeno's scramble, which is comprised of much more than its name implies (think: yellow onion, serrano chile, avocado, and two kinds of chilis), making it, as the chef points out, the perfect filling for homemade breakfast tacos. Out October 1