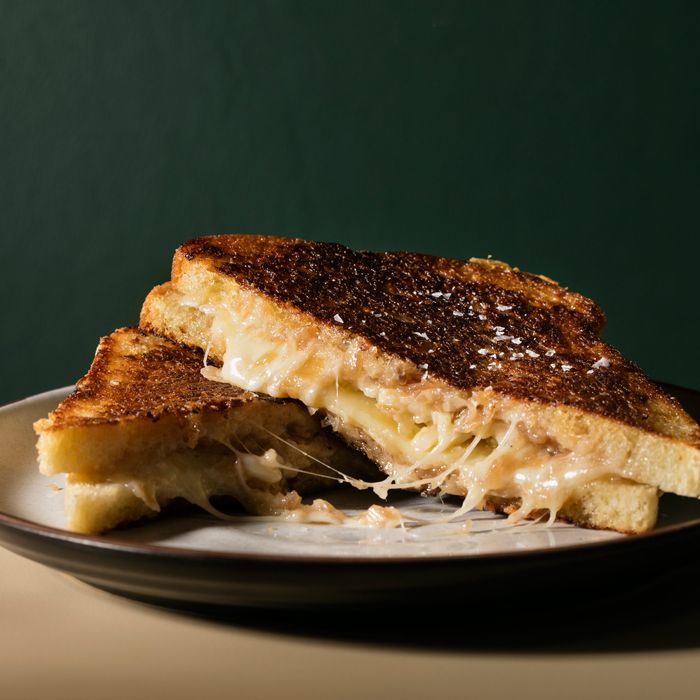 Three Owls Market's gooey grilled cheese sandwich with onion-shallot jam.
Photo: Melissa Hom
Have you read the news lately? It's a mess out there. But we at Grub have always found comfort food to be an at least temporary panacea to the ills of the world. And while comfort food means different things to different people, there are a few qualifiers we can all agree on: It's usually warm. It's usually not healthy. It's usually a dish you never, ever get tired of eating. Below, we've compiled a list of the under-the-radar, comfort-oriented dishes that fit the bill. Here's where to eat comfort food right now in New York City.
Grilled cheese
Where: Three Owls Market
How Much: $10
There's really no such thing as a bad grilled-cheese sandwich. But there is such a thing as a better grilled-cheese sandwich, and at Three Owls, they've done just that with this take featuring stringy Gruyère cheese (thanks to its low melting point) and grassy white cheddar on pullman bread from UES institution Orwasher's. The inside is slathered with an onion and shallot jam spiked with vermouth while the outside is spread with mayo before it hits the griddle. We say take one to go and enjoy it on a bench while people-watching in the West Village.
Clam soup
Where: Bar Wayō
How Much: $14
When this soup arrives at the bar, it doesn't look like much. But as it turns out, all the heft is concentrated in the impressively rich (and salty!) broth aswim with clams, potatoes, and bacon, making for a meal that's much more filling than it appears.
Poutine Provençale
Where: Endswell
How Much: $16
If you were under the impression that there was no way to improve poutine, a literally perfect junk-food dish, then allow French-American bar Endswell to change your mind. Between glasses of Bordeaux, enjoy this slightly more advanced version of the dish, inspired by the south of France, with caramelized onions and red peppers.
Bacalao fish sticks
Where: Canal Street Oysters
How Much: $19
At this brand-new seafood restaurant, the kitchen is slinging fish sticks made with wild bacalao (or salted cod) — already in a comfort-food category of its own — and seasoned with garlic, onions, and olive oil. The resulting sticks are cooked, breaded, and then fried. On the side: tartar sauce spiked with peppery tarragon.
Chocolate buckwheat kouign amann 
Where: High Street on Hudson
How Much: $6
Every month, partner Melissa Weller offers a new take on the kouign amann, the iconic morning bun-like pastry from northern France. For September, the pastry chef has opted for a yeasted buckwheat dough — made with flour milled in upstate New York — that's sprinkled with sugar and shaved Valrhona chocolate. Think of it as a babka for one.
Custard toast
Where: Win Son Bakery
How Much: $4
In many a Taiwanese railroad station, you'll find custard toast. But if a trip to Taiwan is outside your budget, the very next best thing would be to try the sticky-sweet version pastry chef Danielle Spencer has whipped up at Win Son Bakery, featuring a milk-bread base dipped in bread pudding-style custard, spread with butter and sugar, and brûléed à la minute. No syrup necessary.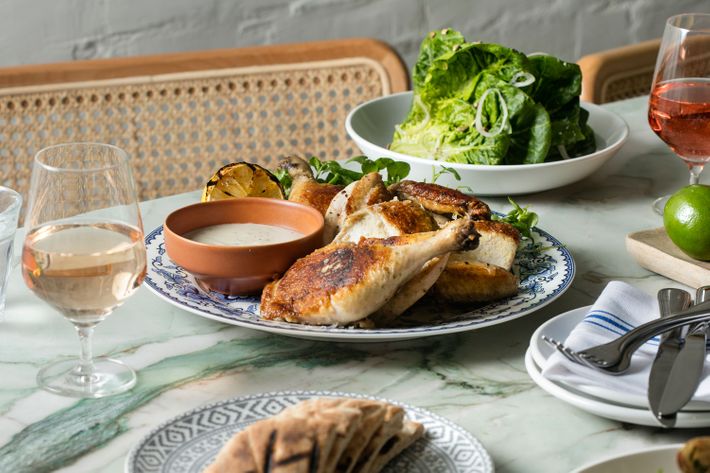 Cast-iron Greek chicken
Where: Apollonia
How Much: $24 (half) or $48 (whole)
As the Ur-comfort food, you can never go wrong with a roast chicken. But for a more interesting take, may we suggest this cast-iron version flecked with spice-forward marjoram and oregano and served with a nutty tahini-based tarator sauce?
Fried-chicken sandwitch 
Where: Golda
How Much: $15
Fried-chicken sandwiches have never been more divisive than they are right now. But instead of picking a side in the Great Chicken Wars, why not simply opt out and get this new dinner-menu item from Bed-Stuy's Golda? It features a chicken breast dredged in buttermilk and berbere-spiced flour and served on a challah bun with pickled cabbage and creamy date-toum sauce. Even better, chances are they won't run out of them.
Linguine alle vongole
Where: Esca
How Much: $28
As certified clam-pasta stans, we at Grub are always on the lookout for interesting takes on the classic dish whether that be a version with ramen (like at Niche Mazeman) or this dish at the newly reopened Esca, which ups the flavor ante with fatty pancetta and Italian red hots for some mild heat. And because it's Esca, you know it'll be the best possible version of the Italian favorite.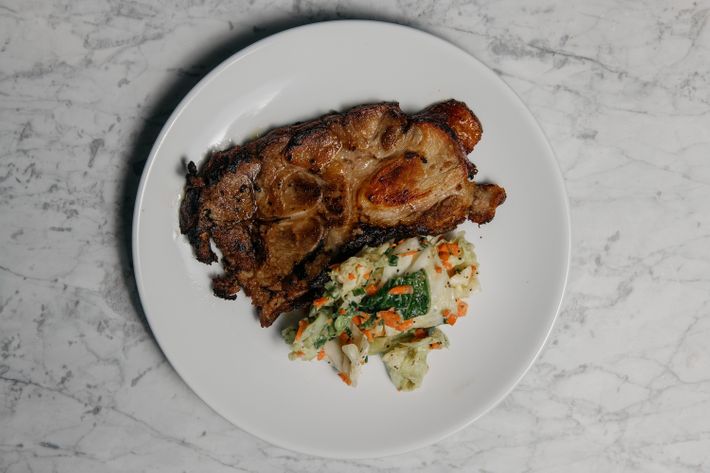 Pork-shoulder steak
Where: Edie Jo's
How Much: $19
In truth, the entire menu at this Prospect-Lefferts Gardens restaurant is comforting, channeling both "Betty Crocker and the corner bodega," according to our own Underground Gourmet. But this simple, cured pork-shoulder steak — which, according to chef Jonathan Short, features a greater (and more satisfying) array of muscles than a chop or loin — is a step above, with pleasantly acidic buttermilk kimchi and confit ginger cutting through all the fat.
Autumn salad
Where: Stonefruit Espresso + Kitchen
How Much: $8 to $11
What if you could take the best parts of fall produce — apples, sweet potatoes, bok choy — and bring them together in salad form? No need to imagine it: This Bed-Stuy café autumn salad with togarashi-dusted sweet potatoes, bok choy, honey-crisp apples, cashews, and miso-ginger dressing is just the ticket.
Manti
Where: Lokanta
How Much: $21
What chicken and dumplings are to Southern food, manti is to Turkish cuisine. The dish revolves around tiny ground beef- and lamb-stuffed dumplings painstakingly wrapped in a whole wheat dough, boiled, and topped with garlicky yogurt sauce and olive oil.