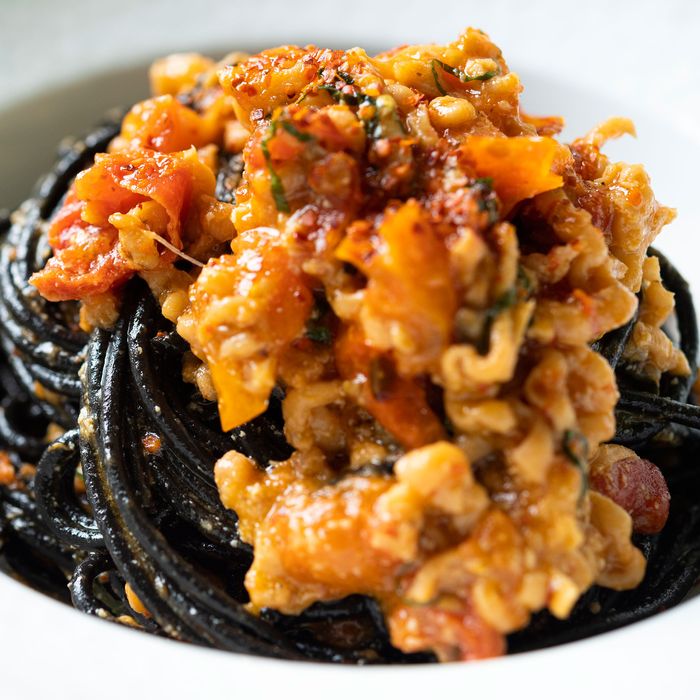 Spaghetti neri with spicy octopus ragu.
Photo: Evan Sung/Courtesy of Gotham Bar and Grill
The new boss is not the same as the old boss. On Wednesday, Gotham Bar and Grill reopened with a new menu from the restaurant's first new chef, Victoria Blamey, in a third of a century. Gone are the vertically plated tuna tartare and seafood salad that the restaurant's longtime chef, Alfred Portale, made his bones with, replaced by dishes like a yellowtail crudo with smoked avocado and shunkyo radish and Madai with green-tomato jam, smoked poblano, and scarlet runner beans.
When it was announced this summer that Blamey would take over the restaurant's kitchen, she promised, in an interview with the New York Times, to turn the menu into "a melting pot." Speaking with the paper more recently, she says she only ate at the restaurant for the first time once the possibility of the job came up and told the owners, "I think you guys missed a generation."
Asked by Grub about dishes she's particularly excited about, Blamey points to the scallop ceviche with corn leche de tigre and pickled daikon, the Iberico pork cheek with ceci neri and black vinegar pickled pearl onion. "Those are more unusual," she writes, before adding the charred Japanese eggplant with lapsang souchong and the pea dahl with fried shallot and curry leaf into the mix.
The bar menu takes a slightly different turn, with an interesting-sounding, savory lobster eclair with tarragon, spaghetti neri with spicy octopus ragu, and, ahem, a burger. Blamey knows a thing or two about how to make a burger, something fans of her cooking at Chumley's (like the New York Times critic Pete Wells) will certainly remember. And it's a bit of melting pot of a burger, with bone marrow, crispy shallots, and mango barbecue sauce — though don't worry purists, the cheese is American.
If it feels a world apart from the old Gotham Bar and Grill, that's, well, because it is. Managing partner Brett Csencitz tells the Times "we wanted a new voice," and reportedly gave Blamey the green light to fully revamp things. As for Portale heads like one Adam Platt: he's on track to open Portale, where he'll also being changing things up by going Italian, this October.