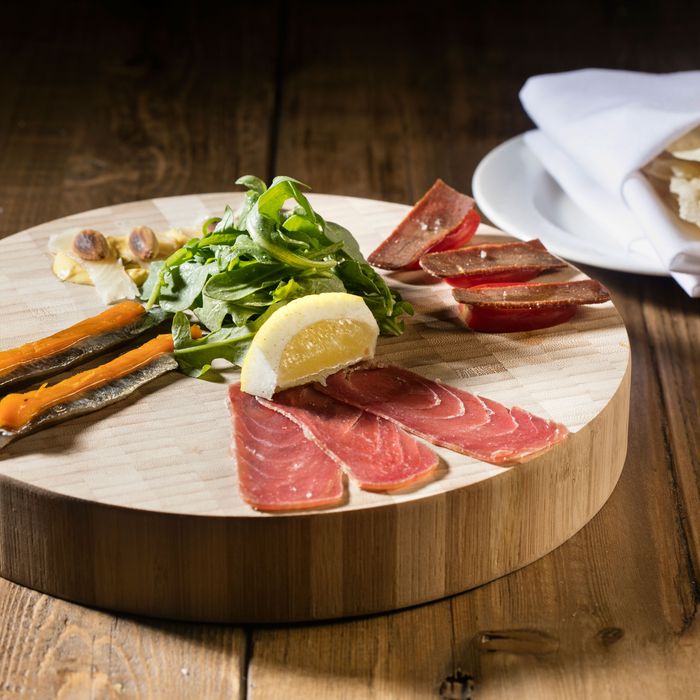 Esca's fish charcuterie plate.
Photo: Melissa Hom
Since it opened in 2000, Dave Pasternack's Esca has been one of the city's top seafood destinations. Almost 20 years later, the chef, whose cooking is Italian in spirit but anchored in the waters off New York and along the East Coast, still talks excitedly about what he's getting these days: the tuna bottarga ("most people use mullet, but I have an amazing source"), the Jonah crabs that you have to mash when making crab sauce so you can get the good stuff — "the gunk" — out, and the new oysters from Nova Scotia. "I don't even think they're on the market yet," he says.
These are the sea creatures that Pasternack has been thinking about as he's gearing up to reopening Esca. The restaurant closed five months ago, to be revamped after the chef and his business partner Victor Rallo (with whom he runs Staten Island's Barca and Surf) bought out B&B Hospitality Group. At the time, Pasternack told the New York Times that revenue had dropped by 30 percent following reports about sexual harassment and assault by Mario Batali, a former partner in the restaurant. "It was either that, or I was going to close the restaurant. There were only two options," the chef says.
The reopening of the restaurant was delayed by a fire in June, and now looks entirely different. "I got rid of B&B so there's a big difference," Pasternack says. The space was gutted, and is now outfitted with a new bar, tables, and chairs. Windows and floors have been redone; the patio is brand-new, with windows that open so that it feels like a courtyard. It has a "much more Mediterranean feel — you could be in France, Italy, Spain, Portugal, Turkey, Morocco," the chef says. Pasternack and Rallo wanted it to be brighter, and decorated the space with photos from the likes of Bo Bridges, who gave them one of the Montauk Lighthouse.
The menu for dinner and brunch has been revamped a bit. As at Barca, there's more meat on the menu, in the form of dishes like a pork milanese with hot-pepper salad, a dry-aged sirloin with frizzled onions, and a charcuterie plate with chorizo, salchichon, and other meats. Still, the soul of the restaurant is seafood. "At the end of the day, I'm a fish guy," Pasternack says. He's serving a fish charcuterie plate, too, that'll include bresaola di tonno (air-dried tuna loin), bottarga, house-cured sardines, and baccala from Nova Scotia. Then there's scialatielli pasta served with rock shrimp, jalapenos, and roasted corn, and Nova Scotia halibut with yellow watermelon, zucchini, in a pool of tomato sauce. Rallo is in charge of the wine and cocktails, which are mostly classics with slight variations.