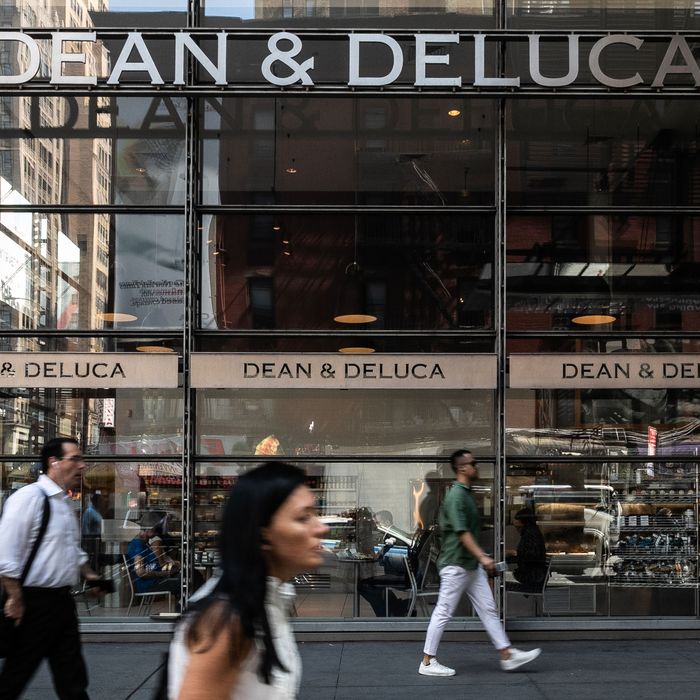 The now closed Midtown location.
Photo: Jeenah Moon/Bloomberg via Getty Images
Dean & DeLuca's demise continues: As of today, the midtown location of the iconic and expensive gourmet store is officially done. The store was located in the New York Times building, and the paper reports a sign affixed to a window announces the closing. As the sign notes, the location had been open for a decade.
The flagship and original Dean & DeLuca remains open in Soho, where the company first planted its roots. However, it's a sad shell of its former self and has been since the summer, when New Yorkers first reported empty shelves. During this time, Dean & DeLucas started closing stores because of debt and unpaid bills reported by suppliers. Four closed in August.
Since Dean & DeLuca was bought by Thai company Pace Development in 2014, the company's fortunes have faded. The Times points to an August story from Bangkok publication the Nation, in which Pace chief executive Sorapoj Techakraisri is quoted as saying, "We are adjusting the Dean & DeLuca business to a more appropriate size." He reportedly plans to expand the chain in Asia, including opening 90 stores in Thailand, which, well, who knows. On the other hand, the midtown store closed without warning, and employees reported they weren't coming in because they hadn't been paid. A future for the Soho store seems unlikely, considering it's just limping along and, frankly, not even clear why it's open.