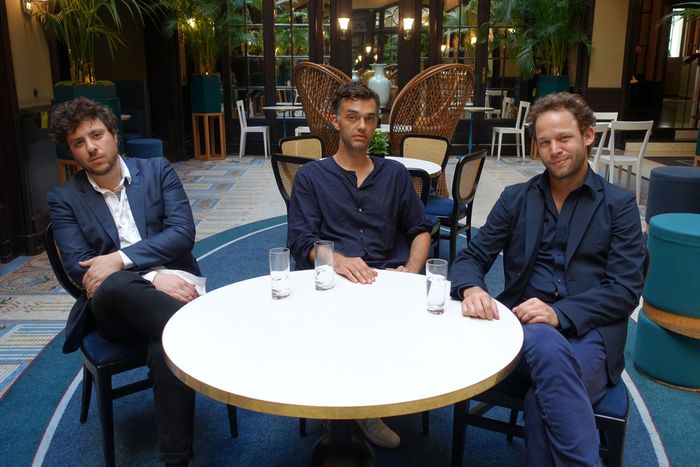 Le Crocodile's R&D team on a water break in Paris; from left, Jake Leiber, Aidan O'Neal, and Jon Neidich.
Photo: Courtesy of Le Crocodile
Reynard, the restaurant that opened in 2012 at the Wythe Hotel, is no more. Yesterday's brunch service was its last. Next month, the renovated space will open as Le Crocodile, a French brasserie run by Aidan O'Neal and Jake Leiber, co-chef-owners of Greenpoint's Chez Ma Tante, in partnership with restaurateur Jon Neidich, whose Golden Age Hospitality group took over the hotel's food and beverage operations in February. Neidich had long admired Chez Ma Tante, a gastropubby bistro known for its refined rusticity and destination pancakes, and after trying to entice O'Neal and Leiber to sign on to projects in Manhattan — which might as well have been Minnesota as far as the Brooklyn-based chefs were concerned — Neidich finally succeeded at the Wythe, where the trio began their collaboration last spring at Lemon's, the hotel's rechristened rooftop bar.
Since then, O'Neal and Leiber have been busy developing the menu for Le Crocodile, a process that entails blue-sky brainstorming about what they feel the food-saturated neighborhood most needs and what they most want to eat, fueled by jaunts to France and Italy for the jam-packed restaurant itineraries chefs like to call research. The most recent of these was over Labor Day weekend in Paris, where the three men managed to squeeze in ten spots, both ancient and modern. "Paris is effing amazing right now," says O'Neal. "It's some of the best food we had."
And although Le Crocodile will be French in spirit (the name is borrowed from Vancouver's Le Crocodile, which in turn was inspired by the venerable Au Crocodile in Strasbourg), it will be New York in execution — meaning no strict rules or easy categorization. "The goal is to create the type of New York French restaurant that comes to define a neighborhood," says O'Neal. "In the '80s, it was Odeon in Tribeca. In the '90s and early aughts, it was Cafe Luxembourg on the Upper West Side and Balthazar in Soho."
Yes, there is a common denominator: What Keith McNally wrought continues to exert its weighty influence. But the partners are equally inspired by places like Barbuto, where Leiber worked under Jonathan Waxman and Justin Smillie and developed his passion for pasta, which will appear on the menu alongside escargot, whole fish, and grilled chicken and quail. (The chefs are replacing the restaurant's existing wood-fired hearth with a Barbuto-style grill and building the kitchen around it.) "We want to open a French-style restaurant that has that vibe, that Barbuto vibe," says O'Neal. "A place where you know exactly what you're going to get when you walk in."
If you think that means pancakes, think again: "They're a Chez Ma Tante thing," says O'Neal. "I like them where they are."