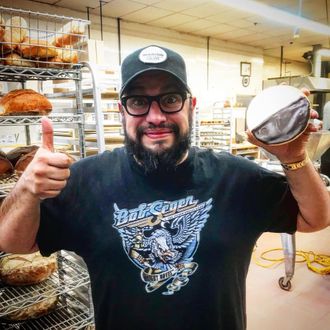 Carl Ruiz.
Photo: Carl Ruiz via Facebook
The chef and Food Network personality Carl Ruiz died on Saturday at the age of 44. The cause of death is suspected to be a heart attack. His Meatpacking District restaurant La Cubana shared the news of his passing on Sunday.
In addition to his work in New York and New Jersey restaurants, Ruiz reached a wider audience from appearances on the Food Network and Sirius XM Radio. He was first featured on the network in a 2013 episode of Guy Fieri's Diners, Drive-Ins, and Dives, which spotlighted Marie's Italian Specialties, the New Jersey Italian deli he ran with his then-wife Marie Riccio. (They later divorced.) Marie's was featured two times on the show, and Ruiz would go on to be a judge on Guy's Grocery Games and Guy's Ranch Kitchen.
In June of this year, he opened La Cubana, a celebration of his Cuban heritage with live music and classic dishes like ropa vieja and papas rellenas. The restaurant plans to establish a scholarship foundation for aspiring chefs in his memory. Fieri was one of many from the food world and beyond who shared memories and condolences:
https://www.instagram.com/chefbriduff/