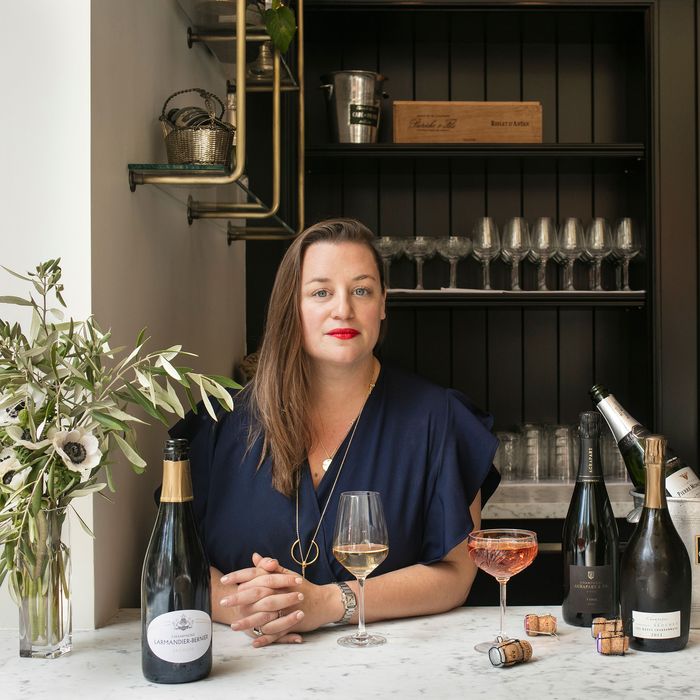 Jen Pelka and her wines.
Photo: Melissa Hom
Everybody loves Champagne, but maybe not as much as Jen Pelka. The entrepreneur — who also runs her own PR firm — first put her enthusiasm for the wine to work in 2017, when she opened the Riddler, the popular San Francisco bar where she takes a buttoned-down approach to the fanciest of sparkling wines. At the tiny 500-square-foot spot, she serves over 100 different bottles of wine alongside food like caviar and a tater-tot waffle, with tots sourced straight from the bag. ("I'm all about high/low," she admits.) It's a winning combination, and one Pelka is bringing to New York, a city she called home for ten years. Next week, she'll open a slightly bigger, slightly expanded version of the Riddler on a picturesque West Village corner. "When I found this spot," she says, "it was a no-brainer."
Located at the intersection of Bank Street and West 4th, it's in the thick of the West Village, the part of the neighborhood that feels rambling and romantic. The wine list will number over 100 bottles, featuring picks from estates like Gonet-Medeville (with which Pelka and her brother are launching a wine), trophy Champers from the likes of Krug, and minimal-intervention wines from producers like Cedric Bouchard. Pelka is also into vintage Champagne buckets, of which she's amassed a varied collection over the years.
"We like to present different buckets to different people," she says. Some are made of mixed metals. One is small and was actually made for floral arrangements, so it'll be used for half-bottles. The most special, though, is the one given to her by her aunt Lucy, whom she describes as her family's matriarch. "It was her 25th-wedding-anniversary gift. We'll give it to people when we know they're having a wedding anniversary," Pelka says. For good measure, there are glasses from Schott Zwiesel and sturdy, ornamental ones made of hand-cut Belarusian crystal.
The space itself is 700 square feet and decorated with the same photo of Jacqueline Bisset as the San Francisco bar. The tin ceiling was gold leafed by the same woman who did the original's, and there are some vintage and reclaimed touches, including a host stand from Lyon and French lighting fixtures that are more than 100 years old. The heavy square tables are made by the same company that makes the ones at Paris's Cafe de Flore and Clown Bar.
While still small, the space gives Pelka & Co. the added bonus of their first full kitchen, something that may surprise fans of the San Francisco original and its now-legendary tater-tot waffle. "I really wanted to have fries, because I love Champagne and fries, and we couldn't have a fryer," Pelka says of the waffle. "So it was like, how can we do a fried-potato thing that is really delicious and looks beautiful and is a mix of the high and the low?"
Here, the Riddler will have fries — dreams do come true! — but they've also brought the tater-tot waffle west. To run the kitchen, Pelka recruited Nikole Morsink, who worked at the Modern for several years and, before that, at Eleven Madison Park and its sister restaurant the Nomad. "She has such a hard-core fine-dining background," Pelka says. But Morsink passed an arguably more important test. "I asked her what her favorite foods to eat with Champagne are, and she was like, 'Oh, burgers and pizza.' So I was like, 'Okay, great, let's talk.'"
The menu is still being worked out, but Pelka says the food will be a mix of throwback Americana and French-bistro classics. The two essential items are the oysters and the burger; the latter is still in the R&D phase — they're figuring out what cheese to put on it. Pelka narrows it down: "Definitely women made, definitely French." Pelka makes a point of working with and supporting other women, from the hospitality design studio ROY to the producers. The charcuterie they'll serve? "Probably all women made." Her investors, including Ruth Reichl, are all women, as well.
The French side will come through some more in dishes like gougères, while the American will in pigs-in-a-blanket and the "really'90s" figs-in-a-blanket. "Of course we'll do a chicken finger and French fries because you can't have champagne without chicken fingers," Pelka says. (This is apparently one of Pelka's Rules of Champagne.)
The oysters will be served along with shrimp, clams, and other seafood at the raw bar, which is front and center in the room, and there will also be charcuterie and cheese out front. She points to Paris's popular Septime as an influence here, as well as San Francisco's Verjus, saying they'll approach these products similarly. "It's not about presentation; it's about the object being perfect," she says.
For dessert, they'll have their dark-chocolate pot de crème, made with Grand Marnier and served in a caviar tin with chocolate pearls on top, as well as a new icebox cake Pelka adopted from her mom made from Tate's chocolate-chip cookies and whipped cream. "When you make an icebox cake out of them, it's almost like a mille-feuille," she says of the cookies. "But instead of perfect crêpes, it's Tate's."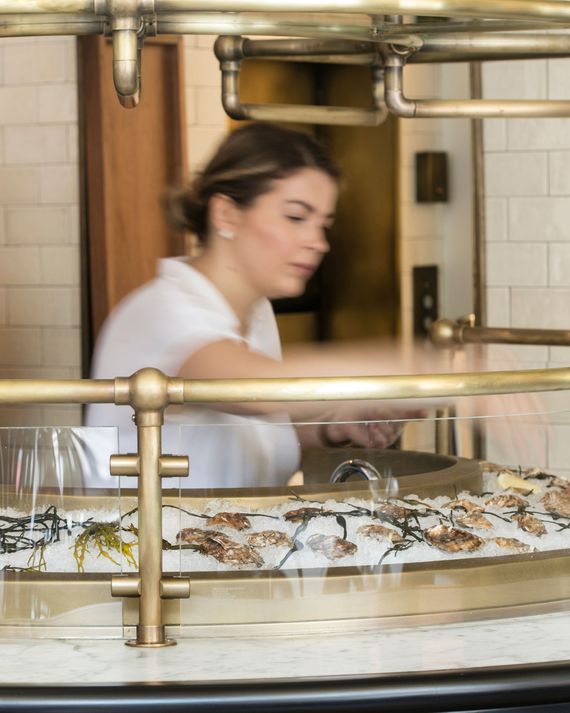 The Riddler, 51 Bank St., at W. 4th St.; 212-741-5136