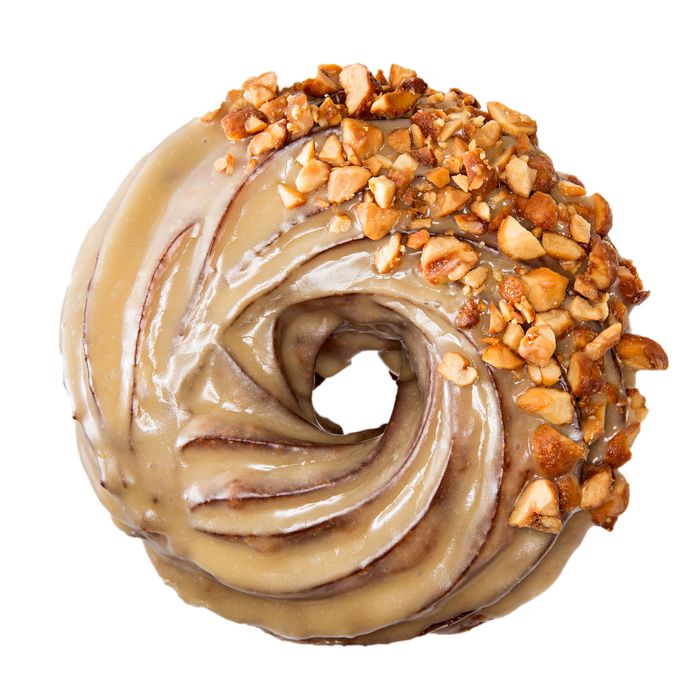 To mark the arrival of a new Daily Provisions outpost on the Upper West Side, a new cruller flavor: caramel apple.
Photo: Melissa Hom
From uptown crullers to subterranean sushi, what you'll be eating next.
September
Canal Street Oysters
380 Canal St.
A stupendous limestone bar is the focal point of brothers Anthony and Tom Martignetti's latest restaurant project. On the bar go oysters — Bluepoints, Wellfleets, Malpeques, Beausoleils, raw on the half-shell — plus whelks, clams, and sea urchin. John Dory Oyster Bar vet Charlene Santiago's cooked dishes expand on the theme. There's razor clams on the plancha, fried fish sticks, cod bánh mì, and squid-ink paella for two. The sprawling space, once home to live-music venue the Canal Room, was built for a crowd.
Il Fiorista
17 W. 26th St.
Flowers look great. Flowers smell wonderful. Flowers make us happy. And although we sometimes forget, flowers of the edible variety when cooked or preserved taste pretty incredible. That would seem to be one of the things the Italian-born husband-and-wife owners of this restaurant, boutique, education center, and all-around floral superspace would like to draw our attention to. How will they do it? Think bread and nasturtium butter, fluke crudo cured with chrysanthemum, and grass-fed strip steak with flowering marjoram and sweet-potato leaves, all washed down with orange-flower Negronis.
Night Music
111 E. 7th St.
Ravi DeRossi's unceasing struggle to turn the East Village into a swinging vegan Shangri-La by means of opening assorted meat-and-dairy-free bars, restaurants, and lounges at a rate of about four per hour continues with Night Music, a vegan Indian restaurant located in his former Water + Fire space. This time DeRossi has a secret weapon: his mom. She taught executive chef Spencer Caine how to cook all the traditional dishes Ravi ate growing up during a months-long vegan-Indian-cooking boot camp at her house in Colorado.
Ciao, Gloria
550 Vanderbilt Ave., Prospect Heights
Almost 15 years after spiking Red Hook's collective blood-sugar level with Baked, Renato Poliafito has staked out fresh new all-day-café territory for his second venture, this time influenced by his Italian heritage. Croissants will be filled with almond and pistachio cream, the classic Italian hero will have a Sicilian slant, and once a month, he'll stay open late to throw a regional-pasta dinner.
F&F Pizzeria
459 Court St., Carroll Gardens
Frank Castronovo and Frank Falcinelli (the Franks) are French-trained chefs who cook Italian. They are not, however, pizzaioli. But they have a guy. Actually, two guys: Chad Robertson (of San Francisco's Tartine Bakery) is one, and Chris Bianco of Pizzeria Bianco in Phoenix is the other. (Actually, Bianco is not only a pizzaiolo, but maybe the world's greatest pizzaiolo, and also a partner with Robertson and his wife, Elisabeth Prueitt, in the Los Angeles culinary mega-complex the Manufactory.) Both have signed on to advise and support and generally share with the Franks all their naturally-leavened secrets. Which, if you know anything about bread and pizza, you know is like having John Coltrane and Charlie Parker agree to help you play the saxophone.
Llama-San
359 Sixth Ave.
The folks behind Llama Inn and Llamita expand their Peruvian-inspired horizons with this Greenwich Village spot dedicated to their interpretation of Nikkei food and drink. [Read more.]
Daily Provisions
375 Amsterdam Ave.
The Upper West Side isn't lacking for spinoffs of popular downtown restaurants. But what right-thinking Upper West Sider wouldn't want a Danny Meyer bakery-café in their backyard? The DP crew is bringing its Sprezzatura breads, BECs, broccoli melts, and diet-busting crullers to the old White Gold Butchers space. To mark the occasion, the pastry kitchen is debuting a new cruller flavor: caramel apple. It's glazed with cider-spiked caramel and topped with crushed peanuts, and sounds like something the neighborhood's gourmet trick-or-treaters could get behind.
Caffè Panna
77 Irving Pl.
Hallie Meyer, daughter of Danny and something of an ice-cream addict, opens her own shop with a selection of affogato sundaes and an abundance of freshly-whipped cream. [Read more.]
The Riddler
51 Bank St.
Jen Pelka made a name for her San Francisco Champagne bar by having fun with something people tend to take extremely seriously, and she brings that same playful spirit to her new West Village outpost — along with 100 different labels by the bottle, a dozen sparkling wines by the glass, signature snacks like tater-tot waffles and free popcorn, and "The Joan," a glass of house wine filled to the brim.
Shukette
230 Ninth Ave.
Soho's bustling Shuka spawns a Chelsea sibling in the former home of Jim Lahey's Co. pizzeria, with a Middle Eastern focus and a charcoal-grill-equipped open kitchen. Chef Ayesha Nurdjaja will be making her own breads, including laffa, malawach, and Turkish simits.
October
Portale
126 W. 18th St.
Cut loose from Gotham Bar and Grill, the French-trained superchef Alfred Portale finally gets to do what he wants to do: cook simple Italian food, heavy on the veggies, with a little Italian Riviera flair. He's baking bread, whisking polenta, rolling pasta, and milling flour, too.
PQR Cart
Central Park Zoo, at Fifth Ave. and 64th St.
Dirty-water dogs get some stiff competition from Roman-style pizza al taglio when the excellent Upper East Side slice joint, PQR, pushes its spiffy new pizza cart into the zoo zone at Central Park. Watch the sea lions down some sardines, or work up an appetite feeding the goats, sheep, cows, and pot-bellied pigs at the children's zoo, then tuck in yourself with a crisp and airy slice of pan pizza topped with piennolo tomatoes and stracciatella cheese.
Mina's
22-25 Jackson Ave., Long Island City
Where there was M. Wells Dinette, there will soon be Mina's, a Greek taverna-style space inside MoMA P.S. 1. Mina Stone has cooked for artists before — most recently Urs Fischer — and has even written a book on the subject. Her museum café will channel the home cooking of Greek grandmas (her great-grandma, specifically) with long braises, seasonal salads, and meze samplers.
232 Bleecker
232 Bleecker St.
Former Untitled chef Suzanne Cupps signs on with the Dig Food Group in what is the company's first full-service restaurant. [Read more.]
Thai Diner
186 Mott St.
Uncle Boons' Matt Danzer and Ann Redding reinterpret the diner as a place to go when you're in the mood for a Thai omelet rather than a Western one, and where the disco fries come smothered in curry instead of gravy. There's a roast-beef sandwich in the works, too, which must be a nod to the signature slab of beef at the couple's late, great oddball eatery, Mr. Donahue's. The look? We're guessing Uncle Boons meets Eisenberg's.
Kindred
342 E. 6th St.
Compared to the owners' corridor of a wine bar, Ruffian, this new space is positively palatial, allowing them to supplement small (mostly vegetable) plates and natural (mostly orange) wines with cocktails, pastas, and a "whole fish wrapped in a blanket."
Mermaid Inn
227 Tenth Ave.
The restaurateur Danny Abrams swaps out green beans for lobster rolls. [Read more.]
Dhamaka
88 Essex St.
Roni Mazumdar and chef Chintan Pandya already blew our minds and blasted our taste buds at Adda Indian Canteen in Long Island City. Apparently, that was only a warm-up: They've named their new Indian grill-focused restaurant at Essex Market Dhamaka, which means "bang" in Hindi.
Di Martino Pasta Bar
75 Ninth Ave.
The 100-plus-year-old Neapolitan pasta-maker Di Martino gives its brand-building pasta-bar concept a whirl at Chelsea Market. The plan is to lure you in with pasta-tasting menus, pasta à la carte, pasta al pomodoro to grab and go, and all the Di Martino pasta shapes you could ever imagine to take home and toss into pots of liberally salted boiling water.
Lekka
81 Warren St.
Dirt Candy's Amanda Cohen branches out from vegetarian fine-dining to fast-casual veggie burgers. [Read more.]
Francis & Staub
411 Park Ave. S.
The Frenchman Francis Staub of Staub-cast-iron-cookware fame brings his interpretation of a brasserie and veteran chef Richard Farnabe to the old Les Halles space. [Read more.]
Sarashina Horii
45 E. 20th St.
This ninth-generation soba maker has served its rare and refreshing white-buckwheat noodles to the Shogun, the Japanese imperial court, and Anthony Bourdain, according to its PR. Now anyone ambling along the gritty streets of the Flatiron district can give them a shot.
Farra
71 Worth St.
Three doors down from parent tasting-menu restaurant Atera, this Tribeca wine bar has 20 seats, 25 wines by the glass (and free run of Atera's cellar), and a name that's an old Basque word for "revelry." The American menu's Nordic accent can be detected in dishes like smoked halibut with roe, fresh cheese, and sourdough, and desserts like yogurt, basil, and rhubarb.
October
384 Broome St.
This ten-seat Nolita spot might epitomize this moment in Food, or at least food buzzwords: fast-casual, plant-based, with its own hydroponic garden and proprietary delivery app (Greenwich Village to Tribeca to start). There will be rice made from cauliflower, fries made from carrots, and avocado shakes.
November
Ahgassi
315 Fifth Ave.
The specialty of this little shop of vegan horrors is gopchang, or beef intestines, cut up into bite-size pieces and cooked at the table, each of which is outfitted with a Korean-style grill. There's also tongue, stomach, brisket, short rib, kimchee stew, and tripe fried rice. The owners are the folks from Korean-barbecue celebrity hot spot Kang Ho Dong Baekjeong.
Toko
Herald Square subway station; N.E. corner, Broadway and 32nd St.
Finally a way to pass the time while waiting for the Q train: This 18-seat omakase specialist is located in a subway station. Descend at 32nd and Broadway and tuck into some toro.
Le Veau D'Or
129 E. 60th St.
Who better than Lee Hanson and Riad Nasr, those masters of the bistro and the brasserie, to let loose on this storied Upper East Side establishment? [Read more.]
December
Gage & Tollner
372 Fulton St., Downtown Brooklyn
In hopes of restoring the great Brooklyn restaurant to its former glory, the Red Hook restaurateurs St. John Frizell (Fort Defiance) and Sohui Kim and Ben Schneider (The Good Fork, Insa) have been busy casting out the demon spirits of Arby's and TGI Fridays—two of the businesses that occupied the landmark space after it closed in 2004. [Read More.]
Da Toscano
24 Minetta Ln.
Some restaurant spaces hold a special allure for chefs. Take the one at 24 Minetta Lane. That's where Michael Toscano ran the kitchen of the short-lived Perla for two years, earning accolades for his gutsy Italian cooking before he decamped to South Carolina to open a restaurant with his wife, Caitlin. Now he's back for an encore performance. Caitlin is on front-of-the-house duty, while Michael makes the pasta and gets reacquainted with an old pal, the wood-burning oven.
*A version of this article appears in the September 2, 2019, issue of New York Magazine. Subscribe Now!