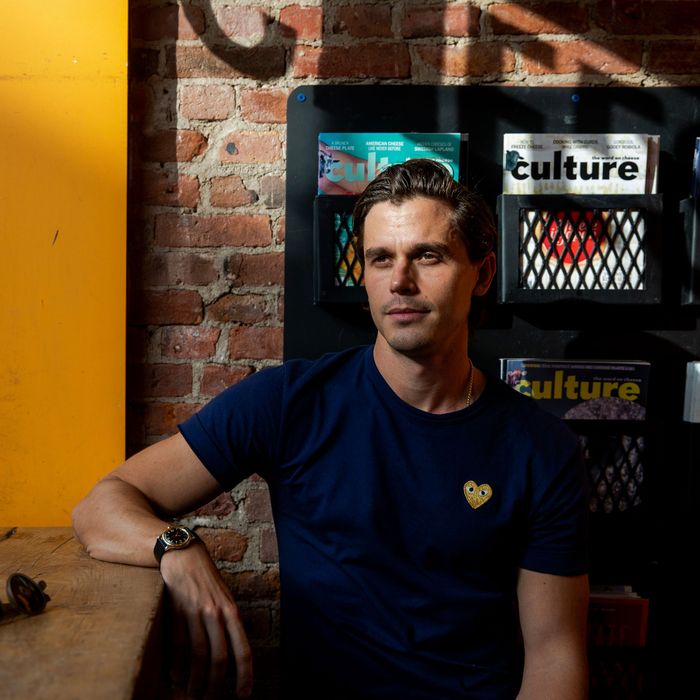 Porowski, at Stinky Bklyn.
Photo: Mark Abramson
On Queer Eye, Antoni Porowski has become known for his liberal use of avocados, but, in reality, he's prone to calling himself both a "dairy freak" and a "cheese freak." As he tells it, he was raised on sour cream, and these days it's still a personal bat signal. This week, Porowski also found time to get a double portion of mac 'n' cheese, find a surprisingly great Greek salad, and release his first cookbook, Antoni in the Kitchen, which brings his approach to cooking from the streaming screen to the bookshelf. "It's a bit of an extension of Queer Eye," he says. "This is my own version of a memoir." Check it all out in this week's edition of the Grub Street Diet.
Thursday, September 5
Today is a production day for Queer Eye, which means shooting in the morning followed by plenty of meetings and calls to prep for my upcoming book tour. 
I started my day with a cold brew, black, over ice. I go through phases with coffee. If I'm visiting my dad in Vermont, we put half and half in hot coffee. I couldn't have it any other way because it's tradition and you don't mess with it. If you show him skim milk he'll be deeply offended.
We've been filming in Philly, which is home to La Colombe and I've been drinking their Colombian cold brew. Which is smoother than the traditional blue can, and I can have more of those. They're a little less bitter, a little less intense. I drink those on ice, I've been drinking them all summer.
Made a smoothie with almond milk, half a frozen banana, a teaspoon of cinnamon, almond butter, and vegan protein. If I'm in town, I'll have five smoothies a week. I work out in the mornings because I don't have time during the day or early evenings, and if I don't work out I don't sleep well. If I do a really intense workout and I'm starving, like if I do a leg situation, then I'll have a smoothie with tons of fruit. I go to the market and get a bunch, especially blackberries and blueberries, and whatever I don't finish I freeze. Then I throw those into a smoothie, and I'll have a nice big smoothie to get me going.
We were shooting the food field trip with our hero today, so while I can't say exactly what we made, I can say that it was seafood and delicious.
During the afternoon, I had another coffee. This one was an iced oat-milk latte — when I was in New York during the summer, I went through a phase.
I ate a Sweetgreen chicken pesto salad and had a ginger-lemon tea. I basically discovered it in Philadelphia. There are tons of location in New York, but when I'm in the city I try to eat at home or I try to pick up food from my restaurant, the Village Den.
In Philly, though, I love Sweetgreen. I've had it a few times a week over the summer. Easy delivery, I can get a nice salad with a good piece of salmon or do a double chicken situation. I'm exhausted by the end of the day in Philly, and my kitchen wasn't really finished so it wasn't really conducive to cooking.
Also had a cup of fresh blackberries. I don't have a big sweet tooth. Especially during this summer, I feel like we've had such amazing blackberries. Growing up, we had raspberry bushes in our yard at my parents' house. Every summer day in Montreal — which is, what, only three months of the year? — we would have raspberries for breakfast and I'd have them at night, as well. A big bowl with mint.
I've always loved berries, my father is obsessed with blueberries. He actually freezes them when they're really fresh and puts them in his cereal. Yes, he's 68 and he eats cereal religiously. He actually keeps his milk really cool because he's obsessed with everything being super-cold.
Friday, September 6
Another morning filming in Philly, followed by emails, meetings, and calls in the afternoon. Had my black cold-brew over ice, and a smoothie again. This one was with blueberries, almond butter, almond milk, half a frozen banana, frozen peaches, and vegan protein.
During the afternoon, I had a couple more black cold-brews on ice. I ate a vegetable curry and some string beans on set, then had another black cold-brew on ice. In Philly, the craft services was actually really decent. If you've been on a set, usually it's not the best choices.
The best food we ever had when we were on set, I have to say, was when we were in Kansas City. I met a friend of mine Beth Barden, she owns an awesome brunch spot called Succotash. She would bring us food that was magazine-spread–worthy.
At night, I had a fantastic dinner at Vernick Food & Drink. I'd gone earlier, the first or second night I was in Philly, and so I went again on the last night there, as a sort of celebratory occasion. My agent, who is also my best friend, was visiting me and we had an awesome meal.
I was considering going to Zahav for a third time, but my stomach hurt for two days after eating there because I ate so much. This happens very often. If something is delicious, I struggle with leaving things on the plate. My father is the same way; a lot of Polish people are like that. When your grandparents were in concentration camps and literally eating a potato a day, that is instilled in you from birth: You never waste any food, and you always respect anything that is there and you don't throw anything out. So part of it is that. But also I love delicious food and even if my stomach feels distended, I keep going.
About the delicious food, though. I had the beef tartare on toast, the madai with melon and brown butter, the cucumber Greek salad, the striped-jack sashimi, the Colorado rack of lamb with warm leek vinaigrette, the Atlantic halibut with saffron orzo, and grilled halloumi with figs.
You know what really surprised me? The Greek salad. Normally you see that and you're like, "Okay, pass. What have I never had before?" But the waitress was like, "You kind of have to order this." And she made us get it, and it was one of my favorite things. I think the cucumber and tomato were marinated, and it was so nice. You wouldn't think to order it, but it's a sleeper hit. I'll tell you that.
Saturday, September 7
Had an a.m. shoot, and started my day with a black cold-brew on ice — this morning with oat milk — two handfuls of dehydrated banana, and two Ostrim turkey sticks. I had the regular apple with smoke and the pepper one. I love jerky. It's salty, it's smoky. Trader Joe's makes an awesome turkey jerky.
I was exhausted. When I'm really tired, I don't even bother eating healthy. I'm just like, "I'm going to eat whatever makes me feel good so I can get through the day." Inhibitions are down, and I'm on autopilot.
On set, I ate two chicken enchiladas with a side of guacamole and sour cream. Also two mushroom enchiladas with tomatillo salsa. I had a really aggressive eating day. I go hard on weekends. That day, I saw enchiladas, I saw cheese, I saw meat, and I was like, "I'm going to fuck all of this up." I just piled on as much sour cream as I could. We're Polish people, we love our sour cream.
When it's weekends, that's definitely when the dairy comes out. I think my love of dairy just comes from growing up in Montreal, which has a lot of French influence. Every Friday night, when my parents would watch 20/20 and I would get home from swim practice, we always had a cheese board. It was something we had every single week. A big, over-the-top cheese-board situation.
The shoot was followed by catching a helicopter to New York to appear at the USA Today Wine & Food Experience in Prospect Park. After that, I ducked into Books Are Magic in Cobble Hill to sign some stock. Then took a car back to Philly — after stopping off at home. The two biggest luxuries these days are (1) actually sleeping in my own bed, and (2) preparing food in my home just for the enjoyment and for the sake of making it, either for myself or someone else.
That night we had our wrap party, and someone brought a massive sheet of mac-and-cheese and I had two full dinner plates. It wasn't the best, but it's still mac-and-cheese. It's like pizza. Even if pizza is shit, it's still pizza. You know? I guess my cheese love comes through there.
I also ate a piece of Raisin Bran cornbread and six chicken tenders with a side of hoisin sauce. I love chicken tenders with some kind of corn syrupy glaze every once in a while, food I wasn't allowed to eat when I was growing up.
On days when I'm tired, that's when I tend to go for junk. It tastes better and just feels illegal. Whenever I wanted to have fast food, not that I was shamed for it, but it was very frowned upon. I feel naughty when I'm doing it, and the troublemaker in me loves to have food like that every once in a while.
I also had a blondie square, a snickerdoodle cookie, and two oatmeal-raisin cookies. A good oatmeal-raisin is my favorite cookie. When there's a bit of molasses and you taste the brown sugar, when it's really chewy. That makes me incredibly happy.
Sunday, September 8
Last day of production on Queer Eye in Philadelphia! Had my morning black cold-brew on ice.
We wrapped in the early afternoon, and I was leaving. Our AD Sean got some food to go, an ahi tuna nicoise. Arugula, romaine, the tuna, a bunch of olives, potatoes. They were tossed in a bit of harissa and lemon vinaigrette, so it was a little spicy.
I love a nicoise, for me it's like if I want to have a sandwich but I'm trying to be healthy. It's just a really hardy salad that's got loads of good flavors and salt.
Also ate a Lenny & Larry protein cookie. I had the Snickerdoodle, it's my favorite because I love a little cinnamon. The peanut butter is really good, and if I'm feeling junky, the birthday cake is good too. Had another cold-brew on ice, too.
At night, I popped into Sugarfish to get their nigiri and maki mix to go. Here's the thing: My best friend Reema is obsessed. And I've had it many times in L.A. I love the way they organize it. They keep it really simple and I just love how it's all perfectly calculated. So if I want to treat myself, I think it's basically the best delivery sushi in the city. I order the to-go "trust me" box.
Do I love a bit of chili-mayo every once in a whole? Absolutely. I'm not a hater. But I am more traditional when it comes to sushi, and I like simplicity over complicated. I'd much rather nigiri and sashimi over maki. Sugarfish for me is a nice, decadent, classy treat.
Monday, September 9
It was publication day for my cookbook, and my 12-city tour officially kicked off in New York. Started my day with a couple black cold-brews over ice, but it was pretty packed: I had press, a book singing, a fitting for the Creative Arts Emmys, a show at the Town Hall, and my book party.
During the day, I got a Little Beet salad with double salmon, lentil, and beet hummus. I discovered Little Beet a few years ago when I was doing rehearsals for a play. Again, Reema and I love going to restaurants together and that's a place we'd go before our rehearsals. She takes me to her favorite Indian vegetarian spots in Murray Hill, I take her to my favorite Italian spots and cook for her at home. Even in the cookbook, there are a lot of dishes that were made for her the first time.
Drank a couple black-cold brews on ice.
At night, we had the book party, right after the Town Hall event, at L'Avenue at Saks. I ate and drank a bunch of different things: a couple pieces of miso salmon, three beef sliders with no buns — not because I'm trying to be healthy, because I just wanted more meat.
Also, this is important: a side of mashed potatoes and French fries for dipping. It isn't something they serve. A friend of mine is obsessed with their mashed potatoes, and she dips the fries into the potatoes. I thought it was the dumbest thing I'd ever heard. Then I tried it and I could not have been more wrong. It's literally potato on potato: Crispy potato on buttery-ass, creamy potato.