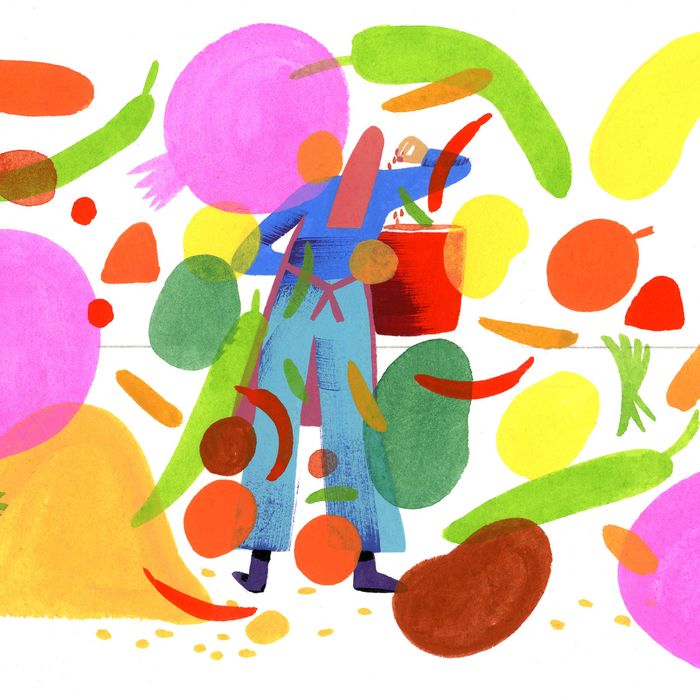 This article was featured in One Great Story, New York's reading recommendation newsletter. Sign up here to get it nightly.
To anyone else, the fish curry may have been a typical weeknight dinner, but my fiancée, Michelle, was anxious to know what I thought of it. "So," she said as soon as I'd taken my first bite, "how does it taste?"
My reaction was important, because my parents would be over for dinner in a week, and Michelle was determined to make it special. She was also an Italian-French American cooking an entirely new cuisine for the first time: The dinner would be my parents' first time trying Michelle's Indian cooking. The fish curry was a practice run, and I was the necessary test subject.
"What do you think?" Michelle asked again.
"It's good," I said. Michelle picked up on my lack of enthusiasm immediately.
"You hate it!"
"It's fine!" I repeated. And honestly, it was fine. But Michelle wanted to make sure that, when my parents tasted something she had cooked, it would be better than fine. She set her fork down. "Your parents are going to hate it."
My parents weren't snobs in the slightest, and they'd already eaten — and loved — Michelle's cooking plenty of times. But, for both Michelle and me, the stakes felt higher this time around. My Indian-American father and my Puerto Rican–Italian-American mother were Indian-food aficionados, and they appreciated the difference between authentic cooking and "wedding food," as we called it: less spicy, heavy on the cream, made to please all palates. Since childhood, my mother regaled me with stories about her own journey in Indian cooking. Being an outsider in my father's tight-knit desi community meant working overtime to prove she could cut it among the other wives. In the early '80s, there was no internet and only a few cookbooks available that my mother could access. She'd often cite Madhur Jaffrey as an influence, but it was my father's mother who was most vital for learning traditional techniques. My mom observed the way my grandmother dipped her fingertips in water before placing them into the flour, massaging the dough, and rolling perfectly round chapati bread. There were no measuring cups, just feel, and feel couldn't be taught, only achieved through repetition.
My mother shared stories of her self-education with Michelle, who loved my family's dal makhani over basmati rice and wonder how such a basic meal could be so flavorful. Come Sunday, Michelle was determined to include lentils marinated in curry on her own menu, but she wanted to surprise my mother, which meant she didn't want to ask for her help, and was determined to learn it on her own.
Michelle, an accomplished painter and installation artist, valued her own ability to generate something from scratch. From her perspective, a kitchen countertop was a blank canvas, and a plate was the frame for her creation. Always fiercely independent, she never liked to rely on others for assistance unless to support her own vision.
It helped that I was not a particularly useful resource. I'm a terrible cook, and though I've tried to learn through the years, I'm too heavy-handed with ingredients. On one of my first dates with Michelle, I cooked arroz con pollo y gandules. I burned the rice, oversalted the beans, and was forced to buy a rotisserie chicken at the store after I failed to roast my own. So these days, I'm happy to play sous-chef: I'll chop, peel, slice, and take orders, but when it comes to actually cooking, I defer to the experts and never, ever complain.
Meanwhile, Michelle was after perfection and, for a week, we ate her test runs, varying curries of lentils, eggs, fish, and chicken. She was understandably frustrated by the cuisine's elusiveness. Using cups to accurately measure cumin, chili powder, turmeric, coriander, ginger, garlic, and masala didn't mean achieving a consistent outcome. Instead, she was working toward learning to feel, so each night Michelle became a little more confident, using her hands instead of a measuring cup, sprinkling and pinching when necessary. Improvement was evident, and by the end of the week, she'd managed to find a spot where the individual spices remained distinct, but still combined into a cohesive whole.
However, those test runs meant that by the time the weekend arrived, our supplies were dwindling. We found ourselves racing to the local Patel Brothers to restock our larder: "Where do you keep your turmeric?" Michelle frantically asked the cashier. "I need more turmeric!"
Sunday arrived and so did my parents. Although they lived in a nearby town, they were received as if they'd made a days-long voyage specifically to eat this meal. Michelle's hands were nearly shaking as she served her first offering of dal makhani. First bites meant everything.
My mom picked up the spoon and took a bite. Maybe it was the heat from the kitchen, or the nerves, but I noticed sweat beginning to bead on Michelle's forehead. Everyone waited for my mom's reaction.
She chewed, slowly, and finally swallowed. She closed her eyes.
"Mmmmm," she said. "This is delicious, honey! How did you learn to make it?"
"Practice," Michelle responded, her shoulders visibly relaxing for perhaps the first time all week.
"You know, honey," my mom said, "nobody taught me to cook this food when I was younger. I had to study for months before I could make food taste this good." She took another bite. "I must say, I'm impressed."