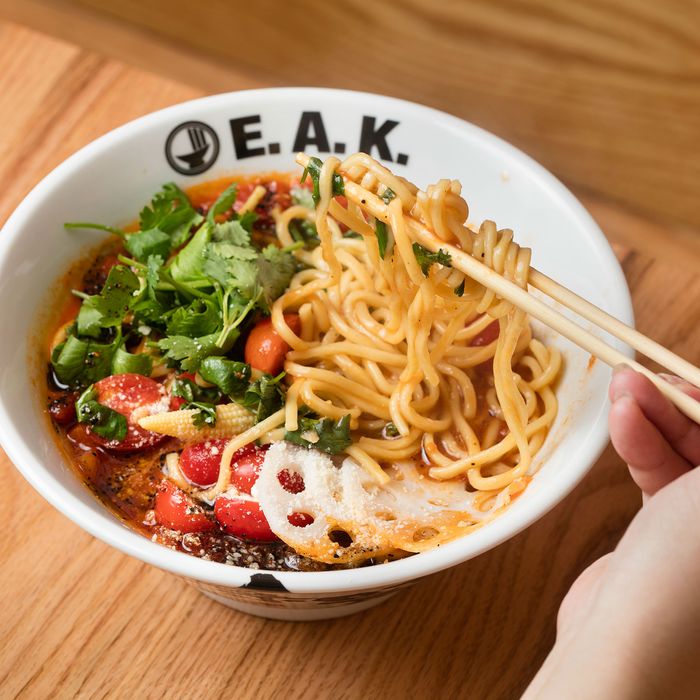 A vegetarian-friendly version will debut at E.A.K. next month.
Photo: Melissa Hom
Next month, E.A.K. Ramen's chef Kiyoyuki Miyashita will debut an idea he first began to consider half a decade ago. At his Hell's Kitchen location, he'll serve noodles in a cabbage broth — with some garlic and ginger for kick — that includes with a surprising ingredient: homemade tomato paste. "I love tradition," Miyashita says through a translator, before pivoting. "But what good is tradition without fun?"
"What I like about ramen," Miyashita continues, "is that it has no rules — it can be anything." His tomato ramen came together after he consulted at a ramen shop in Rome run by a retired Japanese soccer player and his Italian wife, and he's not alone in identifying the potential appeal of a Japanese-Italian mash-up.
A little before midnight, the East Village sushi restaurant Kanoyama begins serving tomato-cilantro ramen in a surprisingly clear broth (the base is chicken stock). At Niche, on the Lower East Side, a brothless bowl of vegan-friendly mazemen is tossed with cremini mushrooms and a tomato sauce that's packed with dried oregano, white koji miso, and Korean red chile pepper. In Bed-Stuy, Samurai Papa's vegan tomato ramen achieves quasi-tonkotsu creaminess with a butternut-squash base rounded by vegetable oil and topped with — why not? — avocado.
The nods to Italy continue with the toppings: instead of seaweed, maybe basil or spinach. Instead of an egg, heaps of Parmesan. Sometimes the bowls arrive with a slab of bacon; other times, they're fortified with chicken. The appeal, though, is the tomato broth, with an earthy acidity that creates umami with bite.
By now, even casual New York ramen fans know there's more to the noodle soup than tonkotsu, the cloudy, ultra-rich, pork-saturated style that kicked off the city's ongoing obsession with Ippudo, Toto, Ichiran, Momofuku, and countless others. (And which is sometimes, yes, topped with slices of roasted tomato.) But the arrival of ramen in a tomato-based broth can still strike people as a form of ramen wrongdoing. (At Minca, in the East Village, tomato ramen is listed along with fried ramen under a section of the menu called "experimental.")
In reality, tomato ramen first popped up in Tokyo in 2006, at the appropriately named Taiyo No Tomato Ramen. At Ramen Stadium, a true shrine to the dish located in Fukuoka, Ganso Tomato Ramen Sanmi caused a small media frenzy upon its debut in 2016. What's most surprising is that it's taken this long to gain a foothold in Manhattan.
"It's not like I think it's going to be a hit," says Takafumi Hayashi, the chef of Tenho in Murray Hill, where he spikes a traditional tonkotsu broth with tomatoes. "But I imagine New York as diverse, into new things, into surprises. It's boundless, and ramen is, too."
In truth, Asian palates in New York can be walled in by Western presumptions, and the phenomenon is definitely not unique to Japanese chefs. Lucas Sin, a young Hong Kong–raised, Kyoto-trained chef behind Junzi Kitchen, mirrors ramen's multicultural arc. He says he's been told his own egg-tomato noodles are inauthentic — stir-fried tomatoes and eggs are quintessential comfort food in parts of China — but also that they remind customers of their grandmothers' cooking, whether those grandmothers are Indian or Italian or Persian. "Gringo foodies tell me I'm wrong, and then I have to wait for their lo-and-behold moment of truth that other cultures are more complicated than they know," Sin sighs. "Sure, there's messy fusion out there, but sometimes it can be real, with reference, not making things up but actually reflecting an authentic shift where the trend lasts for long enough that it gains legacy." As Sin puts it, "What good is being curious about a culture's past if you're not curious about its future?"
Ramen is, importantly, a relatively new food innovation — formally debuting in Japan in 1910 as a unique interpretation of lāmiàn, a Chinese dish — and that means the noodle soup is younger than bagels, burgers, burritos, and pizza, all of which have had time to go through periods of baroque experimentation. In comparison, moves to steer ramen away from the same few styles that pop up again and again tend to be relatively tame. Bagels are allowed to be rainbow; but for some reason ramen isn't. "I'm seeing Thai-inspired ramen, French-inspired ramen," says Hayashi through a translator. "It's not a gimmick — it's what's happening in the world of ramen."
At E.A.K., Miyashita is perhaps willing to stray a little further than his contemporaries — he currently serves a chilled lemon ramen and says he's toying with the idea of chocolate ramen — but that is, to borrow his word, what makes it fun. "We live in a great time for ramen," he says. "If I can dream it, I can do it."