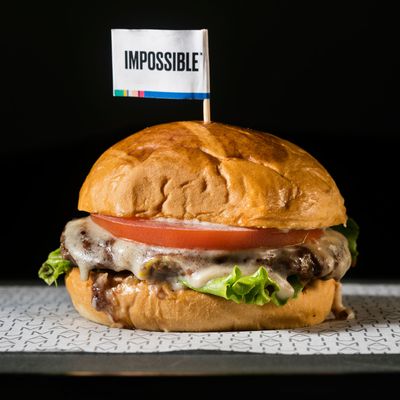 Umami Burger's take on the Impossible Burger.
Photo: Melissa Hom
Even the most unapologetic meat lovers can't deny that the age of the plant-based burger is upon us — and it's actually pretty good. At the head of that pack, of course, is Impossible Foods, the California company that made its name with a "bleeding" vegan burger that is strikingly similar to the real thing. It's what we call a food phenomenon. So Grub made some calls, checked dozens of menus, and found more than 20 spots where you can get an Impossible Burger in every corner of New York right now, because the iPhone of veggie burgers is here to stay.
Burger King
Multiple locations
While Burger King is not the first or even the fifth chain to add an Impossible Burger to its menu, it is by far the most key endorsement the plant-based burger has gotten to date. On August 8, the chain will release the Impossible Whopper — flame-broiled, of course — at all 7,700 locations, including dozens around New York City.
White Castle
Multiple locations
After pioneering the slider burger, this chain also jumped on the Impossible Burger bandwagon back in April 2018. For its version, the chain puts Impossible patties on white bread with smoked Cheddar.
Bareburger
Multiple locations
It's pretty simple: You can get any of Bareburger's creations, like El Matador with queso or the Duke with Cheddar and caramelized onions, with an Impossible patty instead of meat-based patty. Easy.
Umami Burger
225 Liberty St., nr. West St.; 917-728-4400
The L.A.-based chain serves its take on the Impossible Burger four ways: Original with onions, American cheese, miso mustard, pickles, and more; Truffle with charred-green-chile salsa; Classic Cheeseburger with house sauce; and Vegan BBQ with a sweet barbecue sauce.
Momofuku Nishi
232 Eighth Ave., nr. 22nd St.; 646-565-4109
You won't find it on the menu anymore, but Momofuku's take on the Impossible Burger, with lettuce, tomato, pickles, and secret sauce served on a potato bun, is still available. Just ask your server about it.
Saxon + Parole
316 Bowery, nr. Bleecker St.; 212-254-0350 
The take on the Impossible Burger at this restaurant is heavy on the mushrooms, with mushroom purée, roasted oyster mushrooms, and truffle cream plus mixed greens and onions cooked down in sherry vinegar, holding the whole thing together.
Qdoba
Multiple locations
The Mexican chain is serving a ground-up version of Impossible meat seasoned with tomatoes, garlic, smoked chiles, paprika, and diced red onions that can be added to a taco bowl, burritos, or anywhere else you might want to sub for beef.
Del Frisco's Grille
50 Rockefeller Plaza, nr. Fifth Ave.; 212-767-0371
This popular steakhouse chain will serve you a double-stacked Impossible Burger as either a straightforward cheeseburger with red onion, Cheddar, lettuce, and tomatoes or with bacon-onion jam, arugula, blue cheese, Gruyère, and mustard.
Hard Rock Cafe
1501 Broadway, at 43rd St.; 212-343-3355
Should you find yourself in the Times Square area and hankering for a plant-based treat, this famed tourist trap serves its take with Cheddar, an onion ring, lettuce, and tomato.
Amituofo Vegan Cuisine
19 Bogart St., nr. Cook St.; 718-366-2288
The menu at this Bushwick restaurant is heavy on the meat substitute ront, but they do have a classic Impossible Burger with vegan cheese, lettuce, caramelized onions, tomatoes, pickles, mayo, and mustard on a toasted sesame-seed bun if the General Tso's "chicken" isn't screaming your name.
Crif Dogs
Multiple locations
This hot-dog hot spots — with locations in the East Village and Williamsburg — serve Impossible Burgs with lettuce, tomato, onion, and pickles plus cheese, avocado, chili, or … bacon.
Applebee's
Multiple locations
You can sub an Impossible patty for a beef patty on any one of Applebee's seven burgers, including something that the chain calls, intriguingly, a quesadilla burger.
Franklin Park and Dutch Boy Burger
618 St. Johns Pl., nr. Franklin Ave.; 718-230-0293
All the food at popular Crown Heights bar Franklin Park comes from nearby Dutch Boy Burger, which sells not only the competing Beyond Burger but an Impossible Burger on a vegan pretzel bun with vegan mayo.
The Trestle
34-02 Broadway, at 34th St.; 347-808-0290
The Impossible Burger at this subway-themed bar and restaurant in Astoria can be had with onions, lettuce, and tomatoes on a toasted English muffin, plus chipotle aïoli, if you so desire.
My House Burgers and Shakes
Multiple locations
In Sheepshead Bay, this pair of diners serves an Impossible Burger four ways: Classic; farmer style with red and green peppers, onions, and chipotle sauce; "Possible," with caramelized onions, kimchee aïoli, and mushrooms; or fireman style, which is like the farmer burger plus pepperjack cheese, sriracha, and pickled jalapeños.
Avocaderia
Multiple locations
The "world's first avocado bar" also serves an Impossi-bowl with plant-based meatballs, quinoa, kale, carrots, purple cabbage, roasted beets, pickled onions, chipotle dressing, and — you guessed it —avocado.
The CopperPot
347 Van Brunt St., at Wolcott St.; 929-276-3330 
This Red Hook restaurant serves its Impossible Burger on a homemade vegan bun with beet aïoli and lettuce.
Holy Schnitzel
Multiple locations
Both the Queens and Manhattan locations of this kosher chain serve Impossible Burgers with literally any combination of toppings you want. Versatility!
Lucky's Famous Burgers
Multiple locations
At both locations of this local chain, you can either build an Impossible Burger your way or get any of Lucky's themed burgers — the Chelsea, the Hell's Kitchen, the California — with an Impossible patty.
Lansdowne Road
599 Tenth Ave., nr. 44th St.; 212-239-8020
The burger at this Irish bar in Hell's Kitchen is pretty straightforward: lettuce, tomatoes, pickles, plant-based Impossible patty.