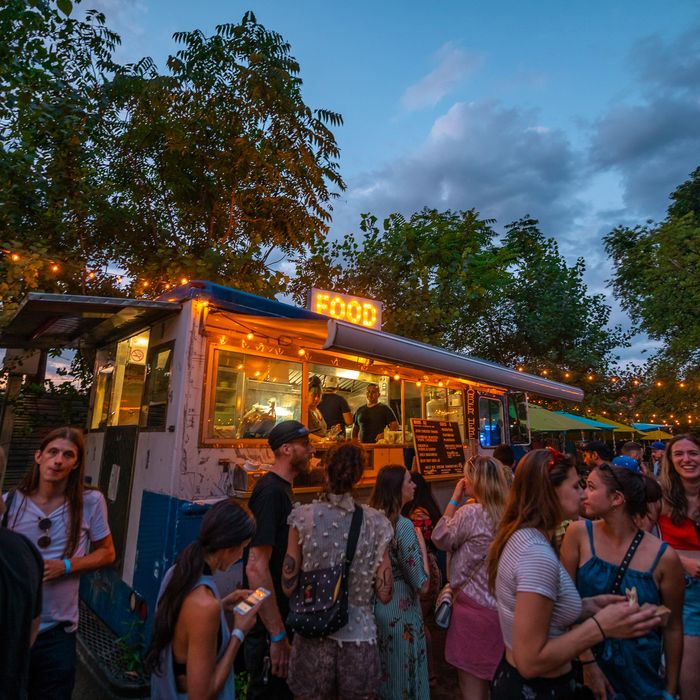 Party Monday away at Nowadays with queer DJ collective Papi Juice.
Photo: Julian Cassady
The final three-day weekend of the summer has arrived, and rather than pout about it, we say make the most of it, especially if you've decided to stick around New York. There'll be plenty of barbecues-slash-dance parties, a ridiculous amount of seafood from lobster to crab to clams, and, of course, the West Indian Day parade, which will transform the bucolic Eastern Parkway into a Carnival for the ages. Below, 12 ways to spend your Labor Day Weekend in New York City.
Backyard Papi
Where: Nowadays
When: September 2 from 2 p.m. to 10 p.m.
As usual, the Ridgewood hot spot Nowadays will be throwing down over the holiday weekend. On Monday, head to the venue's gigantic outdoor space for an eight-hour dance-y party thrown by queer and trans DJ collective Papi Juice. In addition to good vibes, Nowadays will be serving up plenty of food, such as hummus wraps, roasted pork shoulder, watermelon with chili-lime salt, and ice-cream sandwiches. Get in for free by RSVP'ing here, or pay $10 at the door.
Lobster and Beer Party
Where: Hester Street Fair
When: August 31 from 11 a.m. to 6 p.m.
The Hester Street Fair will return with its second Lobster & Beer Party of the season. If you've been remiss about your seafood intake this summer, you can make up for it here, where vendors like DownEast Lobstah and Crab Man Mike will be serving everything from Maine-style lobster rolls to Cajun seafood bars and lobster hush puppies. Beer will be provided by New Belgium Brewing Company. For something sweet post-inevitable-lobster-binge, two baked-goods pop-ups — Mum's Kitchen and Beba's Kitchen — will also be vending.
Labor Day Cocktails and Cheese
Where: Murray's Cheese
When: August 30 from 6:30 p.m. to 8 p.m.
Kick off your most artisanal Labor Day weekend at Murray's Cheese, where experts will offer a two-hour session on cheese and cocktail pairings and how you can mix them at home. One class session gets you lessons in crafting four different cocktails and six cheese pairings — plus plenty of sips and bites on the side. Reserve your $100 ticket here.
Rockaway Beach Lobster Jam
Where: Riis Park Beach Bazaar Bay 9
When: August 30 from 5 p.m. to 8 p.m.
If you're craving one last summer beach party, head to the Riis Park Beach Bazaar at Rockaway Beach this Friday, where, starting at 5 p.m., the Rockaway Clam Bar and Red Hook Lobster Pound will be serving up fresh lobster and seafood to the public. Non–ticket holders can eat on a first-come, first-served basis, but one ticket reserves you a one-and-a-half-pound-lobster dinner with corn and potato sides. Ticket sales end at 2 p.m. on the day of the event. There will be music and sunset cocktails: the perfect ambience for lobster tails. Reserve your $33 ticket here.
Beer & BBQ Rooftop Festival
Where: Clinton Hall
When: August 31 and September 1 from 1 p.m. to 3 p.m.
The Williamsburg location of Clinton Hall will host two hours of bottomless cold craft brews, barbecue, and end-of-summer rooftop views. The festivities take place on Saturday and Sunday from one to three. Guests are invited to sip rosé, eat cheeseburgers, and play life-size Jenga, plus imbibe beers from the likes of Coney Island Brewery, Firestone Walker, LIC Beer Project, and more.
Second Annual Clambake
Where: Brooklyn Cider House
When: September 2 from 1 p.m. to 4 p.m.
This Bushwick spot will celebrate on Monday with its second annual clambake because there is no more appropriate good-bye to summer than a mélange of shellfish, potatoes, and corn. One ticket will get you some clambake and a bag of apples from Twin Star Orchards — your initiation into fall, if ever there were one. Guests can also enjoy an à la carte tap room menu, specialty drinks, and, of course, plenty of cider. Purchase early-bird tickets for $27 or day-of tickets for $35.
Labor Day 2019
Where: Maison Premiere
When: September 2 from 12 p.m. to 7 p.m.
On Labor Day, Maison Premiere — your friendly neighborhood oyster bar–absinthe café hybrid — will open at noon for barbecue deals and live jazz. Also on the menu: chilled seafood, chef's specials, and, of course, oysters and drinks. There won't be an oyster happy hour on the holiday, but there's plenty to be happy about, and dinner reservations will begin at 7.
Sunday Supper Series Presents: An Evening With … Muses
Where: The Breslin
When: September 1 from 6 p.m. to 8 p.m.
Since July, April Bloomfield's the Breslin has been hosting a Sunday Supper Series featuring a three-course meal for two for just $50. This weekend, however, the hotel restaurant has added a fun little wrinkle in the form of "An Evening With Muses": Bring your art supplies and try your hand at figure drawing while sipping cocktails. Grab $10 tickets here and use the code "Life Size" when booking your supper to get 50 percent off wine bottles.
Babydudes Pop-Up
Where: King Tai Bar
When: September 2 from 5 p.m. to 2 a.m.
After checking out the West Indian Day parade, you might want to pop over to King Tai Bar for a few drinks and some good food. As part of its ongoing pop-up series, the bar will welcome Babydudes, a queer-owned, Kickstarter-funded coffee shop run by a couple with serious culinary chops. Drop by for homemade burgers, vegan hot dogs, elote-style corn, berry crisps, and more.
Women Who Tiki
Where: Hunky Dory
When: August 29 from 7 p.m. to 11 p.m.
If, like us, you believe the weekend truly begins on Thursday night, then we've got an event for you. Tonight, drop by all-day café Hunky Dory for the bar's four-hour Women Who Tiki event, featuring owner-bartender Claire Sprouse and her favorite fellow female bartenders slinging rum cocktails and bidding adieu to summer. Getting in is free, but you'll have to pay for the drinks.
West Indian–American Day Luncheon
Where: Brooklyn Museum
When: September 2 from 1 p.m. to 5 p.m.
Labor Day Weekend means the transformation of Eastern Parkway into an epic Caribbean Carnival replete with feathered costumes and steel-drum bands. There's always the option to line up along the parade route and take in the show for free, or you could enjoy lunch with a great view from the Brooklyn Museum. For $110, the association that hosts the parade will serve a Caribbean lunch — think curry goat, ackee and saltfish, and rice and peas — in the museum's Glass Pavilion while providing premium parade seating from a review stand in front of the museum. If that sounds like your deal, grab tickets here.
Backyard BBQ Series
Where: The Meat Hook
When: August 29 at 5 p.m.
Tonight, the Meat Hook will continue its backyard barbecue series by hosting the folks from the Brownsville Community Culinary Center. While the menu has yet to be released, you can bet it'll be similar to what the BCCC has been serving at Agern this summer: watermelon-and-tomato gazpacho, roasted chicken with purple yams, barbecued pork, and other comfort foods. Admission is free; the food isn't.