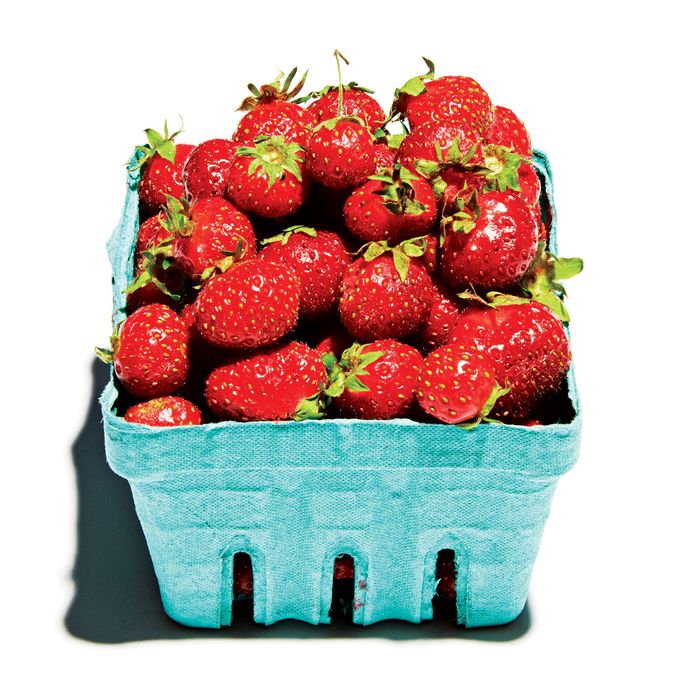 Photo: Stella Blackmon/New York Magazine
Most local strawberry connoisseurs are familiar with the Tristar, Greenmarket's small, sweet answer to the supermarket's transcontinental behemoths. But few are aware of the behind-the-scenes drama that has put the future of this superfruit in jeopardy. The David in this tale is Rick Bishop of Mountain Sweet Berry Farm, who in 1985 crashed the Union Square farmers' market with his Cornell University roommate Gerald Posner and a pickup truck full of Tristars and has been selling them to besotted chefs and discerning Greenmarket shoppers ever since. Goliath would be Planasa, the multinational horticultural corporation that in 2017 acquired Norcal, the California nursery that supplies Bishop's virus-free bare-root plants, the raw material of commercial berry farming, and dropped Tristars from its product roster this past March.
To grasp the magnitude of this business decision, one must first appreciate the outsize position the tiny Tristar occupies in the greater metropolitan area's local-and-seasonal-produce hierarchy. It is hands down the No. 1 strawberry among what Bishop refers to as the Greenmarket contingent of "little old ladies and French chefs who run the show." For these partisans, "strawberry" equals "Tristar"; they accept no substitutes. The day-neutral variety was bred in Maryland from a wild Utah mountain berry crossed with strains from New Jersey and California, and it's prized as much for its vivid flavor and dense red flesh as for the fact that it can bear fruit from May through October (hence its name, star of three seasons). In short, it is everything the mainstream specimen is not: diminutive, aromatic, sweet through and through. But also: low-yield (a mother plant puts out seven runners, or baby plants, versus a stronger variety's 20 to 24); too delicate to transport great distances; and labor-intensive, both to grow and to pick (there are 32 to 50 in a pint, compared to 12 to 15 California-grown jumbos).
These downsides have understandably prevented Tristars from being widely propagated by the large commercial nurseries that supply Bishop and his fellow Greenmarket purveyors Berried Treasures and Fantasy Fruit with their first-generation plant stock. But the berry thrives in their Catskills climate, with cool nights triggering fruiting. And so the news from Norcal earlier this year spelled imminent doom—not only because Tristar sales represent 80 percent of Bishop's annual revenue but because his clientele has come to associate small strawberries with big flavor. "I feel like I'm pigeonholed," he says. "They all say, 'Give me the little ones.' " As a contingency plan, Bishop quickly stockpiled as many remaining plants as he could, as well as Tributes, another, slightly larger day-neutral variety, also canceled by Planasa, and put in 10,000 plants of the well-regarded French berry, Mara des Bois. But neither has won over Tristar superfans: The Tributes are more watery, the Mara des Bois less dense. "The chefs haven't really responded to them," says Bishop. Which chefs? Well, Greenmarket regular Jean-Georges Vongerichten for one. When Bishop conducted an impromptu taste test for him when he stopped by the Mountain Sweet Berry stand one recent Saturday morning, the Frenchman, tossing aside allegiance to his mother country, picked the Tristars over the Mara des Bois without hesitation.
Desperate to find a new source, Bishop went down the list of national nurseries from Cornell's ag department, trying to sweet-talk any of them into planting a crop that will never earn them as much per acre as more vigorous varieties. With dispiriting responses ranging from "This variety is going away, as it should" to "There's no amount of money you could pay me," the berry's future looked bleak. Finally, one of Bishop's cold calls connected him with Pat Coash of Koppes Plants in Watsonville, near Santa Cruz. After first turning him down, Coash called back and agreed to devote about three-quarters of an acre to Tristars, provided Bishop send him 18,000 plants immediately. "I can do a better job than Norcal," Coash told Bishop, suggesting that the fate of New York's tiny-berry supply and our best pastry chefs' dessert menus may very well rest on the competitive impulses of rival California plant nurseries.
To hedge his bets, Bishop has built a small nursery on his own Roscoe, New York farm, which won't bear fruit until 2021, and he won't receive plants from Koppes until next year. But for now, he says, he's "swimming in strawberries," thanks to his mad dash to stock up. Which is a good thing for him, and a better thing for the greater Tristar-popping population. One such devotee is Superiority Burger's Brooks Headley, who uses them in salads and sorbets and on cakes. "Yes, they are a pain to prep, and the yield is pretty low," he says. "But I don't care. The flavor is quite simply the best. They feel very New York City to me. If they are gone? It will definitely be an intense mourning period. I'm not willing to accept it. Especially if it's corporate America killing off another inefficient yet totally beautiful thing."
*A version of this article appears in the August 5, 2019, issue of New York Magazine. Subscribe Now!